This is mark Joseph "young" blog entry #481, on the subject of The Song "To the Philadelphians".
One of the challenges I faced when I was recording songs using the software program was remembering them all, and this is one I did not remember. However, it is connected to memories.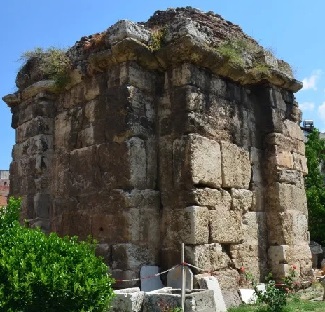 I was at Gordon College, and I was attending services at The Pigeon Cove Chapel in Rockport, Massachusetts. That meant I must have had a car, and must have been living in Rockport with my wife, which puts it sometime after November 1976 but before May 1978. The pastor there, whose name I don't recall five decades later, began a sermon series on the letters to the churches in Revelation. I went home and read them all, and was inspired by the third, the one written to the church in Philadelphia (which is of course in modern-day Turkey, not in Pennsylvania). I made a few changes to the words and then caught up with him to sing it for him. He did not see the word changes as significant, and I believe I must have sung it for the congregation the week he got to that letter–although oddly I remember singing it for him, and his enthusiastic response, but not for anyone else.
I rarely sang it, partly because it was around this time that I noticed my propensity to write songs in C when I was working on a piano and partly because I tended thereafter to perform with an acoustic guitar so I didn't do many of the piano songs. However, I made this live recording a few years ago at the Silverlake church. It is difficult to hear the lyrics over the piano, but the performance worked and it's the only recording of this song I'm aware of having.
To the Philadelphians.
So here are the lyrics.
He Who is holy and He Who is true,
Who has the key of David,
He Who opens what no man can close
And shuts what no one opens did say this.

I know your deeds; behold, I set before you
An open door which no man shall ever close,
Because you're weak, but you try to keep my message,
And when you speak, you have not denied my name.

Behold, I'll cause the people of Satan,
Who say they are of Me, but they lie,
I'll cause them all to bow down before you,
And know that I have loved you.

Because you keep the word of my endurance
I'll keep you from the hour of testing.
The hour which is coming to the earth.

I'm coming soon–don't you know I'm coming quickly
To take you home, so hold fast to what you have.
You have a place in the temple of My Father,
So don't let anybody rob you of your crown.
*****
–
Previous web log song posts:
#301: The Song "Holocaust" | #307: The Song "Time Bomb" | #311: The Song "Passing Through the Portal" | #314: The Song "Walkin' In the Woods" | #317: The Song "That's When I'll Believe" | #320: The Song "Free" | #322: The Song "Voices" | #326: The Song "Mountain, Mountain" | #328: The Song "Still Small Voice" | #334: The Song "Convinced" | #337: The Song "Selfish Love" | #340: The Song "A Man Like Paul" | #341: The Song "Joined Together" | #346: The Song "If We Don't Tell Them" | #349: The Song "I Can't Resist You're Love" | #353: The Song "I Use to Think" | #356: The Song "God Said It Is Good" | #362: The Song "My Life to You" | #366: The Song "Sometimes" | #372: The Song "Heavenly Kingdom" | #378: The Song "A Song of Joy" | #382: The Song "Not Going to Notice" | #387: The Song "Our God Is Good" | #393: The Song "Why" | #399: The Song "Look Around You" | #404: The Song "Love's the Only Command" | #408: The Song "Given You My Name" | #412: The Song "When I Think" | #414: The Song "You Should Have Thanked Me" | #428: The Song "To the Victor" | #433: The Song "From Job" | #436: The Song "Trust Him Again" | #438: The Song "Even You" | #441: The Song "Fork in the Road" | #442: The Song "Call to Worship" | #445: The Song "How Many Times" | #447: The Song "When I Was Lonely" | #450: The Song "Rainy Days" | #453: The Song "Never Alone" | #455: The Song "King of Glory" | #457: The Song "Greater Love" | #458: The Song "All I Need" | #462: The Song "John Three" | #464: The Song "The Secret" | #466: The Song "In a Mirror Dimly" | #468: The Song "Present Your Bodies" | #471: The Song "Walkin'" | #473: The Song "In the Light of His Love" | #477: The Song "Step by Step" | #479: The Song "They That Trust"
Next Song: Give Me a Vision