This is mark Joseph "young" blog entry #457, on the subject of The Song "Greater Love".
I included this in the nostalgic collection of Last Psalm songs recorded for Jes Oldham, although I'm not certain it was ever performed at a Last Psalm concert. It was, however, written during that period.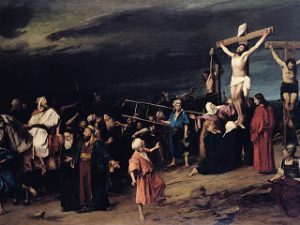 In the summer of 1974, after my first year at Luther College, I landed a job working security at nearby Fairleigh Dickenson University (Teaneck/Hackensack Campus). I was on the evening shift, and often given an area on the less congested Hackensack side of the river where there were, as I recall, five buildings, the College of Dentistry as one assignment and four others as the other, including what I think was called Barrington College. One guard watched the Dentistry college and the other toured the other four buildings–at least two of which had pianos in them and no people after suppertime, so since my obligations were essentially to tour the four buildings once an hour I often practiced, if you can use that word for my tinkering, at one of the pianos. I kept the job well into my sophomore year, and one night pulled these words from I Peter and used them to launch a song by including some thoughts from John as well. I think I might have written a few songs in that setting, but this is the only one I can place there that I recorded.
It's another vocals-over-midi-instruments recording, and I'm not sure why I wrote the vocals quite that low, but I managed it.
Greater Love.
So here are the lyrics.
If you address as Father the one impartial judge,
Conduct yourself in fear,
For He redeemed your life with his holy precious blood,
So live a life of love while you are here.

Love is more than friendly smiles.
Love always walks an extra mile.
Love isn't feeling giddy inside:
Greater love hath no man than he who died.

If you address as Father the one impartial judge,
Conduct yourself in fear,
For He redeemed your life with his holy precious blood,
So live a life of love while you are here.

And if we call on Jesus' name,
He doesn't listen if we're playing games.

Love will want to spread the word,
Tell ev'ryone who hasn't heard.
Don't keep the joy of God inside:
Greater love hath no man than He who died
Greater love hath no man than He who died
*****
Previous web log song posts:
#301: The Song "Holocaust" | #307: The Song "Time Bomb" | #311: The Song "Passing Through the Portal" | #314: The Song "Walkin' In the Woods" | #317: The Song "That's When I'll Believe" | #320: The Song "Free" | #322: The Song "Voices" | #326: The Song "Mountain, Mountain" | #328: The Song "Still Small Voice" | #334: The Song "Convinced" | #337: The Song "Selfish Love" | #340: The Song "A Man Like Paul" | #341: The Song "Joined Together" | #346: The Song "If We Don't Tell Them" | #349: The Song "I Can't Resist You're Love" | #353: The Song "I Use to Think" | #356: The Song "God Said It Is Good" | #362: The Song "My Life to You" | #366: The Song "Sometimes" | #372: The Song "Heavenly Kingdom" | #378: The Song "A Song of Joy" | #382: The Song "Not Going to Notice" | #387: The Song "Our God Is Good" | #393: The Song "Why" | #399: The Song "Look Around You" | #404: The Song "Love's the Only Command" | #408: The Song "Given You My Name" | #412: The Song "When I Think" | #414: The Song "You Should Have Thanked Me" | #428: The Song "To the Victor" | #433: The Song "From Job" | #436: The Song "Trust Him Again" | #438: The Song "Even You" | #441: The Song "Fork in the Road" | #442: The Song "Call to Worship" | #445: The Song "How Many Times" | #447: The Song "When I Was Lonely" | #450: The Song "Rainy Days" | #453: The Song "Never Alone" | #455: The Song "King of Glory"