This is mark Joseph "young" blog entry #389, on the subject of Brother John Michael Talbot.
Some time before I got to the radio station there were The Talbot Brothers, Terry and John Michael. I never heard anything they did together, but I did eventually hear a cassette recording from Terry, of which I remember nothing but that his picture was on the case. It was his brother John Michael who caught everyone's attention in the contemporary Christian music world.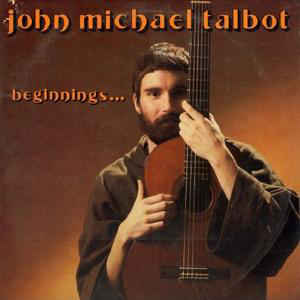 It might help to understand that the Jesus Movement was not only heavily Evangelical and Charismatic, it was strongly influenced by that branch of Evangelicalism that was at least suspicious of Roman Catholicism, and many of those who came to faith in Jesus had previously abandoned a familial connection to that church. It was thus shocking to many (I think including Terry) when John Michael Talbot joined a monastery. (At some point he founded his own, but I only recently learned that and don't know whether he started that way.)
In an interview somewhere he made the comment that the Roman Catholic Church was doctrinally sound–perhaps a rather shocking statement for many in the Jesus movement.
Unfortunately I do not recall the title of the one album I know we had, and do not recognize the cover among those released when I was at the station, nor any of the song titles. The opening song Sunrise of his 1982 album Troubadour Of The Great King captures something of the essence of his quiet meditative style, a significant contrast against the rock sound he and his brother had produced earlier.
*****
The series to this point has included: