This is mark Joseph "young" blog entry #358, on the subject of DeGarmo and Key, Not a Country Band.
It was said that when Amy Grant realized she wouldn't listen to her own records if they weren't hers, she called Eddie DeGarmo and Dana Key to collaborate with them on something with more of a rock sound.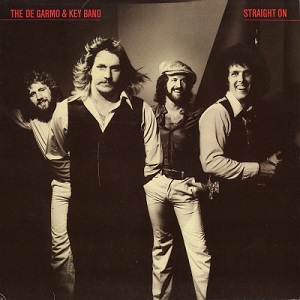 It was probably a good choice. They were clearly a rock band at the beginning. Somewhere on their live album No Turning Back–Live one of them says, "We tried doing country music, but nobody could figure out what country it was from so we gave it up."
The first of their albums I encountered was their third, 1979's Straight On, and four songs stand out from it. The opener, Jericho, was definitely rock in the Christian music world. My favorite was undoubtedly Long Distance Runner, but I also remember the short instrumental Enchiridion which preceded it(although this reminds me of Chris Christian's challenge, what makes an instrumental Christian?), and I Never Knew You.
Amy got in on the next album, This Ain't Hollywood, collaborating with them on Nobody Loves Me Like You, the cut that got all the attention, upbeat for Amy but already the band was starting to mellow toward a more commercial sound and look, as demonstrated by Special Kind of Love from 1983's Mission of Mercy. You can't blame bands for trying to sound like whatever sells, but it is disappointing to lose something unique (and unique is never the popular sound).
They continued releasing albums through 1994, with two best-of albums following in 2003 and 2006. I know nothing about that.
*****
The series to this point has included: