This is mark Joseph "young" blog entry #335, on the subject of Bob Bennett's First Matters.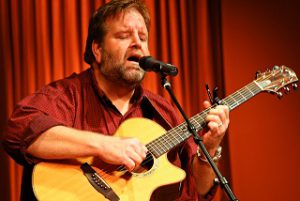 Bob Bennett's debut album, First Things First, reached the radio station not too long after I did, and I was immediately greatly impressed. From the opening cut Carpenter Gone Bad he shot straight for the mind, with solid arguments for believing in Christ set to comfortable light folk-rock music heavy on the guitar picking. My fond memories include Whistling in the Dark, You're Welcome Here, I Belong to You, and the closing Healings. This was a gentle but heavily intellectual collection, and I was captivated by it immediately.
When an artist or band releases a great first album, the fear is that they have have done their best work, and that which is ahead won't measure up. Yet three years later he appeared again with a disk that was in one sense completely different, and in another a great continuation of what he had already done. From the smooth processed sound and emotional message of the opening title song, Matters of the Heart again impressed as it talked about life in songs like Falling Stars, 1951, A Song About Baseball, Madness Dancing, Together All Alone, Beggar, and Come and See, then wrapping up like bookends with Heart of the Matter. He had topped his debut impressively.
What really surprised me today was how many of these songs I remembered–not just recognized, but could sing along in sections of the words. They were well written and got inside powerfully. I have omitted songs that I would include simply because I have included so many from two albums. Somewhere I have both of these on vinyl; I'm going to have to find them and transfer them to CD so I can listen to them in the car. They are great collections throughout.
That was the last I heard from him, but he continued releasing albums every few years, the most recent in 2016 making ten in all. Everything I heard impressed me, and that's rare.
*****
The series to this point has included: