This is mark Joseph "young" blog entry #312, on the subject of Produced by Christian and Bannister.
This duo has been mentioned already in our series. Chris Christian and Brown Bannister both had their own albums, and they never sang together–but they did everything else together, and had a major impact in the early days of the Contemporary Christian Music world. That's a more recent image, with Brown on the left and Chris on the right; despite the amount of work they did together, there seem to be no online photos from their early days (I remember seeing one on someone's album cover, but with the amount of work they did I'm not about to try to search all the album covers).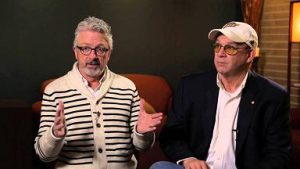 Chris is one of those miracle breakthrough artists. He wrote a song when in high school, and went to Nashville where he sold it to Elvis Presley. I don't recall what song it was–having started my boyhood interest in rock music with The Beatles I never had much of a positive attitude toward Elvis, who was already "old" music to me. That put Chris on the inside in the music industry, so he knew people.
He heard a band called Dogwood, and thought he could produce a good album with them, so he called Pat Boone at Word in Texas and said he thought he could do it for five thousand dollars. Pat asked if they were any good and if he thought he could do this, and he said yes, so Pat sent him the five thousand dollars and he produced the album. It was successful; they had a folk rock sound comparable to Crosby, Stills, and Nash, and that was popular at the time.
At some point he persuaded his friend Brown to move to Nashville, and was finding work for him. Then he said he had an idea, and Brown needed to go learn to be a recording engineer.
Meanwhile, back in Waco B. J. Thomas contacted Word Records about doing a Christian album, and someone out there said he knew just the guy to produce it. Brown had been learning to be a recording engineer for all of three weeks when Chris called him and said come, we're producing B. J. Thomas. Home Where I Belong was a huge success in the Christian music world, and gave Chris the contract through which he produced The Imperials and discovered Amy Grant and soon was producing pretty much any Christian artist who was located in the east but released through Texas.
That is what they did, and they did it well.
Over the course of a couple decades Chris released a score of albums of his own; Brown released one, Talk to One Another, which somehow I either completely missed or completely forgot even though it was released in 1981. His work was almost always behind the scenes. Even when I met them at one of Chris' concerts, Chris was the talker. He joked on stage that people would ask if "Chris Christian" was his real name, and he would say no, his name was "Wally Witness" but he thought that that was too much so he took a stage name. However, his real name was Lon Christian Smith; Chris Christian was a professional nom de plume.
Chris always objected to the concept of "Christian instrumental music". What made a song Christian or not, he asserted, was the words. In his early concerts he would illustrate this by sitting at the piano and playing Alley Cat, and every time the music paused he would insert a different "Christian" word–"Jesus", "God", "Holy Spirit" and the like. The joke of course was that if you put Christian words in the breaks, Alley Cat becomes a Christian song, but without the words it's just music.
His 1976 self-titled debut album included his version of his song Mountaintop, later popularized by Amy Grant when he produced her debut. Christian music still being sparse, his 1977 LP Chance had several tracks that were notable at the time, including Satisfaction Guaranteed, From the Start (usually played without the dramatic intro) which B. J. Thomas also recorded, the title song Second Chance, and his country-jugband influenced version of The Imperials hit he had produced, Sail On.
His 1979 With Your Love had a couple of songs already popularized by The Imperials including Praise the Lord and (not found online) Heed the Call.
1981 saw two albums, Just Sit Back and a reportedly rockier second self-titled LP, neither of which I recall; nor do I remember his 1983 Love Them While We Can or 1984 Let the Music Start. By this time Chris, along with Brown, was much more important for the work of others, such as White Heart. He continued making albums for the rest of the century, none of which I ever heard, but he also continued producing the work of others in the field, and doing an excellent job of it.
*****
The series to this point has included: