This is mark Joseph "young" blog entry #250, on the subject of Original Worship Leader Ted Sandquist.
The peculiar thing about Christian rock music in the 1970s is that it was almost all evangelistic. As I noted before, during the Jesus Movement if you were a musician it was assumed God had called you to be an evangelist, or at least to play at evangelistic rallies to attract unbelievers to hear the message.
Today the expectation is entirely different. We expect our musicians to lead worship. It doesn't even occur to us that this puts them squarely in the realm of pastoral ministry, but helping people approach God is the task of pastors, and that's what worship leaders do. In the seventies we didn't really have these–even Chuck Girard's previously mentioned Sometimes Alleluia isn't really so much a worship song as a song about worship, an instructional as it were. Yet one person appeared on the scene who understood that not all music ministry was evangelistic, who led worship and who wrote and recorded songs that were focused on worship. His name was Ted Sandquist.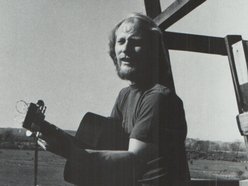 Sandquist was a leader in a community that had its own place in the history of the Jesus Movement, The Love Inn in Freeville, New York. One of the other leaders there was Scott Ross, who as a radio disk jockey came out of the drug culture into being an evangelist, reaching into schools as part of an anti-drug program. Guitarist Phil Keaggy (still to come in our series) was also there for a time. It was something of a community or possibly commune dedicated to the pursuit of Christian faith and practice, something like a modern version of a monastery but without the gender restrictions. Its very name hints at the connection between the hippie movement and the subsequent Jesus movement.
I mentioned having heard Sandquist and spoken with him after a concert he and Keaggy did somewhere in north Jersey; those comments are mentioned in web log post #163: So You Want to Be a Christian Musician, and are what I most remember about him. However, I was exposed to his album of the time, The Courts of the King, and remember Lion of Judah from it. He was accompanied by the people at Love Inn. I sang and played his song All That I Can Do many times before I recognized that the melody came from another famous bit of worship music (I have since wondered whether he or anyone else ever realized it).
Yet the best song I ever heard from Ted Sandquist goes by several names. I knew it as Eternally Grateful, but I see online that it was also known as I Am Grateful, I Am, You Are Messiah, You Are, and I Am Eternally Grateful. It was co-written with Keaggy–and there is not a single copy of this song anywhere online that I can find. It was released on his 1984 album Let the Whole Earth Be Filled, but Jeff Zurheide and I were singing it at least a decade before that. Its absence from the web is a serious loss to Christian worship music.
*****
The series to this point has included: