This is mark Joseph "young" blog entry #315, on the subject of Don Francisco Alive.
We mentioned previously (in connection with Dallas Holm) that sometimes an artist's work becomes overshadowed by a single song. This happened to Don Francisco twice, despite having quite a significant body of valuable material apart from that.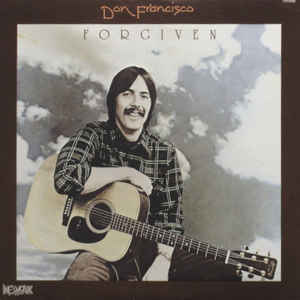 His debut album, Brother of the Son, featured a wonderful country song with a powerful message, No Condemnation, which I played quite a bit despite my general dislike for country music. In fact, when it was overshadowed by later work I still attempted to get it on the air, because I thought the message important. However, few remembered it for long after more songs were released.
His second album, Forgiven, had a wonderful song which got a lot of initial airplay, a live resurrection day story from Peter's perspective entitled He's Alive, which really was better than anything he'd done already. It climbed our charts quickly.
Then for no apparent reason, listeners turned away from it, wanting to hear a different song, the last song on the album, Adam, Where Are You?. It was stylistically similar, focusing on the Garden of Eden and the Fall.
He released several other excellent songs, usually similar in style to these, including the title song of his next album Got to Tell Someone, and of the following album The Traveler.
All of those songs still move me, some to tears.
Don continued to record and sing for years; he released a live concert album in 2016. I never heard anything else from him, though, as I was no longer connected to the CCM scene.
*****
The series to this point has included: