This is mark Joseph "young" blog entry #412, on the subject of The Song "When I Think".
I have long had a sort of love/hate relationship with this song.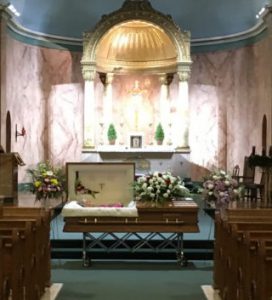 It started when I was writing it. I fought with the second and third verses for quite a while, and when I was finished fighting I was still quite unhappy about it. I thought that the the second verse should be about Him always being there, and the third about being brought back, but from the first notes I knew this was a deathbed song, and it seemed obvious that the third verse had to establish that to lead into the fourth, and I could not get the words to work that way with the verses in that order. Meanwhile, the second half of the second verse just always struck me as trite, and the third as a touch awkward, and I couldn't make them better than that.
Plus, it was a deathbed song, and I was a bit uncomfortable as someone who struggled with suicidal tendencies related to clinical depression singing about dying.
Still, I included it on the program for the last concert of The Last Psalm. We had the vocalists for it, and I did not know whether I would ever have the right combination for it again. It was probably the only time the song was ever sung for an audience the way I envisioned it.
Not long after The Last Psalm dissolved, Jeff Zurheide asked me to play in Jacob's Well. In the interim I had written a song that I thought was perfect for that band–three vocals, guitar, bass, drums, and a solid upbeat feel with a good message. (That song comes later on the list.) He said no. He wanted to do this song–a song I had not yet decided that I liked, and completely wrong for the band. Jacob's Well had no female vocals, no piano. I didn't see it–but it wasn't my choice, so Jacob's Well did an arrangement that was not at all what I envisioned for the song. It did not endear the song to me.
I might have sung the song for myself sometimes; I might have done it solo somewhere. No other band ever did it. In fact, it could have slipped into oblivion itself had it not been for that request from Jess Oldham that I produce a disk of Last Psalm songs and I was scratching around trying to find songs I could record that had at some point been part of that band's repertoire.
Even then, it gave me more unhappiness. It was obvious that the soprano, which soared to an F on the fourth verse, was entirely out of my range, so I had to rearrange vocals so that that became the tenor and the top part was what had been the alto. Even then, though, it was trouble. I had written it in the key of F, and as I tried to record what was now the soprano there were so many Cs my voice gave out. I had to go away and come back, pitch the whole song down to the key of D, and record the vocals with A as the highest note. So it didn't sound as bright as the original, and frankly it would be more difficult for any of the instruments to play it in this key.
All that said, there is something about the song that touches something, and ultimately I would pick this song to be played at my funeral. It says something worth saying.
This recording is four vocals over midi instruments. I ranked the song twenty-eighth for the music and lyrics, twentieth for the performance and recording quality; it did not make Tristan's list, putting it twenty-eighth overall.
When I Think.
So here are the lyrics.
When I think of what You've given me
I just want to praise Your name.
When I think of what You've been for me,
I'm so glad You've stayed the same.
All my trials are over now.

When I think of how You've brought me back
Ev'ry time I've gone astray–
When I thought I'd really blown it bad,
You had something nice to say.
All my trials are over now.

When I think of how You'd be right there
Ev'ry time I'd need a friend.
And You've shown me that You always care
Right up to this very end.
All my trials are over now.

Now I know You're gonna take me home
Now to live with You above,
Holy Father and Your Holy Son,
Holy Spirit, live in love.
All my trials are over now.

In my last words I would like to say
You should do as I have done:
Always follow, trust, love, and obey
Jesus Christ, God's only Son.
All my trials are over now.
All my trials are over now.
I can only hope you benefit from the song in some way. I will continue with additional songs in the future.
*****
Previous web log song posts:
#301: The Song "Holocaust" | #307: The Song "Time Bomb" | #311: The Song "Passing Through the Portal" | #314: The Song "Walkin' In the Woods" | #317: The Song "That's When I'll Believe" | #320: The Song "Free" | #322: The Song "Voices" | #326: The Song "Mountain, Mountain" | #328: The Song "Still Small Voice" | #334: The Song "Convinced" | #337: The Song "Selfish Love" | #340: The Song "A Man Like Paul" | #341: The Song "Joined Together" | #346: The Song "If We Don't Tell Them" | #349: The Song "I Can't Resist You're Love" | #353: The Song "I Use to Think" | #356: The Song "God Said It Is Good" | #362: My Life to You | #366: The Song "Sometimes" | #372: The Song "Heavenly Kingdom" | #378: The Song "A Song of Joy" | #382: The Song "Not Going to Notice" | #387: The Song "Our God Is Good" | #393: The Song "Why" | #399: The Song "Look Around You" | #404: The Song "Love's the Only Command" | #408: The Song "Given You My Name"
Next song: You Should Have Thanked Me