This is mark Joseph "young" blog entry #366, on the subject of The Song "Sometimes".
This is the nineteenth song on the list; I honestly do not remember when or where I wrote it, other than that it was done on a piano and was an effort to write a descending baseline song that was not the standard VI-V-IV-V of VI but didn't sound like the classic Chicago song. I wrote it in Bb minor, but when we did it with Collision I transposed it down half a step because it was much easier to play on a guitar in A minor and not more difficult for the piano part. This recording is from the album Collision Of Worlds (as pictured, Jonathon Maness on keys, Kyle Baxter guitar, Nick Rhodes on drums, and me covering bass and vocals). I've always been disappointed with the dynamics on the recording, but it's the best recording I can offer. (I think there is a good live version when Jonathan Maness and I played together at a retreat Mike Brantley asked us to do a week after Jonathan had left the band, but I was wading through all the concert and rehearsal tapes last year and got derailed at some point, so I don't know where it is.)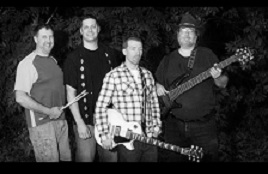 I listed this as my number two song for music and lyrics, and I'm not sure it isn't becoming number one; it was pulled down by the fact that I was so disappointed with the recording that I placed it at number 31 for performance and recording (although in retrospect it's really pretty good, and my disappointment might be a bit of an overreaction), and Tristan didn't include it on his list. (The ranking system is explained in connection with the first song, linked below.)
Sometimes.
So here are the words:
Sometimes only you and I alone can see
I am not the things that I know that I should be.
Sometimes people 'round about me cannot tell
In myself I'm only fit to be damned to hell.
No, I hide behind this smile upon my face,
Me of all most mis'rable, saving for your grace,
Me of all most mis'rable, saving for your grace.

Given time I'd only waste it all away;
I do not deserve to live even one more day.
Given talent, I would spend it on my pride–
I am such a sinful wretch, yet I choose to hide.
Given power I would work my selfish will.
How can God give life to one only fit to kill?
How can God give life to one only fit to kill?

He calls me by my name;
He tells me, "Child, arise!"
I'll never be the same:
I have looked into His eyes.

Now I see the one who died upon the cross;
All that I had counted gain there was counted loss.
Now I have no reason, nothing left to hide:
I'm the one deserving death; I'm the one who died.
Now my eyes are clearing–now I start to see,
Ev'rything that Jesus was God is making me,
Ev'rything that Jesus was God is making me.
I can only hope you benefit from the song in some way. I will continue with additional songs in the future.
*****
Previous web log song posts:
#301: The Song "Holocaust" | #307: The Song "Time Bomb" | #311: The Song "Passing Through the Portal" | #314: The Song "Walkin' In the Woods" | #317: The Song "That's When I'll Believe" | #320: The Song "Free" | #322: The Song "Voices" | #326: The Song "Mountain, Mountain" | #328: The Song "Still Small Voice" | #334: The Song "Convinced" | #337: The Song "Selfish Love" | #340: The Song "A Man Like Paul" | #341: The Song "Joined Together" | #346: The Song "If We Don't Tell Them" | #349: The Song "I Can't Resist You're Love" | #353: The Song "I Use to Think" | #356: The Song "God Said It Is Good" | #362: My Life to You
Next song: #372: The Song "Heavenly Kingdom"