This is mark Joseph "young" blog entry #290, on the subject of James the Other Ward.
I have several times asked myself why I listed James Ward for an article of his own, instead of grouping him with the batch of male vocalists in one article still to come. Part of the answer, I think, is that my cousin the Reverend Peter Grosso would probably kill me if I overlooked or minimized this artist who is, I understand, a friend of his, but part of it is that his Mourning to Dancing album is among my favorites, so he has at least earned that much from me. I also heard him live once, but that's part of the story.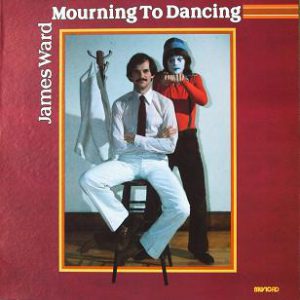 It is of course not uncommon for persons with the same surnames to be unrelated, and although James Ward has the same name as Matthew Ward of Second Chapter of Acts, same as the maiden names of Matthew's two sisters Annie Herring and Nellie Greisen from that same band, it does not appear that they are related; at least, no one ever suggested this, and in the entertainment world you usually do hear about such connections. The Ward family of Acts appears to have been west-coast based, while James was on the east coast. I know this because Peter, my cousin, apparently knew him through a New York state area summer camp called Peniel. Sometime, possibly when I was still in high school (graduated in '73), certainly before I got to Gordon (started in '75), he was waving an album in front of me and raving about it–as "raving" as my soft-spoken older Presbyterian cousin ever raved. Somehow, I don't think he played any of it for me, and I can't tell you anything about the sound, but my recollection of the cover was that it was that of a low-budget self-produced release, and in perhaps my own youthful hubris I was not impressed.
When I was at Gordon College, Peter was at Gordon-Conwell Theological Seminary right up the road (the official connections between the two schools were finally and formally dissolved during my first year there), and when Ward played in our cafeteria (we had no auditorium, and the chapel wasn't large enough to hold the entire student body) with his band Elán, Peter came. After the concert, Peter wept.
I, a musician in my own mind, found the concert interesting and enjoyable. Elán was an avant-garde jazz band that did a lot of atonal and non-metered instrumental music. They were very good at it. I don't know that I would have bought an album had they offered one, but it was the sort of music a composer should hear at least once so he has some idea of what's beyond the traditional boundaries of music.
Peter was a pastor, in training, and his memories of the performances of James Ward were that they ministered. Elán did not minister; they performed, and they talked about how they achieved some of the effects, like a song that really was a musical version of an impressionist painting of a sunrise. For Peter, every good thing about a James Ward concert was lost.
Perhaps half a decade later, when Mourning to Dancing was released, Ward commented in an interview that people "didn't understand" Elán. I thought at the time that he was wrong, at least that in relation to his earier fans–such as Peter–it wasn't about whether or not they understood the music, but that they missed the ministry. I once sat on the edge of a conversation between some listener who had opinions about the nature of music (possibly reflecting Francis Schaeffer's work) and some Christian musician who had grown up in church (and it may actually have been Ward after that concert) in which the musician was attempting to elicit from the listener an explanation of what made particular kinds of music "Christian" or "not Christian". As a composer, I am inclined to agree with the musician: if modernist tonalities communicate what I want to say, they are Christian to the degree that I am communicating a Christian messsage through them. However, if I have placed this conversation correctly in my memory, both parties were missing that critical element: it isn't whether the music fits a particular style or mold, but whether it is communicating a worthwhile message. Pendereki's Threnody for the Victims of Hiroshima is one of the most discordant atonal non-metered pieces ever written, but it communicates something significant. There is no particular reason why avant-garde jazz could not be a medium for a Christian message. The problem with Elán was that it wasn't.
Peter and I never talked about Ward again. He left Gordon-Conwell for a pastorate in Pennsylvania, and I became a Christian disk jockey in southern New Jersey. Thereafter we were rarely at the same family gatherings, and the matter never arose. However, I received Ward's Mourning to Dancing album at the radio station, and the spare copy went into my collection and was much enjoyed here. It is the kind of album that has no losers on it, and which is best heard straight through. From the opening strains of Highway (reminiscent of the the Elán days until the verse shifts into light rock), the album gives insights into the life of an on-the-road Christian musician along with solid Christian songs such as Hold Up My Hands (no online video found), Who Can Separate Us (again, no video found), and then the mellow title song Mourning to Dancing. The "B" side began with another glimpse into the life of the musician, Late At Night Again (again, no video), and the intriguing Holy Observer (need I say it?), then Gotta Get Home ("…to her own bedroom….") (again), in which the life on the road includes that he traveled with his wife and young daughter. The bouncing Precious Is Your Mercy follows, and I am really disappointed at just how many of these are not available online, but the final song, the wonderful So His Honor, was covered by the band Truth in this recording.
I find myself very confused as to why I recognize the cover of his next album Faith Takes a Vision, but none of the titles are familiar and the music is barely so, despite being very good. Maybe it was just that I didn't get a copy so it slipped into forgetfulness. Listening to the vaguely familiar Not How, Maybe I'll Trust You Now, Take Hold, Don't Blame It On My God, and others, I can't help feeling that I missed something good.
Those were the only albums I heard; I wish I had heard the one Peter had, which does not appear in online discographies, although I don't know the title and barely remember the cover.
I feel I should mention that Ward's talents lie in his musical compositions and lyrical content. His piano work and arrangements are always solid. His voice, though, is unique, and it would be easy to fault him there. He does his own backup vocals quite well, but it would be difficult to imagine someone else blending with him. He is in the category of singer-songwriters carried by the strength of their songs rather than their singing. That's not, from me, a criticism. I just sometimes notice the flaws in his voice, as one does often with other popular singer-songwriters. I like it overall; it's expressive. It certainly is not operatic, and probably wouldn't win any television competitions. Yet it makes for comfortable listening.
*****
The series to this point has included: