This is mark Joseph "young" blog entry #405, on the subject of Versers Converge.
With permission of Valdron Inc I have previously completed publishing my first six novels, Verse Three, Chapter One: The First Multiverser Novel, Old Verses New, For Better or Verse, Spy Verses, Garden of Versers, and Versers Versus Versers, in serialized form on the web (those links will take you to the table of contents for each book). Along with each book there was also a series of web log posts looking at the writing process, the decisions and choices that delivered the final product; those posts are indexed with the chapters in the tables of contents pages. Now as I am posting the seventh, Re Verse All, I am again offering a set of "behind the writings" insights. This "behind the writings" look may contain spoilers because it sometimes talks about my expectations for the futures of the characters and stories–although it sometimes raises ideas that were never pursued, as being written partially concurrently with the story it sometimes discusses where I thought it was headed. You might want to read the referenced chapters before reading this look at them. Links below (the section headings) will take you to the specific individual chapters being discussed, and there are (or will soon be) links on those pages to bring you back hopefully to the same point here.
There is also a section of the site, Multiverser Novel Support Pages, in which I have begun to place materials related to the novels beginning with character papers for the major characters, giving them at different stages as they move through the books.
This is the twenty-third mark Joseph "young" web log post covering this book, covering chapters 133 through 138. It was suggested that more shorter posts were a better choice than fewer longer ones, so there will be posts every six chapters, that is, every other week, for this book. Previous entries were: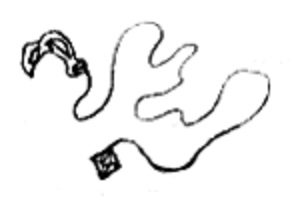 History of the series, including the reason it started, the origins of character names and details, and many of the ideas, are in earlier posts, and won't be repeated here.
I'm hoping the graffiti will be something different for the reader. The discussion of attacks and blocks has given me a problem, though, because it's obvious to me that Tommy would see she could order a weapon from the computer even though it wouldn't occur to Lauren, and I'm facing the perennial problem that if Lauren teaches Tommy to fight with the same weapon Lauren uses, Tommy will fight like Lauren and my stories will be more the same.
---
I had mentally created two disruptions for Beam, and having two trucks going opposite directions was one of them. I was not certain I wouldn't lose someone, but I played it out and managed what I think was a moderately tense scene.
It was also a bit of a tricky scenario to envision, and I wound up re-writing because I believed I had the ascending and descending trucks reversed in one paragraph–the descending truck had to pass behind the ascending truck, which had moved out of the lane, and the ascending truck had to return to its left. I was still making corrections the day I released it. Anyway, I hope that's correct.
---
I had been struggling over the question of how to keep Tommy from becoming a Lauren clone, and pulled out my old Advanced Dungeons & Dragons Oriental Adventures book. I quickly found the kawanaga, and liked it immediately–it was similar enough in name that Tommy could have ordered it by mistake, and it was a flex weapon similar enough to the kau sin ke that Lauren would be able to adapt her techniques to it while different enough that it couldn't do everything Lauren did but could do quite a few things she couldn't. I ran it past Kyler, who agreed that it was exactly the sort of thing he was thinking.
The recollection that Lauren was "into" horses as a girl suggested to me that she probably had handled a lariat at some point, and throwing a grapple is undoubtedly easier, so she could adapt some of those techniques to explain why she was able to use the rope weapon so readily.
---
For a while I had in my head that one of the events in the Beam pilgrimage would have to be encountering another large group. This was that. I did not know how it would go, but felt my way through it.
---
Lauren and Tommy are about to connect with Beam, but I wanted to create the feel of multiple days of travel and practice before they did.
---
I had managed to bring Beam up far enough that it was time for him to intersect with Lauren. The discussion of why he was unaware of her approach but Dawn wasn't I thought obvious and straightforward.
I intentionally misspelled the name of the other group leader because it would reflect the fact that Beam didn't care.
---
This has been the twenty-third behind the writings look at Re Verse All. If there is interest and continued support from readers we will endeavor to continue with another novel and more behind the writings posts for it.