This is mark Joseph "young" blog entry #397, on the subject of Verser Challenges.
With permission of Valdron Inc I have previously completed publishing my first six novels, Verse Three, Chapter One: The First Multiverser Novel, Old Verses New, For Better or Verse, Spy Verses, Garden of Versers, and Versers Versus Versers, in serialized form on the web (those links will take you to the table of contents for each book). Along with each book there was also a series of web log posts looking at the writing process, the decisions and choices that delivered the final product; those posts are indexed with the chapters in the tables of contents pages. Now as I am posting the seventh, Re Verse All, I am again offering a set of "behind the writings" insights. This "behind the writings" look may contain spoilers because it sometimes talks about my expectations for the futures of the characters and stories–although it sometimes raises ideas that were never pursued, as being written partially concurrently with the story it sometimes discusses where I thought it was headed. You might want to read the referenced chapters before reading this look at them. Links below (the section headings) will take you to the specific individual chapters being discussed, and there are (or will soon be) links on those pages to bring you back hopefully to the same point here.
There is also a section of the site, Multiverser Novel Support Pages, in which I have begun to place materials related to the novels beginning with character papers for the major characters, giving them at different stages as they move through the books.
This is the twentieth mark Joseph "young" web log post covering this book, covering chapters 115 through 120. It was suggested that more shorter posts were a better choice than fewer longer ones, so there will be posts every six chapters, that is, every other week, for this book. Previous entries were: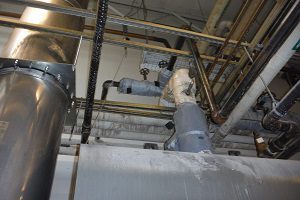 History of the series, including the reason it started, the origins of character names and details, and many of the ideas, are in earlier posts, and won't be repeated here.
I'm still struggling to create interesting story, and having Tommy discover the history of the world provides backstory for them and for Beam, who was never interested enough to look for it.
I find myself writing about food not because I'm hungry but because I know they have to eat and sleep and it breaks the monotony of travel.
---
I was not sure how much to cover in this section, but I had decided that Beam was going to create a construction crew which would be useful on the surface, even though I had no idea what I would be doing on the surface. I wound up postponing the bridge building partly because I didn't like the way it was shaped in my brain and didn't want to start it, even though I had no idea what Tommy and Lauren would be doing.
---
I was struggling with the effort to find something different, and decided that a utility control room would be different. Once I'd decided that, and knowing that I needed to include physical training, I envisioned the pipes as tools for training, and went with the balance skills.
When I was a child, our next door neighbor had what we incorrectly called split rail fences (they were properly called wooden post fences), and we–my brother, my sister, the girl next door who was my brother's age, and I–learned to walk on them, forward, backward, eyes open and eyes closed, maybe, if memory serves, jumping on them. The hardest thing I remember was negotiating past the roses, but different slats had different shaped surfaces and posed different challenges. Then once we'd learned enough, we began teaching the other kids in the neighborhood how to do it. A lot of that is being channeled in this training session, although some of it comes from my imagined gameplay when I first started playing Multiverser.
---
I had been writing this and stopped abruptly when I realized that I had been envisioning it as if the entire crew was at the top, but I had only brought up three plus Dawn and Beam. There were only a few corrections–I had had Beam address Bron at one point–but I wasn't sure how big a mistake it was so I set it aside, went to bed, and fixed it in the morning.
I felt like this chapter was dragging on, not letting me get past the dull stuff, until finally I managed to get to bringing Bron up and I could break it.
---
I decided to reverse the teacher/student relationship mostly to do something that would be at least a little different in this chapter. Besides, it makes sense for Lauren to want to know how to get food in this world without being totally dependent on Tommy, and for her to want to learn more about using computers.
---
The bridge design sort of came together in pieces. I kept visualizing it a bit different. I had actually typed that the planks ran parallel to the edges of the hole, but immediately decided that they had to run across the hole, and changed it before I'd finished the sentence.
I knew it would take more than one day to finish, and I knew that Beam was the sort of person who wouldn't stop work until he had to, so to get him back for dinner I had to deplete the lumber. This would also send him back to the hardware supply and use part of his next day, although less than they had used previously.
---
This has been the twentieth behind the writings look at Re Verse All. If there is interest and continued support from readers we will endeavor to continue with another novel and more behind the writings posts for it.