This is mark Joseph "young" blog entry #34, on the subject of Happy Old Year.
At this time of year, readers are bombarded with "year in review" pieces, part of the media's need to have news even when there is no news, to make news out of nonsense and trivia–the reason Time Magazine first created its "Man of the Year" issue (the first was Adolph Hitler). When I was at The Examiner, I began doing something of the same thing, creating indices of articles from the year for readers who missed something or who vaguely remember something. Quite a bit has been published this year, and it might help to have a bit of a review of it all, as some of you might have missed some of it. We have articles in quite a few categories.
The web log is of course self-sorting, and you can find articles in its various categories by following the category links, or in subjects by following tag links; still, it will be worth touching on those pieces here, and there are also quite a few "static pages", that is, regular web pages added to the site, that you might have missed.
At the beginning of the year we were still writing for The Examiner; all of that has been republished here, much of it which was originally done in serialized format consolidated into larger articles. My reasons for that are explained here on the blog in #8: Open Letter to the Editors of The Examiner, if you missed them. It is still hoped that the Patreon campaign will pick up the slack and pay the bills needed to support continuing the efforts here at M. J. Young Net.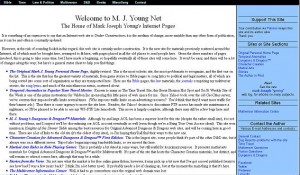 Let's start with the law and politics pieces. This is a good place to start, because when at the beginning of the year we moved everything from The Examiner, we included a final New Jersey Political Buzz Index Early 2015, with articles on Coalition Government, Broadcasting, Marriage Law Articles, Judiciary, Internet Law, Congress, Discrimination, Election Law, Search and Seizure, Presidential, Health Care, and Insurrection, most subjects covering several articles consolidated with other articles, along with links to earlier indices. There was also a new main law/politics index page, appropriately Articles on Law and Politics, covering the old and the new, and we added a static page to that, continuing a series on tax we had begun previously, What's Wrong with the Flat Tax?.
We've also had a number of law and politics posts on this blog, including
We also covered New Jersey's 2015 off-year election with a couple posts, #12: The 2015 Election, and #15: The 2015 Election Results.
There were a few web log posts that were on Bible/theology subjects, particularly last week's #32: Celebrating Christmas, about why we celebrate, and why this particular day; plus some that were both political and theological, including #3: Reality versus Experience, #23: Armageddon and Presidential Politics, and #24: Religious Liberty and Gay Rights: A Definitive Problem.
Then there was the time travel material. This also included some that were originally published at The Examiner and moved here, sometimes consolidated into single pieces. We started the year with a serialized (and now consolidated) analysis of Predestination, followed by one of Project Almanac. We also gave a nod to (Some of) The Best Time Travel Comedies and (Some of) The Best Time Travel Thrillers, before moving here.
Once here, we began our temporal insights with a couple of web log posts, the first #6: Terminator Genisys Quick Temporal Survey, and then #17: Interstellar Quick Temporal Survey, both thanks to the generosity of readers who provided for us to see these films. We eventually managed to add a new analysis to the web site, Terminator Genisys, one of the longest and most complicated analyses we have yet done–but we were not done. Remembering that our original analysis of the first two films in the franchise made some suggestions concerning a future direction for the series, and having commented on the problems with continuing it after the latest installment, we wrote #28: A Terminator Vision, giving some ideas for a next film. Then in response to a reply to the analysis, we added #31: A Genisys Multiverse, explaining why we don't think a multiverse-type solution resolves the problems of the film.
The site was expanded on another long-neglected front, the Stories from the Verse section: the directors of Valdron Inc gave me permission to serialize Verse Three, Chapter One: The First Multiverser Novel; as of today, the first forty-seven of one hundred twenty-six chapters (they're mostly short chapters) have been published; there is an index which conveniently lists all the chapters from the first to the most recent published in the left column and from the most recent to the first in the right, so that you can begin at the beginning if you have not read it at all, or find where you left off going backwards if you've read most of it. The chapters also link to each other for convenient page turning.
I don't know whether it makes it more interesting or takes away some of the magic, but I also began running a set of "behind the writings" blog posts to accompany the novel. These are my recollections of the process that brought the pages to life–where I got some of the ideas, my interactions with the editor and other pre-publication readers,, changes that were made, and how it all came to be. There are now seven of them in print–
–and I expect to publish another tomorrow for the next six chapters.
Looking at the few posts that have not yet fit in one of these categories, whether logic or trivia or something else, one, #29: Saving the Elite, was really advice for writing a certain kind of story. Our first post in the blog, #1: Probabilities and Solitaire, was a bit of a lesson in probabilities in card games, and #26: The Cream in My Coffee applied physics to how you lighten and sweeten your hot beverages.
So that's what we've been doing this year, or at least, that's the part that sticks above the water. We've answered questions by e-mail, posted to Facebook (and PInterest and Twitter and LinkedIn and MySpace and Google+ and IMDB and GoodReads and who knows where else), kept the Bible study going, worked on the novels, and tried to keep the home fires burning at the same time. That's all important, but somewhat ephemeral–it passes with time faster than that which is published. Here's hoping that you've benefited in some way from something I wrote this year, and that you'll continue encouraging me in the year ahead.
Happy old year.
Happy new year.
[contact-form subject='[mark Joseph %26quot;young%26quot;'][contact-field label='Name' type='name' required='1'/][contact-field label='Email' type='email' required='1'/][contact-field label='Website' type='url'/][contact-field label='Comment: Note that this form will contact the author by e-mail; to post comments to the article, see below.' type='textarea' required='1'/][/contact-form]