This is mark Joseph "young" blog entry #341, on the subject of The Song "Joined Together".
This is the thirteenth song in our publication efforts, and you might think that given our methodology (explained in the first song post, linked below) all the best ones are gone. Indeed, I ranked this song number 17 for the quality of the song, and Tristan did not include it on his list at all; it was helped by the fact that as midi-instrument recordings go it was pretty good, coming in number 9 for performance and recording quality. So maybe the really good ones are done.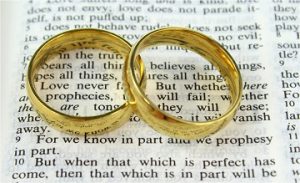 On the other hand, I have a set of CDs in the car which have all these songs in this order, and when my wife is driving she will insert this CD and advance it to start with this song. There are others she likes better, and she doesn't dislike any of the first twelve, but she finds the string of songs starting with this one to be particularly good. (I invited her to contribute to the selection process, but she never did until after it was completed.) Maybe it's because I had a couple friends perform this at our wedding; maybe it's because it's the first Christian marriage song I wrote–but she often complains that I didn't write it for her (we were engaged at the time) but for our good friends David and Jess Oldham (nee Sue Parliman), who were getting married before we were. They did not ask me to sing it at their wedding. I offered to sing it at my sister's wedding, who wanted me to sing something, but there was a line in it she didn't like, insisting that death parts us. I don't know that we know that, exactly, but she makes a point.
I wrote it at Gordon College, between the fall of 1975 (or possibly late that summer before I left for school) and that Christmas; Dave and Jess got married right around Christmas, and I had a recording ready for them to hear before that. It was written on the piano, the piano part probably the most complicated I had written to that point (mostly for the use of the left hand). I later figured out how to play the same chords in similar positions on the guitar, and made a recording of it to play for Dave and Jess prior to their wedding. I had recently installed a third pickup on my Harmony Rocket guitar so that I could reach the volume control and do cry effects (I had first heard and seen this done by the lead guitarist in Rock Garden (I think his name was Eddie Newkirk, but I never knew him) using a pedal, and later seen Phil Keaggy do it with the volume control on the guitar), and so I improvised the lead guitar part on a one-shot through recording. (I was using two stereo reel-to-reel decks at the time.) Decades later when I was doing the midi instruments I realized that I didn't have a cry guitar, but that the effect approached the sound of a violin, so I used a midi violin instead.
The song is here.
Joined Together.
So here are the words:
Nothing else in Father's plan
So affects your life:
Will you take him for your man?
Will she be your wife?
There is now a covenant
As love makes one of two.
Love will teach you what you meant
When you said, "I do."

Love is patient, love is kind.
Never leave your love behind.
Love each other more each day
'Til you're old and grey.

Who knows what is yet to be?
We may spend eternity
Joined together, you and I,
Still as one when we die.

Bridegroom, stand beside your bride;
Keep her always by your side.
She has been God's gift to you;
You are her gift, too.

Submissive to each other,
And bound with cords of love.
We know our loving Father
Ordained this up above.
Let no one ever separate
What God has joined as one,
But work out day by day this great
Thing God's already done.
I can only hope you benefit from the song in some way. I will continue with additional songs in the future.
*****
Previous web log song posts:
#301: The Song "Holocaust" | #307: The Song "Time Bomb" | #311: The Song "Passing Through the Portal" | #314: The Song "Walkin' In the Woods" | #317: The Song "That's When I'll Believe" | #320: The Song "Free" | #322: The Song "Voices" | #326: The Song "Mountain, Mountain" | #328: The Song "Still Small Voice" | #334: The Song "Convinced" | #337: The Song "Selfish Love" | #340: The Song "A Man Like Paul"
Next song: If We Don't Tell Them