This is mark Joseph "young" blog entry #272, on the subject of To the Bride Live.
There aren't a lot of albums that I'm going to mention in their own articles; this might in fact be the only one. That's partly because this is a collaborative effort–our last two spotlighted artists, Barry McGuire and The Second Chapter of Acts, went on tour together with support from a band called A Band Called David (which supported artists on other tours as well). It is also because this live album easily falls among the best recordings of its decade, with wonderful performances of great songs and an unrivaled concert ambiance.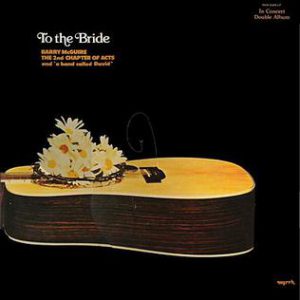 However, it is difficult to present much of this album, because very little of it can be found online. One of the two cuts I had linked in the early notes was removed because the account holder had been cited for multiple copyright violations (although I found another copy of it). None of my searches uncovered any cuts from this album by The Second Chapter of Acts. However, they did most of their repertoire to that point, and Barry also sang quite a bit as well as talking to the audience. His chat about Dolphins is available online (or was as of this writing, although I had to find a different link for it). He also sang the wonderful song I Walked a Mile.
This was apparently the debut tour for Acts, as Barry, the known figure from his secular successes, introduced them as those three skinny people "not to be confused with the microphone stands", and told the story we've already related about hearing them at Buck Herring's house after dinner one night. As they begin presenting their part of the concert, it is obvious that they, unlike some of the secular vocal bands of the era, were every bit as good live as in the studio.
The two-disk album is enjoyable and compelling throughout, a performance and concert experience rivaling any. If I could have only one album from that decade, this would be it.
The Second Chapter of Acts appeared on other live albums with other artists, but although they always delivered unblemished performances, the presence of Barry McGuire here made it a great concert, a cut above anything else I ever heard.
I recently saw that Barry released a new album in October, 2018. It might be accompanied by a concert tour. If you have the opportunity to attend one of his concerts, it's worth it.
*****
The series to this point has included: