This is mark Joseph "young" blog entry #376, on the subject of Characters Arrive.
With permission of Valdron Inc I have previously completed publishing my first six novels, Verse Three, Chapter One: The First Multiverser Novel, Old Verses New, For Better or Verse, Spy Verses, Garden of Versers, and Versers Versus Versers, in serialized form on the web (those links will take you to the table of contents for each book). Along with each book there was also a series of web log posts looking at the writing process, the decisions and choices that delivered the final product; those posts are indexed with the chapters in the tables of contents pages. Now as I am posting the seventh, Re Verse All, I am again offering a set of "behind the writings" insights. This "behind the writings" look may contain spoilers because it sometimes talks about my expectations for the futures of the characters and stories–although it sometimes raises ideas that were never pursued, as being written partially concurrently with the story it sometimes discusses where I thought it was headed. You might want to read the referenced chapters before reading this look at them. Links below (the section headings) will take you to the specific individual chapters being discussed, and there are (or will soon be) links on those pages to bring you back hopefully to the same point here.
There is also a section of the site, Multiverser Novel Support Pages, in which I have begun to place materials related to the novels beginning with character papers for the major characters, giving them at different stages as they move through the books.
This is the eleventh mark Joseph "young" web log post covering this book, covering chapters 61 through 66. It was suggested that more shorter posts were a better choice than fewer longer ones, so there will be posts every six chapters, that is, every other week, for this book. Previous entries were: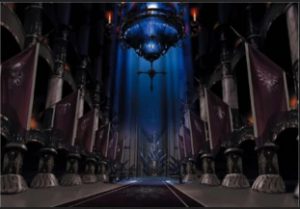 History of the series, including the reason it started, the origins of character names and details, and many of the ideas, are in earlier posts, and won't be repeated here.
I perceived that the driders would upset the mules, so I needed people to calm them. This would not be Lauren, as it was already established that the spiders made her nervous, but Malacon himself is a magically calming influence and he has members of his squad, such as Apatukwe, who would be good at calming animals.
I wanted to say "male and female drow", but Lauren wouldn't talk or think like that so I let her use the more awkward "men and women drow".
I wanted to give the impression of size in the entry hall without saying it was big, and it struck me that the easy way to do it was to say that the other end was "distant".
The light level in the room was problematic. Drow see better in total darkness than in daylight, but I needed the non-drow party members to be able to see something so there had to be some light. Technically this makes it more difficult for the drow to see, but then there are some creatures that cannot be seen in darkness (the drow vision sees infrared and ultraviolet light, so cold blooded creatures blend into the background) so some light is justified. I mentioned the marble mostly because I wanted to explain why Lauren wasn't using it.
I needed names. I had thought of a good name for the queen while I was writing, but forgot it before I reached the point where it would be used so had to think of another. I cobbled together Taranelle from Coronelle. I had thought of a name for the younger sister but failed to record it anywhere, so I had to invent another, and again worked from Coronelle to get Corina. After I had written it, I thought of using Sabina, the name of the dog of a friend of mine decades back, but decided it was too like Sabrina, a popular television character. The town came to me as Tarantola; after I had typed it, it struck me that "Tarant" was closely connected to tarantula, which I was pretty sure was a Spanish name for a deadly spider and connected to a Spanish dance. I thought of changing it to Taranton or Taranburgh, but told myself that it should be a Spanish suffix for town, and I didn't know one. It happened that I was writing rather early in the morning, and when I went into the other room to look for my son who has some significant background in Spanish, no one was awake, so I just used Tarantola.
I had known since shortly after the dragon encounter that Coronelle's younger sister had arranged her disappearance and killed the queen so as to take the throne, and that this confrontation would happen. I did not know in any detail what would happen, and was creating it as I wrote it.
---
I mostly needed to move time forward, but also wanted to continue painting some of the world of the time.
---
I knew he wouldn't want them, but I needed Beam to have a following of indigs for the story ahead, so I had to crowbar them into his life at this point. The terms dictated by both sides were a bit tricky to produce, but then it was enough to recognize that neither side had imagined this meeting so both were winging it.
---
Again trying to make combat interesting, and particularly in this situation in which I can't have it resolve too quickly but I can't let the presumably weaker side lose.
---
I had finished the camp supplies, and I kept thinking I wanted to build the relationship between Tommy and Johnny Angel. Meanwhile, I also had to figure out how she could do something dangerous enough to get versed out. Traveling to the city probably wasn't going to do it unless there was a car accident, but it at least put me moving in the right direction.
---
At the end of the previous Beam chapter I had to have Beam walk off stage, and the only thing that remotely made sense was for him and Sophia to head for the bedroom. Now I had to figure out what he was going to do there.
As usual, having my characters talk about their problems helped me figure out how to resolve them.
---
This has been the eleventh behind the writings look at Re Verse All. If there is interest and continued support from readers we will endeavor to continue with another novel and more behind the writings posts for it.