This is mark Joseph "young" blog entry #375, on the subject of Fixing the Focus.
I have previously written decrying polarization, and have touched on it enough times since that it is a key word in this web log. It concerns me that things are not improving.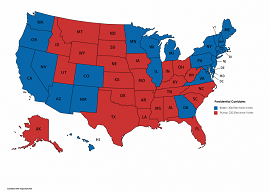 Being a moderate, I have discussions with people on both sides of the divide. In the wake of the past few months, some–Christians–have been actively attempting to prove that the Presidency has been stolen by voter fraud on a massive scale, while others–also Christians–have been thanking God that the madman has been removed from the White House. Both reactions seem extremist to me, and somewhat foolish, but I understand them.
Obviously the attack on the Capitol building in Washington was unreasonable. The degree to which President Trump was responsible for this is something that will probably be discussed for a long time, even if it is decided by Congress.
As to that, I think that the impeachment action is a vindictive and undemocratic display of fear. There are only two reasons to impeach a departing President. One is to make it possible for him to face criminal charges for actions taken while in office, which means that the evidence will have to be taken to the courts if the impeachment motion carries. The other is to prevent the man from running for office again–and that's the undemocratic part of it. It suggests that the party in control of Congress believes it is possible that the outgoing President could be re-elected in a future run, and they want to prevent his millions of supporters from being able to put him back in office–clearly an attack against their rights.
As my friend John Walker recently posted on Facebook,
When either side of a political structure tries to convince you that the the opposite view is the enemy, it's time to stop believing in sides.
Yet both sides have been espousing this for most of this new century, and our political landscape is riddled with people who believe it.
It has been so for long enough that I am fairly certain nothing I can say will have a significant impact on this.
Yet I will not say nothing.
I will, rather, cite a preacher I heard on my local Christian radio station this week. He very wisely said that Christians are called to bring about spiritual change, not political change. Political and economic and social change might come from spiritual change–it has happened in the past–but our calling is to focus on the spiritual, to point people to Christ. Christians fighting political battles are probably missing what is truly important.
'Nuf said.