This is mark Joseph "young" blog entry #262, on the subject of First Lady Honeytree of Jesus Music.
Pop music of the seventies tended to be dominated by the men, so it is not surprising that early Contemporary Christian Music was as well. We've seen a couple of female vocalists in bands along the way, some of whom had solo careers as well, but the one who stands out as the female artist in the Jesus Music world of the time was known as Honeytree.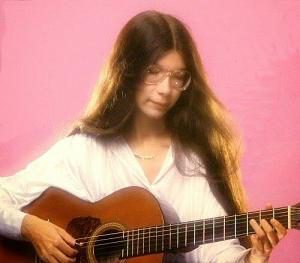 The stage name of Nancy Henigbaum is a translation of her surname, somewhat known in the classical music world as her parents were both classical musicians, her father conducting a major orchestra in South Carolina before his recent passing. Her fans were not generally aware of her parentage, however, and heard in her sounds similar to Joni Mitchell or Carly Simon, with a strongly Christian message. Perhaps her best-known song was Clean Before My Lord, from her 1973 self-titled debut album, but over the years there were many others that became familiar. (Lovely Jesus) Here I Am, the bluesy and playful Rattle Me, Shake Me, and Diamond in the Rough, were all well known before I reached the radio station in 1979.
She was quiet while I was there, with no releases between 1979's Maranatha Marathon and 1985's Single Heart (neither of which I ever heard). Yet somehow I heard the title song of her 1993 album Pioneer despite the fact that I had no access to current Christian music at that time.
Reportedly, Honeytree is still singing. In the latter part of the twentieth century she became involved in ministry specifically to the needs and issues of single women, a ministry she continued even after marrying (John Richard Miller) in 1990. Her website includes invitations to appearances and mission trips through this year. However, 1993 is the last reported album.
*****
The series to this point has included: