This is mark Joseph "young" blog entry #239, on the subject of A Departing Member of the Christian Gamers Guild.
Someone recently posted to the Christian Gamers Guild list, in a post called So Long and Thanks for All the Fish, that he would be resigning. This is not a big deal; members come and members go, and life is like that. Two things make this event a bit different. The lesser is this individual has been involved for perhaps as long as I have, perhaps longer, and years ago actively so, and I miss some of those who were involved in the early years who are no longer there. The greater is that in announcing his departure he suggested that perhaps he was wrong about role playing games, and that maybe the rest of us should consider quitting the hobby as well.
I am reproducing my reply, in substance at least, below; first, I am going to attempt to do justice to his statement without actually plagiarizing it. I am going to call him "J" here, because I don't have his permission to use this and don't particularly want to put him on the spot, and "J" has absolutely nothing to do with his name (it's short for "John Doe", if you must know); members of the Christian Gamers Guild already know who he is.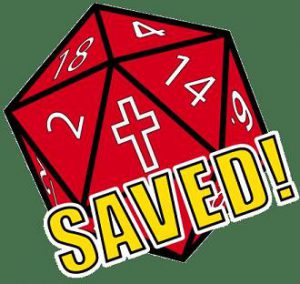 J begins by introducing himself and announcing that he is leaving the group because he has decided not to play role playing games, but he wants to explain that.
Giving his history, he notes that when he first joined the group he was uncertain whether role playing games were compatible with Christian faith, and how that would work. He had stopped playing when he became a Christian, but encouraged by the guild resumed doing so. He identifies himself as "a Spirit-Filled believer and as such I believe in the ministry of the Holy Spirit in the church today through the gifts of the Spirit and in the anointing and power of God being alive and active in the Church and in individual believers today."
He says that as soon as he returned to role playing he knew something wasn't right but wouldn't admit it to himself. He was involved in ministry, but always felt that there was a hindrance blocking his connection to the Holy Spirit.
Interestingly, he also felt that his faith interfered with his ability to play the games. Before he was a believer, he felt that he tapped into something that enabled his games to flow, and once he was a Christian running games became a chore. He believes that he had been connecting with a "spirit", and although what he says is not exactly clear as to whether he means that literally he thinks there is a demonic and seductive connection in role playing games. As a Christian, they simply weren't the same for him as they had been when he was an unbeliever.
J then tells us that before he was a believer he was involved in the occult, and that Dungeons & Dragons™ played a role in pointing him in that direction. His occult involvement never produced anything but empty promises and a few frightening experiences, and eventually drove him to Christ.
He wisely tells us that the Holy Spirit is at odds with many things in this world; he says that role playing games are one of them. The most objective objection he raises is from someone who counseled him against games, who said "…in role playing games you spend your time trying to be something that you are not; what the Holy Spirit wants you to do is be who you are." He feels it is necessary for us to ignore explorations of who we aren't and seek more deeply who we are. So saying, he recommends that we all leave the fantasy behind, although he recognizes that not everyone is at the same place with God. He departs with a word of love for us as siblings in Christ, and with the famous closing, "Grace and peace be multiplied to you."
*****
I am not attempting to persuade J that he's wrong to leave the group or to give up role playing or other hobby games. That's a weaker brother issue, and if it's a problem for him, I respect that. I will certainly in some way miss him, even though he has rarely posted recently, just because knowing that there are a few people around besides Christian Gamers Guild President Rodney Barnes and me who have been here from the E-groups days makes me feel better about still being part of it all–and I do feel good about it; it has in some ways become integral to my identity.
Further, I understand the Charismatic/Spirit-filled viewpoint. I don't know that I speak in tongues more than you all, but I do speak in tongues, and quite a bit, while sitting, working, driving, writing, washing dishes, and at many other times. Yet I am also solidly grounded in the more "rational" denominations, with solid connections to the Baptists, Presbyterians, and Lutherans particularly, and more casually to quite a few other denominations. It also should be said that, like Rodney, I was a believer for many years before I discovered Dungeons & Dragons™, and in fact my "gateway" to it was the fantasy literature of J. R. R. Tolkien and C. S. Lewis.
My problem with what J says is that it's almost entirely subjective.
There's nothing wrong with that, per se. As I discuss in Objective and Subjective Christian Guidance (covered in a bit more detail in my book What Does God Expect?) our lives are very much about balancing the two kinds of direction, each tempering the other. Sometimes what God wants us to do is delivered entirely subjectively, and we have to trust at some level our own instincts, that this is indeed what God is saying, and not something that comes from within ourselves. I just get upset about it because I've had people say to me that "God told me" the games were evil, and there is then no discussion. J isn't saying that; he's saying that they have been an impediment to his own joy and connection to God, and he thinks it might be so for others. It is certainly the case that God sometimes asks us to surrender perfectly good things simply because He must be more important in our lives than they are. Anything that we are not willing to give up for God is an impediment to our relationship with Him.
In the course of the discussion, someone suggested that eventually J will be able to return to gaming, and that's possible–but it's also, I think, an idea that itself becomes an impediment. If you give something up in the hope that God will give it back, you are still holding on to it. When God wants you to give up something, you need to walk away and not look back. So I understand that J might never return, and certainly is not going to expect to do so at this point as he is leaving. That expectation itself would be counter-productive, an indication that he is not really leaving gaming but only pretending to do so for the present.
J is uncomfortable with the magic in gaming because in his mind it is connected to the occult. I have often argued that one of the best aspects of fantasy role playing games is the magic, that it opens the players to the possibility that there is more in the world than materialistic naturalism. Of course, when that happens believers need to be there to say, "Yes, and this is where you find it." J had the opposite experience, and now for him there is a connection from seeing the supernatural dimensions of the world and moving toward the occult. For me, the connection is the opposite direction, from seeing the power of God to discovering the fictional exploration of that power in the games.
The games have also connected me to a lot of people who need God, and I think perhaps I have helped some of them along the way.
J's point that many things in the world are at odds with God is certainly right and important; however, most of us are involved in the world by necessity, working in jobs that are not primarily about reaching people for Christ or building the faith of believers (sales help might be service industry, but it's not delivering the gospel), becoming part of organizations that are beneficial without having solid religious connections (hospitals are big in this, but I also am aware of groups trying to help the homeless, and drug rehabilitation programs that are not primarily Christian faith based). Jesus said that everyone who is not for us is against us, but He also said that everyone who is not against us is for us, and while that makes the world seem black and white, it also introduces the possibility that some things can be used both for and against God. I watch television shows which some think are science fiction of the worst sort, in which I see metaphors for the work of God in the world. Certainly role playing games can be used in ways that oppose God, but as I've noted elsewhere, even some which seem most anti-Christian can prove at the bottom to be strongly Christian. It is not what we use but how we use it that most controls the impact of our games. For some, incredibly dark worlds have been a reminder of the amazing greatness of God.
J also suggests that we need to discover who we really are, not explore fantasies of who we might be. Yet I think this is an unreal dichotomy. I often discover more of who I really am by exploring who I am not, and sometimes discover that who I pretend to be is really part of who I actually am. Playing Multiverser I was encouraged by its magic system to trust the power of God for several things, minor things really but in some sense magical or miraculous in their own way, because my character did so successfully in the game world. I would not have had the boldness to pray some of the practical prayers I have prayed had it not been that I explored that boldness in character. Even in playing "unlike me" characters, I learn much about how people who reject God are thinking, and am thereby better able to connect with them and deliver the truth. The exploration of fantasies is a significant part of understanding my reality. Indeed, the fantasy literature of C. S. Lewis and J. R. R. Tolkien and Charles Williams have had tremendous impact not only on me but on believers and unbelievers around the world. Why should fantasy gaming not also have the same potential, used aright?
Some of what I have said is of course subjective, and none of it is a reason for J to stay if God is telling him to leave. However, if you are considering whether what J says might be true for you, consider also whether being involved in role playing games has had any of these benefits for you: connecting you to people who need to see your faith; giving you insight into the spiritual battle between God and the devil within the metaphors of the game; strengthening your faith by reminding you that you are on the side that has the power. I have profited in those ways from game play, and in a sense that's the tip of the iceberg. The largest open door for my ministry has been through this group, a group I was reluctant twenty years ago to join, which has encouraged my efforts and given me a platform to reach out to a world not much reached by believers, the world of hobby gamers.
So I say so long, J, and if you've gotten any of those fish you mentioned from me, you're welcome. I hope you'll keep in touch through other media like Facebook, but wish you the best of grace in all your endeavors.