This is mark Joseph "young" blog entry #138, on the subject of The Sin in Romans I.
Just over a decade ago, on February 6, 2006, with the permission of the Christian Gamers Guild, I began using one of their Yahoo!Groups lists to teach a Bible class–something more than a Bible study, on the level of an undergraduate course but that the pace would be moderated and there would be no homework assignments. I began with Paul's Epistle to the Romans for some significant reasons–I had taught it as an undergraduate course before, I had recently rebuilt the notes I needed for it, and as primarily a Pauline scholar it made sense for me to begin with his most recognized and comprehensive work. That class is still continuing, currently studying the First Epistle of John; you can read more about it here.
I mention it because there are several significant points I learned from that book that most people get completely wrong, and in those lessons (still available through Yahoo!) you can read about this in detail–but I have more recently begun to realize that there was something very important in that which I missed.
It is going to take more than one article to explain it, so I will begin by trying to get you up to speed so you don't have to read all of those posts.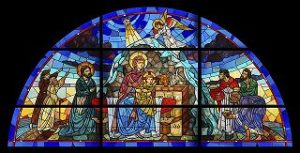 The first thing to grasp is that this is, in a sense, Paul's resume. He has never been to Rome, and it appears that the people he names in the greetings he sends at the end of the letter are all people he met somewhere else. He wants to preach in Spain, but he needs a base of operations, a church that will support him and send him that direction. Thus he is sending a letter to them in which he lays out the message that he preaches, the gospel of Jesus Christ as he understands it. This is what Paul preached in cities throughout the Roman Empire that changed the world; this is the fundamental Christian message.
He launches into this in the seventeenth verse, where he writes
For I am not ashamed to talk about the good news. The good news is what makes it possible for God to save everyone who believes in God from the just punishment that comes upon all wrongdoers as the world now comes to an end, starting with the Jews and reaching to everyone else.
That's my translation from the Greek, made with a lot of comparison to a lot of other translations and a strong reliance on whatever materials I had available at that time. Notice, though, that what Paul is saying is that the end of the world has begun–sometime in the middle of the first century. However, any Jew then would have told you that the there would be two things that would happen at the end of the world: the righteous would be rewarded and the wicked would be punished. Paul says that this is now happening, that the punishment is starting and those who believe God are being rescued from it.
Then the surprise comes in verse eighteen, where he says
The good news shows us how God is right now acting as the just judge of the world, meting out rewards and punishments even now, if we have the faith to see it. After all, the scripture says, "The righteous person will live because of his faith."
He in essence says that we know that the end of the world is arriving because judgment has already begun. The wicked are already being punished, and the righteous are already being saved.
We might at this point expect that he is going to launch into a description of how the gospel saves us, but he surprises us again:
We can see God's just judgments in the world because His wrath can be seen plainly against all the ungodliness and injustice of men who unfairly try to deny and hide the truth, because within themselves they know something about God, and God has made his existence clearly evident to everyone. For God's invisible attributes have been readily recognized and understood since the beginning of creation, in creation itself, which shows us His eternal power and divine nature, so that they cannot claim they did not know. Even though they knew God had to exist, they did not give Him the glory or the gratitude that they owed Him, robbing Him of what He justly deserved, but instead started to think and believe all kinds of silly things, and all together lost the light that they had. Claiming that they were becoming truly wise, they actually became fools, and gave up the glory of the God who remains forever in exchange for something that looked like a picture of men and birds and beasts and other creatures which all ultimately decay and are destroyed.
The chapter is going to continue to describe a lot of things God apparently thinks are terrible–beginning with immorality and infidelity, moving into homosexuality and lesbianism, and ending with a level of depravity that suggests the complete loss of any moral compass. Many who read this chapter, many who preach on it, think that it is telling us all the wickedness, all the sins, for which men and women are being punished. God rightly punishes people who act like that, we are told, and the punishment will come.
However, Paul's entire case rests on the idea that the punishment already has come, and that he is going to describe that punishment which is obvious to everyone who looks at it the right way–and if those statements are the sins for which people are punished, he never gets to the punishment.
That's because ultimately there is only one sin listed in the first chapter of the Book of Romans:
…they did not give Him the glory or the gratitude that they owed Him, robbing Him of what He justly deserved….
That is the crime of which humanity stands accused, and of which I think we all at some point have been guilty. That is the sin of which we repent to be saved. We agree to acknowledge that God is right, we should be grateful to Him for what He has given us, and we owe Him everything. Otherwise, we are robbing Him.
So, what about the rest–the infidelity and homosexuality and depravity and all that? Well, that's the second thing everyone misses, and that's the second article in this miniseries.
[contact-form subject='[mark Joseph %26quot;young%26quot;'][contact-field label='Name' type='name' required='1'/][contact-field label='Email' type='email' required='1'/][contact-field label='Website' type='url'/][contact-field label='Comment: Note that this form will contact the author by e-mail; to post comments to the article, see below.' type='textarea' required='1'/][/contact-form]