This is mark Joseph "young" blog entry #139, on the subject of Immorality in Romans I.
We began a miniseries with The Sin in Romans I, where we stated
…ultimately there is only one sin listed in the first chapter of the Book of Romans:

…they did not give Him the glory or the gratitude that they owed Him, robbing Him of what He justly deserved….
We were deriving that from Romans 1:19ff.
Some of you were undoubtedly struggling with that, because your understanding of Romans 1:24ff is that Paul begins cataloguing the sins for which mankind is being judged. He starts to talk about immorality, promiscuity, segueing into homosexuality and lesbianism, and then into an entire catalog that we can best describe as total depravity. Surely these are the sins for which men are punished, no?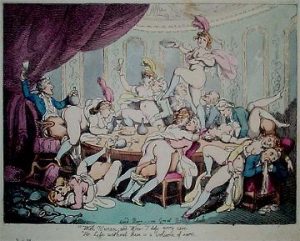 No.
If we read what the next two verses say, we find
Therefore, God in His wrath handed them over to their promiscuous drives, so that they would lose all respect for their bodies. He punished them because they traded the truth they had about God for a lie, and worshipped and served creatures instead of their Creator, who is the source of all good things forever, and that's certain.
All that promiscuity, all that immorality, that is not the sin–it is the punishment.
Some of you are thinking, what kind of punishment is that? God gets upset because we don't recognize how good He has been to us, so He punishes us by sending us lovers, causing us to have affairs? Bring it on!
That actually demonstrates to some degree that you are already touched by that wrath; but then, why should sexual immorality be punishment? It has always been a temptation, something we desire. It seems, then, if we're bad, God gives us what we desire. How should that be a problem? It sounds like punishing a bad child by giving him ice cream and candy.
It should be said first that if God says this is a punishment, there must be a reason for us to perceive it as a punishment. There must be something fundamentally undesireable about that thing that we desire. Maybe we don't see what it is, but it must be there.
In fact, speaking in the abstract, God never forbids anything just because He doesn't like it. He forbids that which is bad for us and others. We see short-term enjoyment in promiscuity, but God sees damage to people. Years ago I wrote a page entitled Why Shouldn't You Have Sex If You Aren't Married? in which I talked about all the people who are hurt by these casual liasons–beginning with the partners themselves, extending to their future loves, their children, and people around them. There I put some time into discussing how such promiscuous conduct is self-destructive, destroying the person's reputation, their trustworthiness, their ability to love and be loved, and never really bringing any fulfillment.
God created us to form us into creatures who could engage in honest, trusting, loving relationships with each other and ultimately with Him. Promiscuity, immorality, adultery, fornication–whatever specific form you give it–destroys that.
So, too, as the punishment worsens, we find in 1:26f
Because they did this, God handed them over to strong self-destructive feelings; their women traded all for which their bodies were made for something unnatural, and the men also abandoned that for which women's bodies were made and felt strong passions for each other, and so men performed indecent sexual acts with other men, and suffered the consequences of having rejected God.
–that is, God punishes those who refuse to acknowledge and thank Him by pushing them into homosexuality, another even more self-destructive conduct. This is the punishment. It then worsens in 1:28ff, restating the crime,
Further, since they were no longer willing to recognize God, God handed them over to depravity in their thinking, so that they could no longer understand that anything could be wrong in itself, being completely filled with injustice, cruelty, greed, malice; full of envy, killing, rivalry, deceit, nastiness; they are rumor mongers, slanderers, God-haters, insulting, prideful, braggarts, inventing new evils, disobeying parents, foolish, promise-breakers, unloving, merciless, who fully aware that God is right to sentence to death those who do things like these not only do them themselves, but encourage others to do them as well.
People who do not recognize God ultimately become parodies of what we are supposed to be.
Of course, arguably not all of them do, or at least, not that we can see. This punishment falls on some more harshly than others. Yet it is evident that today people are rushing into these traits.
I would say one more thing about the immorality, the homosexuality, and the general depravity before I end this article: if these are the punishment of God, why would I want them? Obviously, there is this draw that they have, because people are drawn into them, and many Christians will admit being tempted in those directions. The black hole of death pulls everyone toward it. The message of the gospel includes that Jesus saves us from this, that He enables us to be free from this death.
All of this I have covered elsewhere. Yet there was something else I only recently realized–which will be the next article in the miniseries.
[contact-form subject='[mark Joseph %26quot;young%26quot;'][contact-field label='Name' type='name' required='1'/][contact-field label='Email' type='email' required='1'/][contact-field label='Website' type='url'/][contact-field label='Comment: Note that this form will contact the author by e-mail; to post comments to the article, see below.' type='textarea' required='1'/][/contact-form]