This is mark Joseph "young" blog entry #402, on the subject of New Jersey 2021 Primary Results.
With 96% of the votes counted, it may be that they have stopped counting because the results are settled. In fact, on the Democratic side, Governor Phil Murphy was declared the winner with 0% of the votes counted. Obviously on the Republican side, the 38% of voters who were undecided either made up their minds or didn't go to the polls.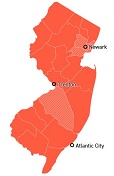 Former state Assemblyman Jack Ciattareli might be said to have swept the Republican primary. In a four-way race he took over 49% of the vote. He had been polling (as previously reported) around 29%. Although he did not quite draw half the vote, he did take at least the plurality in every county, leading the other candidates not only state-wide but everywhere in the state.
The surprise in the race is Philip Rizzo. Previous polling at 8%, he took a hair shy of 26% of the primary vote. This being his first foray into the political arena, we might be seeing him again.
Hirsh Singh had perhaps a disappointing run, as he lost a point and a half off his poll number of 23% to pull a half point over 21% in the vote. It is not clear which of the other candidates benefited from that.
The distant fourth place finalist, former Franklin Township Mayor and Somerset County Freeholder Brian Levine, picked up a point from his 2% polling number to just over 3% in the election.
So Lord willing we will return with a look at our top contenders and other thoughts on the election, between now and November sometime.