This is mark Joseph "young" blog entry #339, on the subject of Verser Tensions.
With permission of Valdron Inc I have previously completed publishing my first five novels, Verse Three, Chapter One: The First Multiverser Novel, Old Verses New, For Better or Verse, Spy Verses, and Garden of Versers, in serialized form on the web (those links will take you to the table of contents for each book). Along with each book there was also a series of web log posts looking at the writing process, the decisions and choices that delivered the final product; those posts are indexed with the chapters in the tables of contents pages. Now as I have posted the sixth, Versers Versus Versers, I am again offering a set of "behind the writings" insights. This "behind the writings" look may contain spoilers because it sometimes talks about my expectations for the futures of the characters and stories–although it sometimes raises ideas that were never pursued, as being written partially concurrently with the story it sometimes discusses where I thought it was headed. You might want to read the referenced chapters before reading this look at them. Links below (the section headings) will take you to the specific individual chapters being discussed, and there are (or will soon be) links on those pages to bring you back hopefully to the same point here.
There is also a section of the site, Multiverser Novel Support Pages, in which I have begun to place materials related to the novels beginning with character papers for the major characters, giving them at different stages as they move through the books.
This is the sixth mark Joseph "young" web log post covering this book, covering chapters 56 through 66. Previous entries in this series include:
History of the series, including the reason it started, the origins of character names and details, and many of the ideas, are in earlier posts, and won't be repeated here.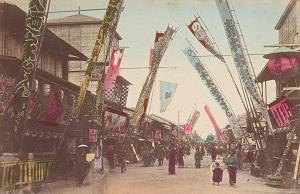 It took a while for me to work out what would happen in this chapter because my mind was constructing the upcoming Beam chapter, but I needed to have Slade's part first. It was that aspect of needing to know what Slade thought that gave the opening about whether he was too suspicious, which was going to contrast against the Beam material already in my head.
This was chapter 47 prior to the inclusion of the Takano chapters.
---
Although I knew I had been delaying Beam for quite a while, and I had a lot of ideas for his next chapter rattling in my head, I also knew that I had to keep that story from accelerating too rapidly, and I had to get Derek's story moving somewhere useful. I wasn't entirely certain where that would be, of course, but as usual I decided to have my character think about it and see if he could give me any ideas.
Before the inclusion of the Takano chapters this was chapter 48.
---
One point that I have often made is that "evil" characters always assume that other characters have the same motivation they have, and so can't understand "good" characters. Beam is to some degree becoming my illustration of that. He creates a story of what nefarious scheme the other versers have executed, and believes his story because it's what he would do if he could.
This had been chapter 49 before the addition of the Takano chapters.
---
At this point in the first edit I discovered that I had numbered two chapters "Brown 174" and had to correct all Brown chapter numbers from there forward.
I was several days pondering what to write here. I discussed it with Kyler, but the best he could suggest was that she could send flowers to the emissary (which for practical reasons I figured she couldn't actually do). Yet that was the right direction: she is considering how much blame for the accident falls on her, and whether she should do something about it.
Before the addition of the Takano chapters this was chapter 50.
---
I struggled with this for a while. For one thing, the story wasn't moving fast enough, but I couldn't see an easy way to accelerate it. Also, I had two ideas in mind, and the first was to have Derek lock the door and then the second was for them to go find the kitchen–but my mind seemed to think that locking the door would potentially lead to consequences I couldn't anticipate, and might severely delay the walk to the kitchen, making an already slow story slower. I finally decided to turn the two around, and see where that got me.
The disarming move was something else I thought I should introduce.
This had been chapter 51 before the inclusion of the Takano chapters.
---
I looked up annual vehicular fatalities, and they've been in the tens of thousands for decades.
When I finished writing this chapter, my brain seemed to think I was going to begin with something else and then go to the stuff about psionics being dangerous, but in the couple days over which I'd considered the chapter I seemed to have forgotten what it might have been.
This had been chapter 52 before the Takano chapters were added.
---
I almost put the Beam chapter in which the message is received before the Slade chapter in which it was sent, but decided that I should give the readers the message before I let Beam examine it.
This was chapter 53 before the inclusion of the Takano chapters.
---
At this point I decided that I would be writing two more chapters for Tomiko, one in which she verses out of this world into the next and tries to get oriented, the other in which she has her brief encounter with Lauren which pushed me over the edge to create the character. That meant twelve chapters, which would have to be inserted into seventy-four chapters, and be neither the first nor the last. Seventy-two divided by twelve is six, so I would have to insert her roughly every six chapters.
I put this one here mostly because I decided to put a delay between Slade sending the message and Beam receiving it; it also helped that it had been more than six chapters since the previous Takano one.
---
I had spent a lot of time thinking about Slade's invitation to meet Beam, and knew that Beam would take it wrong. Thus I had thought of at least some of the things his team would read into it. However, it was after I had written the Slade chapter in which the letter was sent that I came up with Beam's greater plot.
This had been chapter 54 before the Takano chapters were incorporated.
---
At this point I expected the pace to accelerate, and I knew where it was going, but I had to move Lauren and Joe and Zeke back together with Bob and Shella, because the trio didn't really have a way to get to the meeting (Lauren had never been to the site, so she couldn't teleport there).
This was chapter 55 before Takano was added.
---
Still feeling my way through the new Brown world, I know what he has to do, but not quite whether I can make it credible when he does it.
I remember that Vashti doesn't cook, but neither does Derek, so he's learning to do so now, and she's something of his guinea pig for that.
Before the Takano chapters were added this was chapter 56.
---
This has been the sixth behind the writings look at Versers Versus Versers. If there is interest and continued support from readers we will endeavor to continue with more behind the writings posts for it.