This is mark Joseph "young" blog entry #181, on the subject of Anatomy of a Songwriting Collaboration.
I have long been of the opinion that the best way to learn to write songs, initially, is to find someone who already does and work with him, in essence apprenticing as a songwriter. That's how I learned, although it occurs to me that I never really wondered how my mentor learned. Still, I had learned quite a bit of music theory and had attempted quite unsuccessfully to write songs before I met him, and very quickly learned the secrets once I started working with him. I have since worked with quite a few people who had never written a song before, and taught them the basics of how to do so. So there might be other ways to get started, but working with someone who already knows what he is doing is a tried and true approach.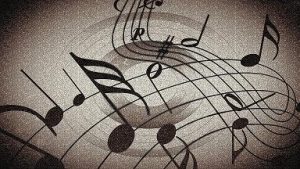 Because of this, I'm not claiming that anything I write could ever teach you how to write a song. I can teach you quite a bit of music theory (I did some of that in Mr. Young's Music Theory Class on Facebook), but to learn to write a song I think you would have to go through the process with me. On the other hand, this past weekend I persuaded my youngest son to collaborate on a song, and it came out fairly well, and so I am going to attempt to explain the process that brought about the song here.
I am going to state the caveat I have often stated in other contexts: all songs are different, and there are many different ways in which they come into being. When people ask whether the words or the music come first, I always say no, because it does not work that way. There have been times when I have begun with words that had no music, and other times when I had a melody but no lyric, or even a chord progression or background that was worth forming into a song. How it happened this time is one example, but it shows aspects of process.
It began while I was driving in the car. I should credit the Reverend Jack Haberer, because if I recall correctly when we were together at Ramsey High School he put under his yearbook picture, "Secretly desires to be born again again," and the line has stuck with me over the decades. It was nagging at me as I was driving, so I pulled a digital recorder from my pocket (I have one on my cell phone and another that is just that) and dictated something roughly poetic. I do this sometimes with ideas for articles, stories, songs, and tasks I should complete, because I know I will forget quite soon if I don't, and even with the convenience of recorders that I don't always think to use too many ideas escape me.
Upon arriving home, I played back the recording and cleaned it up a bit, typing up a document that read
If deep in your heart you remember when–
Did you want to be born again again?
The good news is the news is true:
Jesus comes to make all things new,
Even you.
Even you.
So I had the beginning of a song idea, but I had no melody, no music for it at all.
What I did have was a desire to help my youngest son Adam with his own music. He happens to be a natural–like me, he picks up instruments and figures out how to get music out of them. He plays the piano for hours, but has very little notion of the names of the chords or key signatures. He is learning; he questions me frequently, about what he's doing on the piano or the guitar or the recently-added cello or other instruments. He is very creative, but he doesn't often write what we call "songs"–he does improvisational music, and then tries to remember fragments of it, or he records himself jamming at the piano and uploads it to the Internet but can't otherwise reproduce it. I wanted to give him something of an understanding of how I write a song, and so I wanted to collaborate with him on something. I printed those words and kept them on my desk for a couple hours.
He is notoriously difficult to catch, but while I was rushing about getting his mother ready for work I saw him standing in the living room, grabbed the lyrics, and said something on the order of, "I thought you might like to collaborate on a song. Here are some lyrics to get it started." He took them over to the piano and started playing something and singing something. I was only half listening as I was otherwise occupied, and by the time I joined him he had worked some of the bugs out of it and I tried to pick up his melody.
Honestly, I was a bit disappointed with the rather stock chord progression he had adopted, even with the unusual stray notes, and the melody was nothing terribly original–but the song had vitality and drive, and that fit it extremely well, so I quickly tried to learn his melody, which probably changed a bit in the process. He had also doubled the end words, so that Even you was sung four times rather than two.
He then grabbed the paper and ran looking for a pencil or pen. People who know me will wonder that I didn't just reach into my shirt pocket and hand him one, but around the house I don't wear the shirt with the pencils, only the pocket T-shirt, so I only sometimes have a pen available. He grabbed one from the kitchen, and scrawled words on the page as the pen died in his hands. Still, there was enough there that we had a second verse, and I got one of my pens and filled it in, with a few tweaks, thus:
There in your mind when you feel abused,
Don't you get tired of being used and used?
Darkness falls, then the light breaks through.
Jesus comes to make all things new,
Even you. Even you.
Even you. Even you.
After that, we were talking about a bridge.
That progression I mentioned was A minor, G major (with a suspended 4 frill), F major, E major (with a suspended minor second frill)–yes, quite common, quite boring from a musical theory perspective, and it repeated, playing through three times for each verse. I wanted to exit into a bridge with an unusual transition, and he had played something I liked (he was on the piano, I was on the guitar). I started talking about where the chord would be "expected" to go, and before I'd gotten very far he told me what chord to play. Well, he didn't exactly tell me, "Play an F major 7 with an added augmented four," but he told me where to put my fingers and that's the chord he wanted. As root progressions go, it was not terribly interesting (from the V of VI to the IV), but the dissonance inherent in the chord was interesting, and he wanted to slow it down so I shifted to a light picking (I tend to avoid tempo changes in my songs, preferring meter changes that achieve the same effect but are more precise). He sang the next words, You want what you want, creating the shape of the melody for the bridge, and then started spitting out words that he liked as individual lines. I told him to write them down, because it was obvious we were going to lose some potentially good material if we didn't do something. He wrote you got the joy, Jesus got the pain, then crossed out Jesus got and replaced it with He took, and added away to the end. He next wrote your sin is a stain–redemption sustains, but it was all disjointed. I said I wanted to invert that line, strike the away, and make pain rhyme with stain, but we needed a line between to make it fit. He suggested you get what you get, and with a bit of scribbling arrows on the page we wound up with
You want what you want.
You got the joy, He took the pain.
You get what you get.
Redemption sustains, sin is a stain.
I still wanted a second bridge, something that would break out of the ordinariness of the progressions so far, because the other chord in this bridge was a G six nine, and we played it in essence F to G to F to G, returning to the original progression–and the melody was only slightly different from that of the verses, although slowed.
My vision at this point was that we were going to write a third verse related to that idea of sin, do a different second bridge, and resolve it in a fourth and final verse. The tempo being what it is, the song was moving fast and I thought felt short. I put forward an opening line for the third verse, Asking yourself why you want to sin, and we started talking about what to say next. The contrast between losing and winning came to the fore, and I wanted to say something about choosing to lose, but couldn't fit it comfortably and still get to the word win for the rhyme scheme. Between us we hammered out the second line, and along the way Adam said that the words to win should flow into the next line, the object won opening that line. I observed that the second line in previous verses always had the double ending–again again, used and used, and that we should maintain the pattern, to win to win–and then that this would achieve what he wanted, if we made it to win. To win victory in the opening of the next line. The rest of that flowed quickly, and we had a third verse,
Ask yourself why you want to sin,
Why you lose, you were made to win. To win
Victory, and to make it through
Jesus comes to make all things new,
Even you. Even you.
Even you. Even you.
And now we came to the point where I wanted the second bridge, and I pushed for the resolution from the E major to go to something at least a bit unanticipated, the C major. I also agreed again to reduce the drive.
At this point we needed a progression, and Adam said that he wanted me to go from the C up half a step, so I slid it into the D-flat major. That certainly satisfied me for unusual progressions, and he liked it as well–but he said we needed to resolve that, and since I was the expert on that point he left it to me. I decided I could go from the D-flat to the A-flat to the E-flat, and from there I could get back to the C easily enough (all major) and repeat the progression. I also recognized that the last note of the melody of the verse was the E, and I could hold it into the beginning of the bridge and start this melody on the same note. The melodic line at the first chord change was tricky, but I managed to bring it down to be on the G by the time we reached the E-flat chord, which was the common note going back to the C chord, and a leap back up to repeat the line worked. I wrote the words with the melody at this point, and Adam put them on paper. I also after the second descent held the G with my voice and changed the chord from the E-flat to the G major, thinking that it would give me the leading tones to get back to the A minor for my final verse.
But–
That fourth verse was supposed to resolve the message of the song. There were probably a lot of things we could have said, but I had none of them in my mind yet and I realized that the unexpected shift to the G major chord provided a musical resolution to the song, and that the words of what was supposed to be the second bridge resolved the message rather well. I presented the alternatives to Adam–write a closing verse, or end the song here–and he agreed that this was a decent ending for the song. Thus our fourth verse never materialized, and our second bridge became instead our coda:
Thank God for what He's done
To set us free
He gave His only Son
For you and me.
And you should be able to hear the song here on SoundCloud.
[contact-form subject='[mark Joseph %26quot;young%26quot;'][contact-field label='Name' type='name' required='1'/][contact-field label='Email' type='email' required='1'/][contact-field label='Website' type='url'/][contact-field label='Comment: Note that this form will contact the author by e-mail; to post comments to the article, see below.' type='textarea' required='1'/][/contact-form]