This is mark Joseph "young" blog entry #101, on the subject of Prophetic Music Ministry.
This continues our miniseries on what it is to be "called" to "music ministry". Our first installment was #95: Music Ministry Disconnect, making the point that most Christians are not what we call "ministers" and most musicians are "entertainers". In #97: Ministry Calling we examined how to know whether you are "called" to be a "minister", based largely on who you are, what motivates you and how you relate to others with needs. Following this we identified five specific "ministries" in #98: What is a Minister?, and began looking at individual ministries last time with #99: Music Ministry of an Apostle.
The ministry of the prophet in the New Testament church is much more difficult to assess, for several reasons.
There are Old Testament prophets under the Old Covenant, and we do not know to what degree New Testament prophets under the New Covenant are distinct from them;
There are at least two persons in the Gospels identified as prophets–John the Baptist and Anna–and because their ministries are entirely prior to the resurrection and ascension we do not know whether they are Old Covenant prophets or New Covenant prophets;
There is also a "gift of prophecy" identified in the New Testament, and we do not know whether having that gift and being a prophet are the same thing or different things;
On at least one occasion in the New Testament we are told that someone who was definitely not a believer in Christ prophesied, when the High Priest Caiaphas said that it was best for one man to die for the nation.
All of this adds up to a complicated collection of information about prophets.
On the other hand, there are more than half a dozen prophets identified within the New Testament church, including several leaders of the church at Antioch, the four daughters of Philip the Evangelist, and a pair named Silas and Judas. Of these last two, we are told that because they were prophets they encouraged the believers in the gentile churches they were visiting, but little more. There is only one person in the New Testament identified for us as a prophet about whom we are told anything significant concerning his ministry. He appears twice in the Book of Acts, and his name is Agabus.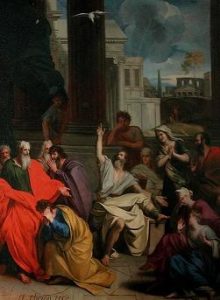 The very word prophet means "foreteller" that is, "saying in advance", the English being drawn directly from the Greek. For a lot of reasons, we don't like the idea that God lets some of us know the future, particularly as that seems so useful and most of us are unable to do it. Thus some argue that there are no longer prophets in the church because they are no longer needed, and some argue that it is not foretelling but "forthtelling" that matters, that every preacher declaring the message of God from the Bible is acting in the role of a prophet. These, though, do not fit with the ministry we see of Agabus.
We might describe Agabus' first appearance as a minor mention of a major role: he warns the church of an impending famine in Acts 11:28. It was because of this warning that the Christians in Antioch (where Agabus was at that time) started collecting resources for the Christians in Judea, ultimately delivered by Barnabas and Paul. Thus it appears that in this specific instance, the ministry of the prophet involved announcing a future event for which the hearers would want to prepare themselves.
His second appearance is sort of the reverse, a major part in a minor role. In Acts 21:10ff he visits Caesarea to see Paul, and rather dramatically (literally dramatically: he takes Paul's belt and uses it as a prop in a show) announces that Paul's visit to Jerusalem is going to result in his arrest. Once again it appears that the prophet is telling someone what is going to happen.
This, though, proves to be rather intriguing. All of Paul's companions in Caesarea immediately start begging him not to go, but he responds that he was quite prepared for this, seemingly already knowing what was going to happen. In any case, he is not in the least surprised. It seems that the message was news for Paul's companions, but it was only confirmation for him: he knew he was headed into trouble.
The chapter on Guidance in What Does God Expect? and my web page on Objective and Subjective Christian Guidance go into some detail explaining why Paul needed that confirmation. The point for us is that the ministry of the prophet, as we see it in action in the New Testament, appears to be that of alerting believers to trouble on the road ahead so that we can prepare, or be prepared, for what is coming.
There is one other aspect that might be part of the prophetic ministry. In Acts 13:1ff we are told that there were "prophets and teachers" in the church at Antioch, among whom were Barnabas, Saul, and three others. We are told that this group heard the Holy Spirit tell them that it was time to separate Barnabas and Saul for the work for which they had already been called, which was the beginning of their apostolic ministry. It seems likely that it is part of the prophetic ministry to provide guidance to other ministries, concerning when to take significant steps, possibly what steps to take next. I have heard enough stories and had enough personal experience to believe that this happens, that God has some in the church who are given messages helping others be certain of God's direction for them, often without themselves understanding the meaning of the message. This prophetic ministry keeps us moving in the right direction.
It is also significant that it is second on the list, because it contributes greatly to enabling the congregation to identify the ministers among them, as well as preparing us for struggles ahead.
How does a prophet integrate music into his ministry? I face this question with some reservations. I have only twice knowingly spoken with prophets, and they were not musicians and we did not discuss their ministries. A prophet with musical gifts might well align himself with another minister with musical gifts–it seems likely that Barnabas was a prophet and Paul a teacher (both were apostles), and that Paul did most of the talking because he was in some sense the frontman of the ministry. That is admittedly guesswork based on the facts that both appear on that list of "prophets and teachers" and Paul is known to be a teacher but not a prophet which increases the probability that Barnabas was one of the prophets in the group; and when they were in Lystra together the locals observed that Paul was the speaker and Barnabas the leader. There are those who only speak when they have something to say, and one might expect prophets to be of that sort.
At the same time, there is a phenomenon which might be part of the music ministry of a prophet. I have only once spontaneously sung an entirely new song at a gathering. I do not mean improvised something on the spot, but realized that there was a song I needed to sing that neither I nor anyone else had ever sung before, and did so. I might expect that to be part of a prophet's music ministry, as the Lord gives him a word couched in a melody with an accompanyment. On the other hand, I don't know that this would necessarily be part of such a ministry, or necessarily mark such a ministry as prophetic. I am not a prophet and the song was not prophetic; yet I can see how God would use such songs to deliver unique messages to specific persons or groups.
The third ministry is the evangelist, which we will tackle next.
[contact-form subject='[mark Joseph %26quot;young%26quot;'][contact-field label='Name' type='name' required='1'/][contact-field label='Email' type='email' required='1'/][contact-field label='Website' type='url'/][contact-field label='Comment: Note that this form will contact the author by e-mail; to post comments to the article, see below.' type='textarea' required='1'/][/contact-form]