This is mark Joseph "young" blog entry #29, on the subject of Saving the Elite.
It is a story as old as Noah, and in many cases his "Ark" (a Hebrew word for "box") gives its name to the story: a catastrophe looms, and a select few will be chosen to board the spaceship, or enter the bomb shelter, or hide in the caves, or go into suspended animation, so that after everyone else has been killed these can emerge and repopulate the world. It's a compelling story. However, there's frequently a problem with the way it is told.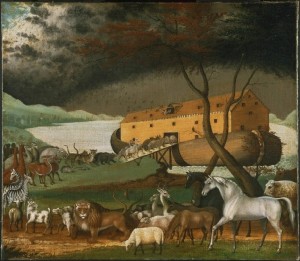 I was reminded of the storyline watching an episode of Leverage from an early season. In order to discredit a ruthless reporter who had destroyed a client's reputation with a biased scathing sensationalist story, the team is selling her a scare story in which the government is secretly building bunkers to house the elite while the rest of the nation dies from a self-replicating poison that has infected the water. All the common people of the world are to be kept ignorant until they begin dying, and the rich and powerful will be saved.
Therein lies the problem.
I once heard a respected university professor explain that he knew nothing at all about fixing a car, and had no talent at household repairs, but that he had long been aware of these things and had taken an intelligent approach to them: he prepared himself for a career that would pay him well enough that he could afford to hire other people for those problems. That ultimately is the key problem with a system that preserves the elite: from time immemorial, leaders and scholars and magnates have all been, to at least some degree, dependent people. They cannot do the essentials for themselves, no matter how good they are at what they do.
Certainly in our complicated time everyone is a dependent person. None of us are good enough at enough of the essentials that we never have to rely on the work of someone else, whether it's to provide our tools or our food or our clothes or our shelter. We also need the elite–we need people who know how to organize the rest of us for maximum efficiency. However, that is what the elite do. Among them there are many architects but few construction workers, many clothing designers but few weavers and seamstresses, many food industrialists but not many farmers. What we wind up is too many chiefs and not enough indians (I apologize if anyone thinks that old expression is a racial slur), too many admirals and not enough midshipmen, too many generals and not enough privates, too many managers and not enough workers. And the elite are not particularly good at becoming the workers.
That's not to say that the ark should be filled with commoners and the elite should be left to drown. The elite are not without skills. The Russian Revolution attempted to eradicate all the people who were leaders, thinking that leaders were an unnecessary drain on the resources. They wound up raising a new generation of leaders who lacked the efficiency and effectiveness of their predecessors because they had never been taught how to do what needed to be done. Destroying all the leaders, all the wealthy, all the powerful, is a bad idea precisely because they have the training–the talent; the knowledge and the skills–to lead the rest of us. We do need to preserve some of the elite. However, destroying everyone other than the elite is even worse, because the talent to organize is useless without effective workers to organize. The good life is created by the joint efforts of all.
Noah's ark had to contain a pair of every land animal, so that when the floods receded every land animal would have survived. Our space ark, or bomb shelter, or bunker, or whatever we have in which we preserve that portion of humanity that will survive the disaster, must have a cross-section of humanity, a mix particularly of skills, of persons who can lead and who can do the work. The elite are not unnecessary; we cannot thrive without them–but without the rest of us they cannot survive.
So if you're creating such a story, keep that in mind. A shelter that saves only the elite dooms even them. We are all dependent on each other in ways we usually fail to recognize. That's what such a story ought to teach us.
[contact-form subject='[mark Joseph %26quot;young%26quot;'][contact-field label='Name' type='name' required='1'/][contact-field label='Email' type='email' required='1'/][contact-field label='Website' type='url'/][contact-field label='Comment: Note that this form will contact the author by e-mail; to post comments to the article, see below.' type='textarea' required='1'/][/contact-form]