This is mark Joseph "young" blog entry #234, on the subject of Flip Sides of Ralph Carmichael.
This is the second article in a series of reminiscences about what might be considered the early days of Christian contemporary and rock music, which began with #232: Larry Norman, Visitor.
For what seemed a lot of years I didn't like Ralph Carmichael. He wrote the song He's Everything to Me, and was responsible for the little booklet of similar songs, songs of a particular style that I found irksome. The way I have often described it is that these are songs older people bring into church services for the younger people, and young people tolerate as the best they're likely to get but not really what they want. The late sixties and early seventies were full of these pseudo-contemporary musicians, from the Hot Hymns and Cool Carols collection by Presbyterians Richard Avery and Donald Marsh to the Roman Catholic contemporary folk singer Ray Repp. I viewed Carmichael as a facilitator of what I regarded musical pablum.
I was corrected.
Song title links are to YouTube videos; no representation is made as to whether they are legal copies. My credentials are presented in the first article of this series, the Larry Norman article.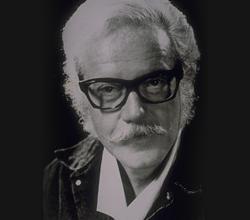 It's not that Carmichael wasn't responsible for the publication and promotion of a lot of this music I thought didn't really appeal to the target youth audience (and really, that audience was a lot more varied than I credited at the time). It isn't even that there were some gems in the trash–I doubt I would have heard Kurt Kaiser's Pass It On were it not published by Carmichael (and Kaiser's Master Designer, while not in the same class as the marvelous Pass It On, is a decent song, too). It's that there was more to Ralph Carmichael than I knew. Carmichael might not have been all that adept at writing music for the upcoming generations of the sixties and seventies, but he proved quite adept at finding people who were and getting them in the spotlight. Ralph Carmichael spearheaded Light Records.
I have no idea who the leading labels are today, but by 1979 there were four major publishers of contemporary Christian record albums. Word Records (originally Spoken Word Records) came out of Waco, Texas, and their Myrrh label was instrumental in launching careers of quite a few major artists of the time including Barry McGuire and The Second Chapter of Acts. The Benson Group in Nashville had several labels, of which Greentree Records was the largest in the contemporary field, with a number of Nashville-based artists including Dallas Holm. Sparrow Records was a latecomer to the field, but quickly became the label of choice for most of the California-based musicians and dominated a lot of the best music. Carmichael started the fourth, not in time but in size, Light Records, connected to his Lexicon Music and loosely to Word Records. Andre Crouch and Resurrection Band were the big names on Light, which featured many other artists in a mostly light contemporary sound.
It also released, on vinyl, a weekly half-hour interview and music radio show, The Ralph Carmichael Radio Special, featuring its new releases. We would receive these in the mail, a disk on which Ralph himself would talk with an artist and introduce all the songs on the A side of a recent album, and then for the next week the B side of the interview record would cover the B side of the album. This kind of behind-the-songs program was not really otherwise available in Contemporary Christian music–oh, we made our own when we were able, trying to land extended interviews with artists in the area for concerts or available by telephone from elsewhere, but Carmichael made it easy, putting his young artists in a spotlight that boosted their exposure significantly. He did a tremendous amount for contemporary Christian music in those days.
He ultimately earned a place in the Gospel Music Hall of Fame. It was well-deserved.
I still am not a big fan of the kind of music he wrote, but I have a lot of respect for the man himself.
I also have a story he told on himself, which I got from Barry McGuire, but it will arise in connection with another artist later in our series.