This is mark Joseph "young" blog entry #213, on the subject of Political Fragmentation.
I have long been writing about political division, fragmentation, and polarization. Quite a few years back I explained how our United States of America coalition government is created by people coming together into coalition-based parties, groups who do not agree entirely with each other but who agree to support each others' important policies, and why the Republican dilemma (or the Democratic dilemma) is not solved by focusing on a single issue. I've also written about the polarization developing as both parties are being more and more dominated by their extremists, and moderates no longer have a home anywhere.
Now I find a survey from the Pew Research Center which shows just how fragmented we are. Well, I think that might be an exaggeration; I think we are probably more fragmented than the survey shows, but I'll get to that.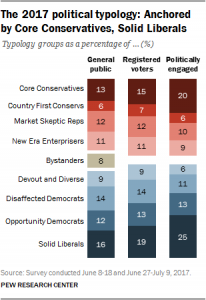 You might want to begin by taking the quiz, a set of A/B choices (if memory serves, seventeen) on everything from immigration to taxation to social services by which they will place you in one of nine groups they have identified. It will also, separately, place you on a rough scale from liberal to conservative. I took it, and not surprisingly landed right of center (that is, the conservative direction) in the middle third. However, the results apparently do not give us a bell curve. As the attached image shows, the extreme groups, both conservative and liberal, are not only the largest within the general public, they are even more so the most active in politics.
I admit to not yet having read the full fourteen-page Pew Research Center article on its survey; I got through the first page and left the remainder for a time when I had more time. You might find it easier, although less informative, to read the briefer article in the Detroit Free Press, although that is less about the groups and more about the fragmentation, the fact that were we to have the much-suggested second civil war most of us would be very uncertain on which side we should be fighting. We just don't have enough agreement on any specific issues.
That is perhaps why I think we are more fragmented than the survey analysis really shows. My quiz results placed me in the category denoted "Country First Conservatives", the smallest group on the chart but one which includes people ranging from barely left of center to fairly far to the right who have agreement on some issues. What strikes me about this is I disagreed with the majority of people in this group on all questions of foreign policy (there were three) and government performance (there were two), and I would think those would be the defining issues of the group. That is, were we to create a conservative party called "Country First", we would expect that foreign policy would be at the top of its platform–but I would not support that platform, because I disagree with that policy. That doesn't mean that the analysis placing me in the moderately conservative group is wrong; it means that even these groups are more fragmented than the simplified results the survey demonstrates.
What it clearly does demonstrate is that "liberal" and "conservative" is not a simple scale but a generalization of scales on multiple issues, that both sides of the divide are built of people who really don't agree on any one issue but work together toward similar goals, and that the people who are most active in politics, the large minorities on the extremes, seem very much unaware of the majority of more moderate people in the middle.
It also suggests that a moderate candidate on either side could probably defeat an extremist candidate on the other, simply because the people in the middle from both parties are more likely to identify with someone near the middle.
On the other hand there's something to what Doc Brown said (paraphrasing): when you can hold an entire television studio in the palm of your hand, it's no wonder your President has to be an actor. At least sometimes, style beats substance.