This is mark Joseph "young" blog entry #19, on the subject of The Smell of Grass.
Just about the middle of last year (2014) I wrote two articles related to the legalization of marijuana (now combined in one page with two other articles on the subject), the first raising the question of whether the legalization of marijuana in some states meant employers could no longer drug test for it, and the second noting that the answer is yes, in most cases you can be fired for using marijuana based on a failed drug test even in a state in which marijuana use is legal.
In our search and seizure series, rather separately, we reported on cases in which the fact that an involved officer "smelled marijuana" became probable cause for further investigation. That raises another question: if it is legal for some but not all people to use marijuana in a given state, does that mean that the smell of marijuana can no longer be the basis for probable cause that a crime is being committed? After all, there is now the possibility that whoever is burning the marijuana is doing so legally, and thus neither the possession nor the use of marijuana is necessarily a crime. Are officers now forbidden to assume there is a crime in progress if they smell the drug?
In New Jersey, that has recently been answered by a state appeals court, a ruling binding on all New Jersey trial courts.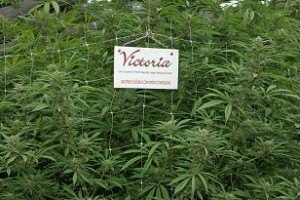 In 2012 police in Cumberland County responded to a report of gunfire, and found George Myers sitting in a car in the area. Police quite reasonably questioned him, but smelled marijuana coming from the car. Based on the smell of marijuana they claimed probable cause to search Myers, and found both marijuana and an unlicensed handgun in his jacket. Myers took a plea agreement for a five year sentence on the weapons charge, but also filed an appeal, claiming that the search was unlawful because there was no probable cause: he might have been using the drug under the authority of New Jersey's 2010 Compassionate Use Medical Marijuana Act (CUMMA). He was not, but Myers maintains that the fact that he might have been meant that police could not conclude there was a crime in progress, and thus having no basis to search him would not have found the unlicensed gun, and that he could not be convicted on evidence obtained in an illegal search.
The court says no, that is not what the law means. Marijuana is still classified as a controlled dangerous substance, and its possession and use is still criminal. CUMMA provides an affirmative defense; it does not decriminalize the action. The best known example of an affirmative defense is a self-defense killing: a homicide has been committed, and it would be murder except that the victim was clearly in danger of being killed (or sometimes raped or severely assaulted) and so acted reasonably and will not be found guilty of murder. In New Jersey, police are instructed not to arrest someone for marijuana possession if the individual "reasonably appears" to be enrolled in the medical marijuana program (usually by presenting the program identification card).
As of the end of last year there were a bit shy of four thousand persons so enrolled in the entire state, out of almost nine million residents, so it is generally unlikely that any particular user is going to be enrolled. However, the decision was not based on this probability assessment, but on the nature of the law itself: just as it is never really legal to kill someone threatening you with bodily harm but will be excused if it was reasonable for you to believe the threat was genuine and imminent, so too it is never really legal to possess or use marijuana in New Jersey but will be excused if you have been authorized to use it under the medical marijuana program. It is important to understand that, because just as this ruling only applies in New Jersey, the law itself only applies in New Jersey; the laws will be different in other states, and the exact nature of the treatment of marijuana users under the law is going to be the key to whether probable cause can be assumed. Had the law stated that it was not illegal for such persons to possess or use marijuana, that might have led to a different outcome; what it actually said was that their illegal possession and use of the substance will be excused based on medical necessity, that in essence their crime will be overlooked by the system.
So do not think that the fact that medical marijuana is legal in New Jersey means that the smell is no longer evidence of a crime. In fact, although it is a technicality, medical marijuana is not legal in New Jersey, it is simply a crime that is excused under those circumstances. That is not at all the same thing.
[contact-form subject='[mark Joseph %26quot;young%26quot;'][contact-field label='Name' type='name' required='1'/][contact-field label='Email' type='email' required='1'/][contact-field label='Website' type='url'/][contact-field label='Comment: Note that this form will contact the author by e-mail; to post comments to the article, see below.' type='textarea' required='1'/][/contact-form]