This is mark Joseph "young" blog entry #161, on the subject of Pseudovulgarity.
At an hour ridiculous by just about anyone's standards, the dog rousted me to let him out. A word went through my mind as I sat up.
I'd like to be able to tell you that the word was "Hallelujah"; it was not. What I can tell you is that it was not any word that is ordinarily recognized as a curse or swear word or vulgarity. It was, rather, one of those words made up by some science fiction or fantasy writer to give the characters foul language that doesn't have any real meaning and so won't be nixed by the censors–not the one used in Red Dwarf, but that sort of thing. In fact, the words that went through my head next were, "He can curse in six imaginary languages." I can't, but it is a silly notion, and raises the question of how we as Christians should regard such speech.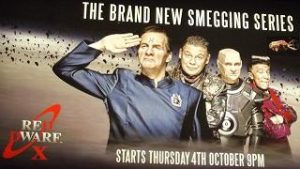 Words are avoided for several reasons, and we should understand why specific words are avoided–but I am not going to delve into explanations of individual words. Some are called "vulgar" by which we mean "crass"; they refer to objects or actions which are not discussed in "polite society" and so it would be rude to use them.
Problematically, some words which make this list have perfectly appropriate uses within certain contexts, but become offensive when they are used in an insulting way. An expression that means being condemned to eternal punishment is probably appropriate declared from the pulpit, but not expressed as a wish aimed at an individual. The proper word for a female dog among breeders at a kennel club show becomes vulgar when applied to a person; in its original sense it becomes obscene.
Obscenity is perhaps vulgarity up a notch: these words usually refer to actions which decent people disdain because they are in some sense morally repugnant. "Rape" might have been on this list except that we need a name for that crime; it will serve, though, as an example of other words which are not used because they refer to acts themselves regarded immoral.
The other category of avoided words involves the commandment not to use the name of the Lord in vain. Here the problem is that no one should invoke God disrespectfully, and it is commonly done. All "offensive" words are considered offensive to people, or at least to "decent" or "proper" people; those in this category are considered offensive to God, but also to people who would be offended by disrespect toward God.
Prior to the early 1970s respectable people did not use such offensive language in conversation, public or private. This ended with the release of the transcripts of what are called the Watergate tapes, recordings of conversations in the Oval Office in the White House, in which the words "expletive deleted" probably were the most common longer than three letters. These announced to the world that the respectable speech of our leaders was a facade covering considerably more corrupt language in private. It is certainly ironic that Richard Nixon is still roundly condemned in nearly all quarters, but his example in this followed by so many.
This covers most of what we consider "foul language", and most of us feel that if we manage to keep this out of our speech we have done well. I wonder, though, whether we have. The other day someone who uses entirely too much foul language asked me whether there was something he could say instead. I suggested Praise the Lord; I do not know whether he has implemented an effort on this front. I do recall a pastor friend of mine telling of a deacon in his church with Tourette's who apparently spoke no foul words and so his expletive outbursts were all on the order of Alleluia, Amen, Praise God, and that answered a question I had had about the syndrome in people who had not learned any bad words. Most Christians make a point not to say anything that falls into any of these categories; some don't consider it a significant issue.
What is somewhat more intriguing is the use of substitute words. The language is littered with them–"gosh" and "golly", "gee" and "geesh", and words like "heck", "darn", "dang", "sugar", "frigging", to replace more vulgar language. These words we use in order keep our language "clean"–but do they miss the point?
The phrase "apple-polisher" does not immediately call the image from which it is apparently derived; "brown-noser" is closer to the vulgar original, but you don't want to think about what that one means. The fact that we avoid the words but convey the ideas is not especially commendable. In college I was very good at creative invective until an event I have recounted elsewhere shocked me into the realization that some people were hurt by words which to me were a game. If what you say is intended to give offense, it is not really inoffensive to say it without offensive words. Perhaps more fundamentally, if the use of a word reflects a bad attitude within, a replacement word to express the attitude does nothing about the attitude.
I am of the opinion that we as believers should avoid using words which offend–not merely those which are offensive to specific races or subcultures, but those which are offensive to polite society. The use of invented vulgarity, in the form of invented words, is probably reasonable for inclusion in fiction, particularly fantasy and science fiction, to give the feeling of a real lower-class culture (I still see the use of such words as the language of the lower classes, and the fact that Nixon and his aides used it lowers my opinion of them far more than it raises my opinion of the use of such language). In my own writing I manage to avoid most of it, and while I'm prejudiced I don't think my prose suffers for it.
As far as substitute words in daily use, to the degree that they reflect negativity, invective, or distress, we probably should learn not to use them–not because the words themselves are bad, but because they convey attitudes which we ought to be eliminating in ourselves. We mistakenly think that something which happens is bad because at first impression we don't like it, but every gift from God is good, and He gives us our days and our lives. Certainly there are people who harm us or others, and we are right to hate what they do–but that they do it tells us that they need to be repaired, need God's love and ours to escape the darkness in which they are living. They don't need our foul language or our not-foul replacement language or our invective or insult or disdain. They need our help.
So if you wondered why words of that sort mattered, maybe this will give you some notion.
[contact-form subject='[mark Joseph %26quot;young%26quot;'][contact-field label='Name' type='name' required='1'/][contact-field label='Email' type='email' required='1'/][contact-field label='Website' type='url'/][contact-field label='Comment: Note that this form will contact the author by e-mail; to post comments to the article, see below.' type='textarea' required='1'/][/contact-form]