This is mark Joseph "young" blog entry #126, on the subject of Equity and Religion.
I saw an article online, from the St. Louis Post-Dispatch, entitled Amendment 3: A Stealth Attack on Religious Freedom The title intrigued me, since I had no notion of what was happening in Missouri, so I skimmed the piece–and was rather surprised at what I found. It struck me that the author did not have a very good grasp on exactly what "religious liberty" is, so I decided to pursue the matter here.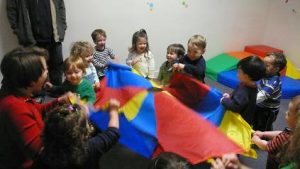 The purpose of "Amendment 3", apparently Missouri's version of what we in New Jersey now call a Public Question, is to create a cigarette tax and use the money to fund early childhood education. The tobacco industry has not made a lot of noise about it, at least directly–they have learned that people who smoke are very unlikely to stop simply because the amount of money they burn increases. It seems like a positive idea, that if people are going to kill themselves slowly at least they can help fund the education of our children.
At issue is text that says the disbursement of funds raised will not be limited or prohibited by the State of Missouri Constitution's "Prohibition of public aid for religious purposes and institutions" clause. That means that if whatever method of distributing the money to help with preschool education would otherwise mean that a Lutheran- or Baptist- or Muslim or Jewish-run facility would qualify for some of that money, that facility is not automatically disqualified simply because it is administered by a church, mosque, synagogue, or other religious organization. Opponents of the measure say that this is an attempt to bring funding of religious organizations in through a side door, and so force people to pay for religious education with public money.
It is not at all clear that that is what this is, and in fact from the description it sounds rather as if it is an attempt, not to show religious preference, but in fact precisely not to show it. It is saying that the fact that a group of people trying to provide early childhood education happen to be believers of a particular religious philosophy will not disqualify them from being funded by this program–exactly what freedom of religion means, that we will not discriminate against you on the basis of what you believe. As long as the program is administered impartially, part of that impartiality has to be that a program is not disqualified based on religious connections.
That is important for multiple reasons.
Social programs and particularly education have always been spearheaded in the Anglo-Saxon world by Christians and Christian organizations. Our Ivy League colleges and many other schools and universities were originally founded by Christians to educate doctors, lawyers, and ministers. Christians were the first to attempt to help the poor in England through education of their children. In America, many settlers would arrive in a new location and build a church and a school as the fundamental institutions of society. Meanwhile, the Jews have long put a heavy emphasis on educating their children, going back more than centuries, possibly millennia–a Hebrew boy became a man by proving he could read from the Torah, at least as early as the first century. Religious people have been proponents of education, and education for all, even when the approved thinking was that education was for the privileged and powerful, to maintain their power and privilege.
Encouraging a group to do what we want them to do and they want to do anyway is good politics.
Besides, if the objectors are saying that it is a violation of the principle of freedom of religion to fund any organization that promotes a religious position, they're going to have to stop funding public education as well. St. Louis is a particularly interesting case, as it is the home of the headquarters of the Missouri Synod Lutheran Church–not the most conservative Lutheran group, but conservative enough that they honestly believe in a six-day creation. You might disagree; I don't know that I agree. However, whenever the State of Missouri uses its collected tax money to teach the scientific views about the Big Bang Theory and the Theory of Evolution, it is spending money to promote a religious idea–the idea that the Missouri Synod Lutheran belief in six-day creation is wrong. Our objectors say that they do not want their tax money spent to fund organizations that will promote religious notions with which they disagree; now they know how their Lutheran neighbors feel.
The only way to treat religious people and their organizations fairly is to make the question of religious belief irrelevant to the question of funding social efforts. Otherwise, it would be the same as saying that the government will not fund a day care run by a black man, or a preschool run by a woman. Not discriminating on the basis of religion means that religious views are not a factor in the decision. That's what the amendment is saying.
How those programs are going to work has not yet been determined. The simple way, though, is for the government to provide scholarships or tuition reimbursement for needy families trying to send their children to whatever preschools are available. Some have argued that this kind of "voucher" system unconstitutionally funds religious schools because the parents can give the money to those schools and the government winds up paying the church, as it were. However, to do otherwise unconstitutionally discriminates against religious groups, requiring that parents send their children only to schools which reject religious views entirely–itself a religious view–or forego the government assistance they cannot afford to be without.
It would be akin to refusing to provide food stamps to any family that says grace before meals.
[contact-form subject='[mark Joseph %26quot;young%26quot;'][contact-field label='Name' type='name' required='1'/][contact-field label='Email' type='email' required='1'/][contact-field label='Website' type='url'/][contact-field label='Comment: Note that this form will contact the author by e-mail; to post comments to the article, see below.' type='textarea' required='1'/][/contact-form]