This is mark Joseph "young" blog entry #11, on the subject of The 2015 Election.
I last wrote suggesting that it was in everyone's best interest in terms of future national elections to vote in present local elections, and said that I would try to produce something helpful in that regard. This is that.
I suppose the place to start is to suggest that most of my readers need to look elsewhere for help. I cannot adequately cover even New Jersey, given all its municipalities. I can point you to Ballotpedia as perhaps the most unbiased source of information on most of these issues; you can also get some information from U. S. Politics My Time to Vote (links to individual states are at the bottom of the main page) and Rock the Vote, although this site is more geared toward getting younger voters active in the process and its election information is mostly given as links to official web sites. Ultimately those official web sites are the place to get the most accurate, if not the most easily accessed, information, and most states have online copies of sample ballots available so you can see the choices before you reach the booth.
The big elections this year are state legislatures. Louisiana and Mississippi both have all seats in both houses up for re-election, but Republican control is not thought to be challenged. Virginia is different. Although both houses are controlled by Republicans and all seats are up for re-election, the governorship recently shifted to Democratic control, and the Senate is closely balanced twenty-one-to-nineteen. If the Democrats can unseat one Republican they will create a twenty-to-twenty balance and the Democratic Lieutenant Governor, serving as Senate President (much as the Vice President of the United States does in the United States Senate), would cast the tiebreaking vote giving Democrats a slim majority. Complicating it further, though, there is an independent running against one of the incumbent Democrats with a strong chance of unseating her, which could prevent the Democrats from having a controlling majority.
Which brings us to New Jersey. Our State Senators serve four year terms, and this is not the election year for them; however, all of our eighty State Assembly seats are up for re-election every odd-numbered year. We have forty legislative districts, each of which elects two Assemblymen. Presently forty-seven of those seats are held by Democrats, thirty-one by Republicans, and two are vacant.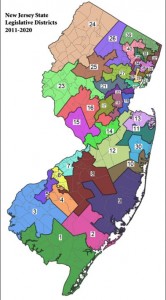 I am going to attempt to identify all forty districts, the incumbents, and the challengers in each. I will also link to the best information I could find on each of the candidates. Preference is given to a web site operated by the candidate, or a candidate Facebook page, with the last choice being the Ballotpedia reference page for the candidate.
District 1, all of Cape May and parts of Cumberland and Atlantic counties, including Avalon, Cape May, Cape May Point, Commercial, Corbin City, Dennis, Downe, Estell Manor, Fairfield (Cumberland), Greenwich (Cumberland), Hopewell (Cumberland), Lawrence (Cumberland), Lower, Maurice River, Middle, Millville, North Wildwood, Ocean City, Sea Isle City, Shiloh, Stone Harbor, Stow Creek, Upper, Vineland, West Cape May, West Wildwood, Weymouth, Wildwood, Wildwood Crest, Woodbine. Incumbents are Democrat Bob Andrzejczak and Republican Samuel Fiocchi; challengers are Democrat R. Bruce Land and Republican Jim Sauro.
District 2, the rest of Atlantic County (not covered in District 1), including Absecon, Atlantic City, Brigantine, Buena, Buena Vista, Egg Harbor City, Egg Harbor Township, Folsom, Hamilton (Atlantic), Linwood, Longport, Margate City, Mullica, Northfield, Pleasantville, Somers Point, Ventnor City. Incumbents are Democrat Vincent Mazzeo and Republican Chris Brown; challengers are Democrat Colin Bell and Republican Will Pauls.
District 3, the rest of Cumberland (not covered in District 1), all of Salem, and part of Gloucester Counties, including Alloway, Bridgeton, Carneys Point, Clayton, Deerfield, East Greenwich, Elk, Elmer, Elsinboro, Franklin (Gloucester), Glassboro, Greenwich (Gloucester), Logan, Lower Alloways Creek, Mannington, National Park, Newfield, Oldmans, Paulsboro, Penns Grove, Pennsville, Pilesgrove, Pittsgrove, Quinton, Salem, South Harrison, Swedesboro, Upper Deerfield, Upper Pittsgrove, West Deptford, Woodbury Heights, Woodstown, Woolwich. Incumbents are Democrats John Burzichelli and Adam Taliaferro, challengers are Republican Samuel Maccarone, Republican Leroy Pierce, and Independent "People's Voice" candidate John Kalnas.
District 4, western parts of Camden and Gloucester Counties, including Chesilhurst, Clementon, Gloucester Township, Laurel Springs, Lindenwold, Monroe (Gloucester), Pitman, Washington (Gloucester), Winslow. Incumbents are Democrats Paul Moriarty and Gabriela Mosquera, challengers are Republicans Kevin Murphy and Jack Nicholson.
District 5, eastern parts of Camden and Gloucester Counties, including Audubon, Audubon Park, Barrington, Bellmawr, Brooklawn, Camden, Deptford, Gloucester City, Haddon Heights, Harrison (Gloucester), Lawnside, Magnolia, Mantua, Mount Ephraim, Runnemede, Wenonah, Westville, Woodbury, Woodlynne. Demcratic incumbents Gilbert Wilson and Angel Fuentes are not running for re-election. Hoping to replace them are challengers Democrat Patricia Egan Jones, Democrat Arthur Barclay, Republican Kevin Ehret, and Republican Keith Walker.
District 6, parts of northwestern Camden and southwestern Burlington Counties, including Berlin Township, Cherry Hill, Collingswood, Gibbsboro, Haddon, Haddonfield, Hi-Nella, Maple Shade, Merchantville, Oaklyn, Pennsauken, Somerdale, Stratford, Tavistock, Voorhees. Incumbents are Democrats Louis Greenwald and Pamela Lampitt, challengers are Republican Holly Tate, Republican Claire Gustafson, Green party candidate James Bracciante, and Green party candidate Amanda Davis.
District 7, western Burlington County including Beverly, Bordentown, Bordentown Township, Burlington, Burlington Township, Cinnaminson, Delanco, Delran, Edgewater Park, Fieldsboro, Florence, Moorestown, Mount Laurel, Palmyra, Riverside, Riverton, Willingboro. Incumbents are Democrats Herbert Conaway, Jr., M.D. and Troy Singleton, challengers are Republicans Bill Conley and Rob Prisco.
District 8, a large part of Burlington plus parts of Camden and Atlantic Counties including Berlin Borough, Eastampton, Evesham, Hainesport, Hammonton, Lumberton, Mansfield (Burlington), Medford, Medford Lakes, Mount Holly, Pemberton Borough, Pemberton Township, Pine Hill, Pine Valley, Shamong, Southampton, Springfield (Burlington), Waterford, Westampton, Woodland. Republican incumbent Christopher Brown is not running for re-election, but incumbent Republican Maria Rodriguez-Gregg and newcomer Republican Joe Howarth are running unopposed.
District 9, part of Burlington and much of Atlantic and Ocean Counties including Barnegat, Barnegat Light, Bass River, Beach Haven, Beachwood, Berkeley, Eagleswood, Galloway, Harvey Cedars, Lacey, Little Egg Harbor, Long Beach, Ocean Gate, Ocean Township (Ocean), Pine Beach, Port Republic, Seaside Park, Ship Bottom, South Toms River, Stafford, Surf City, Tabernacle, Tuckerton, Washington (Burlington). Incumbents are Republicans Brian Rumpf and DiAnne Gove, challengers are Democrats Frank Zimmer and John Bingham.
District 10, a slice of Ocean County including Bay Head, Brick, Island Heights, Lakehurst, Lavallette, Manchester, Mantoloking, Point Pleasant Beach, Seaside Heights, Toms River. Incumbents are Republicans David Wolfe and Gregory P. McGuckin, challengers are Democrats Valter Must and Kimberley Casten.
District 11, central Monmouth County including Allenhurst, Asbury Park, Colts Neck, Deal, Eatontown, Freehold Borough, Freehold Township, Interlaken, Loch Arbour, Long Branch, Neptune, Neptune Township, Ocean Township (Monmouth), Red Bank, Shrewsbury Borough, Shrewsbury Township, Tinton Falls, West Long Branch. Incumbents are Republicans Mary Pat Angelini and Caroline Casagrande, challengers are Democrats Eric Houghtaling and Joann Downey.
District 12, the center of the state including parts of Burlington, Monmouth, Middlesex, and Ocean Counties, including Allentown, Chesterfield, Englishtown, Jackson, Manalapan, Matawan, Millstone (Monmouth), New Hanover, North Hanover, Old Bridge, Plumsted, Roosevelt, Upper Freehold, Wrightstown. Incumbents are Republicans Ronald Dancer and Robert Clifton, challengers are Democrats Robert Kurzydlowski and David Merwin, and Green party candidate Stephen Zielinski.
District 13, New Jersey's "shoulder", the part of Monmouth County that includes Aberdeen, Atlantic Highlands, Fair Haven, Hazlet, Highlands, Holmdel, Keansburg, Keyport, Little Silver, Marlboro, Middletown, Monmouth Beach, Oceanport, Rumson, Sea Bright, Union Beach. Incumbents are Republicans Amy Handlin and Declan J. O'Scanlon Jr., challengers are Democrats Jeanne Cullinane and Thomas Herman, and Independent Joshua Leinsdorf.
District 14, the base of New Jersey's "throat" crossing parts of Mercer and Middlesex Counties including Cranbury, East Windsor, Hamilton (Mercer), Hightstown, Jamesburg, Monroe (Middlesex), Plainsboro, Robbinsville, Spotswood. Incumbents are Democrats Wayne DeAngelo and Daniel Benson, challengers are Republicans David C. Jones and Philip Kaufman, and Green party candidates Steven Welzer and Joann Cousin.
District 15, parts of northwestern Mercer and southwestern Hunterdon Counties including East Amwell, Ewing, Hopewell Borough (Mercer), Hopewell Township (Mercer), Lambertville, Lawrence (Mercer), Pennington, Trenton, West Amwell, West Windsor. Incumbents are Democrats Reed Gusciora and Elizabeth Maher Muoio, challengers are Republicans Peter Mendonez and Anthony Giordano.
District 16, parts of Hunterdon, Mercer, Middlesex, and Somerset Counties including Branchburg, Delaware, Flemington, Hillsborough, Manville, Millstone (Somerset), Montgomery, Princeton, Raritan (Hunterdon), Readington, Rocky Hill, Somerville, South Brunswick, Stockton. Incumbents are Republicans Jack Ciatarelli and Donna Simon, challengers are Democrats Andrew Zwicker and Maureen Vella.
District 17, small parts of Middlesex and Somerset Counties including Franklin (Somerset), Milltown, New Brunswick, North Brunswick, Piscataway. Incumbents are Democrats Joseph Egan and Joseph Danielsen, challengers are Republicans Robert Mettler and Brajesh Singh, and Green party candidate Molly O'Brien.
District 18, the center of Middlesex County, including East Brunswick, Edison, Helmetta, Highland Park, Metuchen, South Plainfield, South River. Incumbents are Democrats Nancy Pinkin and Patrick J. Diegnan, Jr., challengers are Republicans Synnove Bakke and Teresa Rose Hutchinson.
District 19, eastern Middlesex County including Carteret, Perth Amboy, Sayreville, South Amboy, Woodbridge. Incumbents are Democrats John Wisniewski and Craig Coughlin, challengers are Republicans Thomas E. Maras and Jesus Varela.
District 20, northeastern Union County including Elizabeth, Hillside, Roselle, Union (Union). Incumbents are Democrats Annette Quijana and Jamel Holley, challengers are Republicans Stephen Kozlovich and Roger Stryeski.
District 21, parts of Morris, Somerset, and Union Counties including Berkeley Heights, Bernards, Chatham Borough, Cranford, Far Hills, Garwood, Kenilworth, Long Hill, Mountainside, New Providence, Roselle Park, Springfield (Union), Summit, Warren, Watchung, Westfield. Incumbents are Republicans Jon Bramnick and Nancy Munoz, challengers are Democrats Jill Anne Lazare and David Barnette.
District 22, parts of Middlesex, Somerset, and Union Counties including Clark, Dunellen, Fanwood, Green Brook, Linden, Middlesex, North Plainfield, Plainfield, Rahway, Scotch Plains, Winfield. Democratic incumbent Linda Stender is not running for re-election. Incumbent Democrat Gerald Green faces a field of Democrat James J. Kennedy, and Republicans William Vastine and William Michelson.
District 23, a large western section of Hunterdon, Somerset, and Warren Counties including Alexandria, Alpha, Bedminster, Bethlehem, Bloomsbury, Bound Brook, Bridgewater, Califon, Clinton, Clinton Township, Franklin (Hunterdon), Franklin (Warren), Frenchtown, Glen Gardner, Greenwich (Warren), Hackettstown, Hampton (Hunterdon), Harmony, High Bridge, Holland, Kingwood, Lebanon Borough, Lebanon Township, Lopatcong, Mansfield (Warren), Milford, Peapack-Gladstone, Phillipsburg, Pohatcong, Raritan (Somerset), South Bound Brook, Tewksbury, Union (Hunterdon), Washington Borough (Warren), Washington Township (Warren). Incumbents are Republicans John DiMaio and Erik Peterson, challengers are Democrats Marybeth Maciag and Maria Rodriguez.
District 24, the large northwest corner of the state with Sussex and portions of Morris and Warren Counties including Allamuchy, Andover Borough, Andover Township, Belvidere, Blairstown, Branchville, Byram, Frankford, Franklin (Sussex), Fredon, Frelinghuysen, Green, Hamburg, Hampton (Sussex), Hardwick, Hardyston, Hopatcong, Hope, Independence, Knowlton, Lafayette, Liberty, Montague, Mount Olive, Newton, Ogdensburg, Oxford, Sandyston, Sparta, Stanhope, Stillwater, Sussex, Vernon, Walpack, Wantage, White. Republican incumbent Alison McHose is not running for re-election, so incumbent Republican Parker Space is running with Gail Phoebus against Democrats Michael Grace and Jacky Stapel and Green party candidate Kenneth Collins.
District 25, in the center of the northern half of the state consisting of parts of Morris and Somerset Counties including Bernardsville, Boonton, Boonton Township, Chester Borough, Chester Township, Denville, Dover, Mendham Borough, Mendham Township, Mine Hill, Morris, Morristown, Mount Arlington, Mountain Lakes, Netcong, Randolph, Rockaway Borough, Roxbury, Victory Gardens, Washington (Morris), Wharton. Incumbents are Republicans Michael Carroll and Anthony Bucco, Jr., challengers are Democrats Richard Corcoran and Thomas Moran.
District 26, a thin arc of parts of Essex, Morris, and Passaic Counties including Butler, Fairfield (Essex), Jefferson, Kinnelon, Lincoln Park, Montville, Morris Plains, North Caldwell, Parsippany-Troy Hills, Rockaway Township, Verona, West Caldwell, West Milford. Incumbents are Republicans Jay Webber and BettyLou DeCorce, challengers are Democrats Wayne Marek and Avery Hart.
District 27, parts of Essex and Morris Counties including Caldwell, Chatham Township, East Hanover, Essex Fells, Florham Park, Hanover, Harding, Livingston, Madison, Maplewood, Millburn, Roseland, South Orange, West Orange. Incumbents are Democrats John McKeon and Mila Jasey, challengers are Republicans Tayfun Selen and Wonkyu "Qu" Rim, and Libertarians Damien Caillault and Jeff Hetrick.
District 28, a fragment of Essex County including Bloomfield, Glen Ridge, Irvington, Newark, Nutley. Incumbents are Democrats Ralph Caputo and Cleopatra Tucker, challengers are Republicans Darnel Henry and David H. Pinckney.
District 29, two cities in Essex County, Belleville, Newark. Incumbents are L. Grace Spencer and Eliana Pintor Marin, challengers are Republicans Nicholas Campione and Jeannette Veras, and Independent Pablo Olivera.
District 30, parts of Monmouth and Ocean Counties including Avon-by-the-Sea, Belmar, Bradley Beach, Brielle, Farmingdale, Howell, Lake Como, Lakewood, Manasquan, Point Pleasant, Sea Girt, Spring Lake, Spring Lake Heights, Wall. Incumbents are Republicans Sean T. Kean and Dave Rible, challengers are Democrats Lorna Phillipson and James Keady, and Independent Hank Schroeder.
District 31, part of Hudson County, the cities Bayonne, Jersey City. Incumbent Democrats Jason O'Donnell and Charles Mainor are not running for re-election. The field includes Democrats Nicholas Chiaravalloti and Angela McKnight, Republicans Matthew Kopko and Herminio Mendoza, and Independents Tony Zanowic and Alejandro Rodriguez (apparently running together).
District 32, parts of Bergen and Hudson Counties including East Newark, Edgewater, Fairview, Guttenberg, Harrison (Hudson), Kearny, North Bergen, Secaucus, West New York. Incumbents are Democrats Vincent Prieto and Angelica Jimenez, challengers are Republicans Lisamarie Tusa and Frank Miqueli.
District 33, a small part of Hudson County including Hoboken, Jersey City, Union City, Weehawken. Democratic incumbent Carmelo Garcia is not running for re-election. Incumbent Democrat Raj Mukherji enters a field against Democrat Annette Chaparro, and Republicans Garrett Simulcik, Jr. and Javier Sosa.
District 34, urban areas of Essex and Passaic Counties including Clifton, East Orange, Montclair, Orange. Incumbents are Democrats Sheila Oliver and Thomas Giblin, challengers are Republican John Traier and Independent Clenard Childress.
District 35, parts of Bergen and Passaic Counties including Elmwood Park, Garfield, Haledon, North Haledon, Paterson, Prospect Park. Incumbents are Democrats Shavonda Sumter and Benjie Wimberly, challengers are Republicans David Jimenez and Ilia Villanueva.
District 36, parts again of Bergen and Passaic Counties including Carlstadt, Cliffside Park, East Rutherford, Little Ferry, Lyndhurst, Moonachie, North Arlington, Passaic, Ridgefield, Ridgefield Park, Rutherford, South Hackensack, Teterboro, Wallington, Wood-Ridge. Incumbents are Democrats Gary Schaer and Marlene Caride, challengers are Republicans Forrest Elliot, Jr. and James Lenoy, and Independent Jeff Boss, who is also running for several other offices including President of the United States in 2016.
District 37, the eastern edge of Bergen County including Alpine, Bogota, Cresskill, Englewood, Englewood Cliffs, Fort Lee, Hackensack, Leonia, Northvale, Palisades Park, Rockleigh, Teaneck, Tenafly. Incumbents are Democrats Gordon Johnson and Valerie Vainieri Huttle, challengers are Republicans Joseph Fiscella and Gino Tessaro.
District 38, parts again of Bergen and Passaic Counties including Bergenfield, Fair Lawn, Glen Rock, Hasbrouck Heights, Hawthorne, Lodi, Maywood, New Milford, Oradell, Paramus, River Edge, Rochelle Park, Saddle Brook. Incumbents are Democrats Timothy Eustace and Joseph Lagana, challengers are Republicans Mark Dipisa and Anthony Cappola.
District 39, again parts of Bergen and Passaic Counties including Bloomingdale, Closter, Demarest, Dumont, Emerson, Harrington Park, Haworth, Hillsdale, Mahwah, Montvale, Norwood, Oakland, Old Tappan, Park Ridge, Ramsey, Ringwood, River Vale, Saddle River, Upper Saddle River, Wanaque, Washington (Bergen), Westwood, Woodcliff Lake. Incumbents are Republicans Holly Schepisi and Roberth Auth, challengers are Democrats Jeffrey Goldsmith and John Derienzo.
District 40, parts of Bergen, Essex, Morris, and Passaic Counties including Allendale, Cedar Grove, Franklin Lakes, Ho-Ho-Kus, Little Falls, Midland Park, Pequannock, Pompton Lakes, Ridgewood, Riverdale, Totowa, Waldwick, Wayne, Woodland Park, Wyckoff. Incumbents are Republicans David Russo and Scott Rumana, challengers are Democrats Paul Vagiano and Christine Ordway.
---
Local election information is much more difficult to obtain over the Internet, but for sample ballot information you should contact your county clerk or other election officials; they are conveniently all listed on the New Jersey Department of State Division of Elections web site.
I know that's not a lot of help, but it's the best I can offer to such a large task. Become informed, and then vote.
Several of the candidates mentioned above have previously run for other offices and so are mentioned on other pages of this site, notably on New Jersey 2013 Special Senatorial Election, New Jersey 2014 Primary Election, and New Jersey 2014 General Election.
[contact-form subject='[mark Joseph %26quot;young%26quot;'][contact-field label='Name' type='name' required='1'/][contact-field label='Email' type='email' required='1'/][contact-field label='Website' type='url'/][contact-field label='Comment: Note that this form will contact the author by e-mail; to post comments to the article, see below.' type='textarea' required='1'/][/contact-form]