Newark Political Buzz Examiner
writes
New Jersey 2013 Special Senatorial Election
With the passing of Senator Frank Lautenberg (mentioned in The 2013 New Jersey Gubernatorial primary results), a special election was held to fill the seat. We attempted to provide information about all the candidates before the primary, and continued to cover through the election.
Candidate Cory Booker
With the passing of Senator Frank Lautenberg and the announcement of a special election to fill his seat through the end of his term next year, six candidates have entered the August 13th primary race--four Democrats, two Republicans. Without doubt, the best known of these is Newark Mayor Cory Booker, a rising star in the Democratic party and perhaps the second best known and most popular New Jersey politician after Governor Christie. The state Democratic leadership wanted him to run against Christie in the gubernatorial election this fall, but he declined claiming that he wanted to finish his term as Mayor of Newark; if he is elected to the Senate he will have to abandon that position.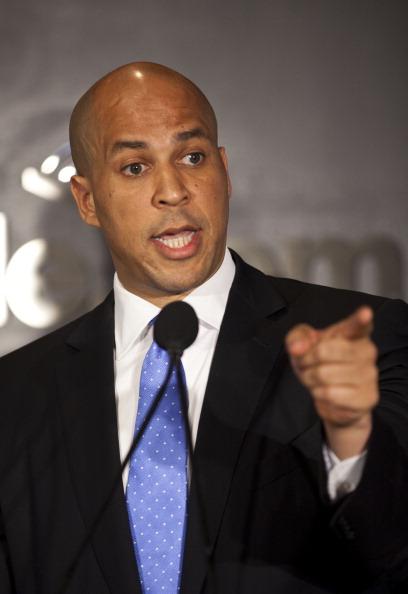 Booker is the son of suburban civil rights activists; he moved into the public housing projects to become part of the people of the city of Newark, ultimately becoming mayor of that city. It has been noted that he has five times as many people following his Twitter feed as there are people in that city. He has already been endorsed by southern New Jersey political leader George Norcross III.
He is said to be part of a new direction in the Democratic party, because he is socially liberal but fiscally conservative. This could give Republicans a difficult candidate to beat, although as that goes New Jersey has not sent a Republican to the United States Senate for a few decades. On the other hand, he favors a number of policies opposed by special interest groups within the Democratic party, including for example the end of lifetime teacher tenure and other changes to the education system opposed by the New Jersey Education Association. How they will respond to his run for federal office (where he will have less direct impact on state policy) is an unknown factor.
It is early in the race, and none of the candidates have spoken much about what they would do in the Senate, but based on popularity Booker has the best shot at this point. The temporary Senator appointed by Governor Christie to fill the seat until the October election, State Attorney General Jeffrey Chiesa, is not in the race, so there is no hint of incumbency at this point.
Although the remainder of the term is just slightly more than a year, the winner now will go into the 2014 November election as the incumbent, with the advantages of having performed the job for a year. Booker had previously said he would run for Lautenberg's seat when the Senator retired, and he has been raising money for such a campaign. A win now would give him a possibly unbeatable advantage then; a loss now would set him against an incumbent, probably from his own party, either leading to a messy primary campaign or removing his chance for the position for years, possibly decades, to come. Conversely if the Republicans take the seat in October he will be running against a Republican incumbent during the sixth year of a Democratic President's term. (Two-term Presidents typically hit a low point in popularity in their sixth year, leading to party losses in other elections particularly in the Senate and House.) Having passed on the gubernatorial race (probably wisely, given Christie's overwhelming popularity at present) he probably needs this win to move beyond Newark any time soon.
We will provide information about the other candidates, as it becomes available.
Candidate Frank Pallone, Jr.
It is doubtful whether any democrat can beat popular Newark Mayor Cory Booker in the upcoming special primary, and the fact that he has three Democrats challenging him makes it the less likely. It is difficult to know which, if any, have the best chance of beating Booker, but the one with the most political experience is New Jersey's 6th District Congressman Frank Pallone. Originally elected to the federal office (in the 3rd District, before redistricting) in 1988, his quarter century tenure makes him one of the leading Democrats in the House of Representatives.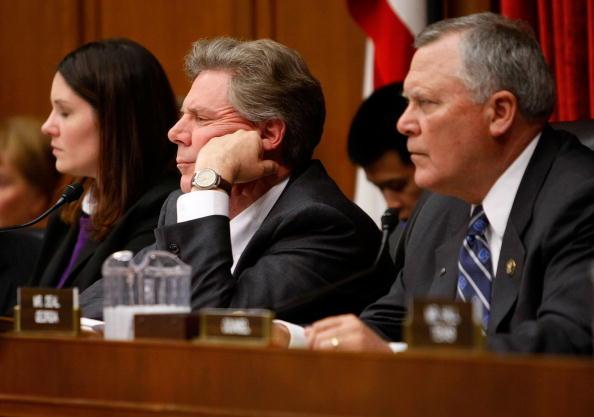 Among his positions within Congress, he sits on the House Subcommittee on Health, and as such takes credit for bringing the Affordable Care Act (popularly known as "Obamacare") through the House. He also has been involved in various health care, food and drug safety, mass transit, and environmental issues including Superfund funding. The progressive civil rights organization The Drum Major Institute gave him top marks in 2005; the conservative National Taxpayer's Union has consistently rated him at the bottom on issues of taxation, spending, and debt. He is a member of the Progessive Caucus.
He has also been involved in international issues, receiving a medal from the Republic of Armenia for his work in the Congressional Caucus on Armenian Issues, and a significant civilian award from India for his support of issues through the India Caucus. He serves as Vice Chairman of the Native American Caucus, working to protect the sovereignty of tribal governments within the United States, aided by his position in the House Resources Committee which oversees U.S. relations with American and Alaskan Natives.
As with Booker, Pallone announced his interest in running for Lautenberg's seat next year prior to the Senator's death, and has been fundraising with that in view, reportedly having more than twice as much as Booker as the race begins. How much impact a couple million dollars can make in a state like New Jersey (where New York and Philadelphia television control the airwaves and charge top-market rates to reach the people in cities who do not matter to New Jersey elections) remains to be seen, and despite his long career Pallone lags in name recognition against the charismatic and energetic young Booker.
In his favor, he has strong union support, and can count on public sector, teacher, and trade unions. He is also promoting his close working relationship with Senator Lautenberg, suggesting that he is the best choice to continue that liberal policy legacy. He has put together a campaign organization of primarily DC-based companies (a Philadelphia-based media group) to do battle against Booker, who recently expanded his team with veterans from the Obama campaigns.
Pallone thus represents experience and the traditional Democratic Party values, and is in fact the Communications Chair of the Democratic Policy Committee. Those who do not agree with Booker's conservative fiscal policy may find Pallone their candidate of choice--unless one of the other candidates appeals more.
Candidate Rush Holt, Jr.
As compared with Frank Pallone, Rush Holt is a relative newcomer to the House of Representatives. He comes from a political family: his father Rush Holt, Sr., was the youngest popularly elected United States Senator, in 1935, but left office before Rush was born; his mother served as West Virginia Secretary of State in 1957, the first woman to do so. Young Rush Holt pursued a career in science, working his way up by degrees in physics to a Ph.D., and taught physics, along with public policy and religion (he is the only Quaker currently in Congress) but became involved in such positions as Congressional Science Fellow and head of the Nuclear and Scientific Division of the Office of Strategic Forces at the State Department. He ran for the House but lost in the 1996 primary, but in 1998 took the 12th District seat from the Republican incumbent and has held it since, usually with a majority of the votes.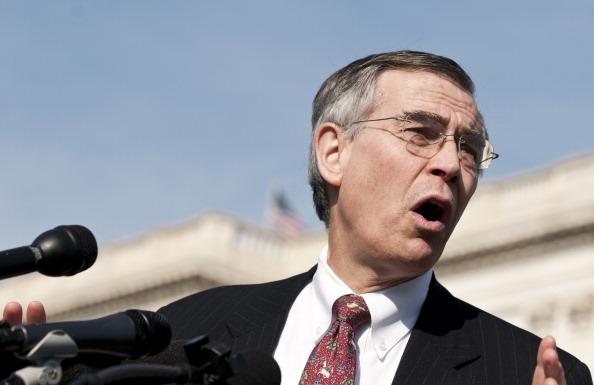 He is one of two physicists in Congress, and has been involved in alternative energy research at Princeton. He also won several times on Jeopardy, and beat IBM's Watson computer in an unaired practice game. He is staunchly liberal in his views, getting full favorable marks from liberal organizations supporting gun control, abortion, civil rights, environmental issues ("best record" from the League of Conservation Voters), mass transit security, and science and technology. He is considered one of the most liberal members of Congress. He has been leading the fight against the Patriot Act, is against Guantanamo, and wants to eliminate corporate tax loopholes. He is for universal pre-kindergarten, in favor of the Employee Free Choice Act (a bill which opponents claim will allow union organizers to identify and strongarm those opposed to unionization and advocates claim will prevent management interference with employee efforts to unionize), supports fighting climate change and expanding background checks for gun sales, and wants to build a smart energy grid for selling renewable energy nationwide.
He also was eyeing the anticipated Lautenberg retirement and stepped up on the announcement of the Senator's death, but his eight hundred thousand dollar war chest going into the race is less than half that of Cory Booker, less than a quarter of what Frank Pallone brings to the starting gate. On the other hand, his candidacy is probably good news for Booker, as Holt will take votes which otherwise would have gone to Pallone.
Whether he is a serious challenger to Booker, or even to Pallone, might depend on just how liberal New Jersey Democrats are, and whether Booker's fiscal policy will appeal to an otherwise liberal party. Holt's advantage is that he stands out as more liberal than most Democrats, and so may well pull an active liberal vote together in the primary. In early campaign efforts he has attempted to distinguish himself as the "not Booker" candidate, a potentially effective strategy in a campaign with such a clear leader.
Candidate Shiela Oliver
The biggest fly in Cory Booker's ointment is not one of New Jersey's national politicians nor perhaps the Republican party opposition, but the Speaker of the New Jersey state legislature, Sheila Oliver.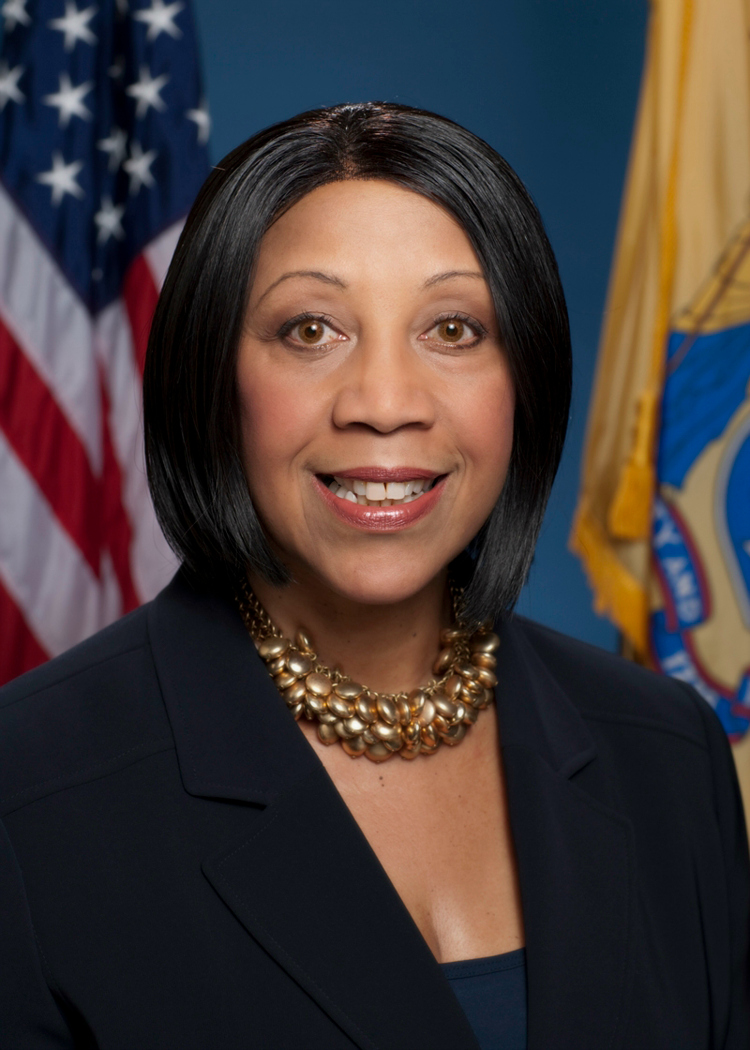 She is the only woman in the Democratic race, but more than that she is also black (the second black and the second woman to be Speaker, but the first black woman to be Speaker in New Jersey, and the second black woman to lead a state legislative house, the first being in California). Booker needs a significant portion of the black vote, which comprises 20% of New Jersey's voting population, and she is certain to syphon at least some of that from him. She also has made the point in her campaign that more women are needed in the Senate, making her gender an issue as well--she would be New Jersey's first female Senator. It hurts Booker also that her popular base is Essex County--his county, in which Newark is located, a county whose population makes it a must-win for a Democratic candidate.
She has disagreed with Booker on nearly everything, and has strong support even among Newark residents, some of whom see Mayor Booker as more interested in his own political future than with the problems in his city. She thus splits the base on which he needs to build, and is to Booker what Holt is to Pallone. There is even some speculation that Pallone may have encouraged her to run specifically to undermine Booker's position, opening the way for him to win the primary with a plurality.
Since Booker is the leader, everyone campaigns against him, and Oliver is no exception there. She asserts that as Speaker of the Assembly in New Jersey, she has had a state-wide view of the problems and needs which the other candidates lack--Booker mayor of our largest city, Holt and Pallone Congressmen from specific northern New Jersey districts. Otherwise, her primary issues are improving education, reducing college costs, continuing to fund Sandy disaster rebuilding, and reviving the economy in failing industrial and aging suburban areas. She has spoken in favor of raising New Jersey's minimum wage (a position held also by Booker and by the Democratic gubernatorial candidate Barbara Buono) and praised the Supreme Court's decision in striking down part of the Defense Of Marriage Act.
At present, she trails in this race, but all bets are off in a special election--anyone could be the next candidate, or the next Senator.
Candidate Steve Lonegan
As one by one major Republicans declined to enter the special Senate race to fill deceased Senator Lautenberg's seat, observers thought former Bogota Mayor and two-time gubernatorial primary candidate Steve Lonegan would be the party's nominee by default. That did not happen, but his prospects are still very promising.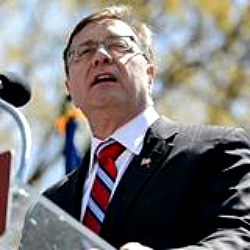 Lonegan is a strongly conservative candidate who has angered and alienated unions in downsizing Bogota's government and budget, such as by hiring civilian dispatchers at a lower wage than uniformed officers, and blocking a program to provide pensions to volunteer emergency workers. Under his leadership Republicans controlled the normally Democratic city for over a decade.
Beyond the city, he spearheaded efforts to block a proposed sales tax increase (to 8%), and to defeat a voter referendum to borrow money to fund stem cell research. He supports such causes as English as the official language, focuses on how the growth of government has impinged on individual constitutional rights, and supports right-to-work laws against forced union rules (New Jersey is a union state). He would join those wanting to repeal Obamacare.
His best assets in the present race are the shortage of time and his well-established state-wide volunteer network. Given the short time to the elections, most candidates will be best served by focusing on getting their supporters to the polls, rather than trying to sway others to their positions, and Lonegan's network of conservatives will probably make him the Republican nominee in the primary and might manage to outpull voters statewide for the national election--the Democratic opponents all having more localized backgrounds, Cory Booker in Newark (but don't discount his large national popularity), Frank Pallone and Rush Holt in their northern New Jersey congressional districts, and Sheila Oliver in Essex County's legislative district. Despite the improbability of a conservative candidate winning (New Jersey has not sent a Republican, never mind a conservative one, to the Senate in decades), he could steal the election simply by mobilizing the strong minority of right wing voters to reach the polls in October. He is Roman Catholic, and the ties between the Protestant religious right and Catholics on such conservative issues as abortion, marriage, and the contraception provisions of the new Affordable Care Act give him likely support from that quarter. While Governor Christie has not endorsed any candidate at this point, his decision to create the special election gave a major advantage to his one-time primary race opponent, the only candidate with a state-wide organization in place going into the race. Although liberal pundits think he's a joke, he could easily win the Republican special primary, and depending on who the Democratic opponent is in October, become the first elected New Jersey Republican Senator within the memories of most of our residents.
He argues that Democrats must defend Obama's policies, and with a President increasingly beleaguered by negative publicity and ratings, Lonegan could become New Jersey's first Republican Senator in decades, taking advantage of low turnout in an October special election to bring conservatives to the poll.
Candidate Alieta Eck
Dr. Alieta Eck is not quite a mystery, but she appeared abruptly on the list of candidates just before filing ended, a Republican challenger to Steve Lonegan. The question is whether to take her candidacy seriously, or whether (like Troy Webster in the recent gubernatorial primary) she is more a token challenger.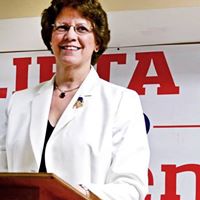 Eck began as a one-issue candidate, but on a major issue. She is a medical doctor who has testified before Congress more than once concerning how to improve health care and health care financing, and has been well immersed in bringing health care to the poor through a clinic she founded with her husband, also a practicing physician. It utilizes volunteer medical staff and contributions from supporters to provide free care to the needy. Her credentials in the area of medical care for the poor are impeccable. She sees major problems with the Affordable Care Act, including that many of her already impoverished patients are having their working hours cut below thirty so that they will not qualify under the full-time requirement of the law, and so have less money and still no insurance. She wants to fix health care and Medicaid, and firmly believes that the present law is going the wrong direction.
Although she has never held a government office, she is recent President of the Association of American Physicans and Surgeons, a platform from which she has been involved in the politics of medicine.
Her weakest point is that she is relatively unknown. She favors less government, and speaks well of Rand Paul. Citing the 10th Amendment, she wants to make the Federal government smaller in favor of State control. Her position on the economy follows a conservative agenda of stimulating business to create jobs. There is not much time in which she can make herself known even given the modern information network. On the other hand, the same short time frame that advantages Lonegan against the Democratic opponents also advantages her against him, in that if she can reach people aware of and supporting her stand against the present medical coverage laws, she can get them to the polls and take the nomination. She is known to belong to a Christian church, and to be on the board of a Christian missionary medical system that helps pay for the medical costs of the uninsured.
Although she and Lonegan are close on most issues, she notes that she does not carry the baggage of several previous losses. On the other hand, neither does she have the strength of previous success. She also notes that the Senate needs more women and more doctors, two advantages she holds in the race. She expresses a belief in the citizen legislator concept, that those with real-world experience take a few years to help make government function better and then return to their regular jobs, another mark of her belief in small government.
Winning the general election would be a lot tougher, though, because unlike Lonegan she does not have the organization in place for a state-wide campaign, unlike Cory Booker, Frank Pallone, and Rush Holt there is no evidence that she has a strong war chest for this fight, and unlike Booker and Sheila Oliver she does not have an obvious built-in demographic.
But she does make the Republican primary interesting.
Candidate Review
One week from today--Tuesday, August 13, 2013--New Jersey voters will have the opportunity to vote in a special primary, to select the two candidates to run in a special October election, to fill the seat vacated by the death of Senator Frank Lautenberg. We have looked at each of those candidates as the brief race began, and with a week to go we now take a moment to review the field.
Newark Mayor Cory Booker, perhaps not surprisingly, leads in the polls both over all his Democratic contenders and over the leading Republican candidate. He has frustrated his opposition by ignoring them, running largely on his national popularity and contacts with the rich and famous, which he says will give him more influence in the Senate than a freshman Senator normally exercises. Indeed, he gained a one hundred million dollar contribution to the city school system from Facebook founder Mark Zuckerberg, and Oprah Winfrey has done fundraising on his behalf.

Booker is the new breed of Democrat, socially liberal but fiscally conservative, and that makes him a tough candidate for the Republicans to beat in a state that tends liberal but likes moderates. He stands as the most moderate of Democrats, and perhaps the most moderate candidate in the race. Although in so short a campaign it is difficult for candidates to make their positions known in all areas, he has clearly stated that he is opposed to any reductions in Social Security, a target of many in the financial community who want such cuts to balance the Federal budget.

He did not appear at the first scheduled candidate debate, stating that he had agreed to two debates and would attend those. Although some have questioned whether he has really made much difference in Newark, he stands by his record there as the beginning of a very slow reversal of a long downslide.

At present, he looks more like the next New Jersey United States Senator than any of his competitors.

The candidate presently with the best shot to beat Cory Booker to the Senate does not face him, if ever, until October. Republican Steve Lonegan is considerably behind Booker in the polls, but by considerably less than any of the other Democratic contenders.

Lonegan is a "Tea Party" conservative with a very successful run as Mayor of Bogota and leadership of the state chapter of Americans for Prosperity. He has twice failed to win the Republican nomination for Governor, but has strong statewide support among conservatives. He stands for tax and spending reductions, traditional marriage, right to work laws, and deregulation generally.

Although New Jersey has not sent a Republican to the Senate for decades, Lonegan's best chance lies in the fact that the election is scheduled for an October Wednesday, and if conservatives can rally their voters to the polls he might take the seat by virtue of low turnout. After that, it is anyone's guess whether he can hold it in the 2014 election, but stranger things have happened and he would have a year to prove himself.

The Democrat distantly closest on Cory Booker's heels, and gaining perhaps too slowly to make a difference, is New Jersey's United States Congressman Frank Pallone, Jr.. He has a solid record of a quarter of a century in Congress, and hopes to parlay that into a promotion to Senator.

Pallone reasonably claims to be the heir apparent to the Lautenberg seat. He has endorsements from the Lautenberg family, and worked closely with the deceased Senator over the years. If he can persuade New Jersey voters that they want to continue the Lautenberg legacy, he might succeed. That, however, is a rather weak appeal, and he is sandwiched between the fiscally conservative Booker on his right and the radically progressive Holt (next on the list) on his left. Pallone helped write "Obamacare", and although he wants more gun control he sees limits in how far the government can go in that direction.

Whether he could beat Lonegan in the general if he wins the primary is a separate issue. Pallone's record is entirely with what is now New Jersey's 6th Congressional District, a northern New Jersey section (although all the candidates have their bases in the northern half of the state), and Lonegan has a statewide support structure already in place. Time is against Pallone in both races.

He has been called moderate, but only in the sense that he is in the middle ground of the liberal Democratic party. That is meaningful in the present election, because of the next candidate, Rush Holt.

Identified as one of the most liberal progressives in the United States House of Representatives, Congressman Rush Holt, Jr. is making a national campaign of his effort to rally the support of progressives to put him in the New Jersey Senate seat. Holt is a physicist, a professor at Princeton, and a fifteen-year veteran of Congress, who hopes that the progressive vote will turn out in force and put him in the Senate.

Holt believes that "Obamacare" did not go far enough and needs to be replaced with a "single payer" system. He wants to extend many of the tough gun laws in force in New Jersey to cover the rest of the country, and has made what Lonegan claims are alarmist statements about the dangers of climate change and the need for strict environmental policies to save the world.

Clearly a brilliant and educated man (he beat IBM's Watson computer in a Jeopardy practice match), his declarations of his position have an arrogant sound to them, as if those who do not agree with his ideas for health care or energy policy are simply uneducated and need to be taught the facts. He argues that the Senate needs a scientist among its membership, to help understand the issues faced in the world today.

His numbers were not increasing significantly, but the jury is still out and anyone could in theory win this with the right turnout. Holt is counting on progressives pouring into the polls to put a progressive in the Senate, and in that he has perhaps a better chance than Pallone of getting moderate liberals to do so.

It is difficult to determine which of the two women in the race has the better chance of winning at this point, but perhaps Alieta Eck has better numbers, if only because she faces only one candidate, and not Cory Booker, in the primary. As the "other" Republican contender, Eck is trailing against Lonegan, but is a contender.

Part of the problem is that Eck and Lonegan do not disagree about much at all. As far as policy is concerned, she is very conservative across the board.

Her distinction is that she is a licensed physician. She has testified before Congress on better ways to manage healthcare, opposes "Obamacare" and wants to revamp other Federal health programs, and knows enough about medical care from the inside to run a free clinic, co-founded with her physician husband. She was recent President of the American Association of Physicians and Surgeons, whose members encouraged her to run.

She is new to the politics of government, although she has proposed legislation before. She argues that she is the better candidate for working with the opposing party in crafting and passing legislation. She is also a woman, and New Jersey has no women in Washington at all--an issue also raised by the remaining candidate in our review.

Facing three strong challengers in the Democratic primary, and given a late start because of her duties as Speaker of the Assembly, Sheila Oliver is far behind all other contenders. Where she stands in the political spectrum is hard to define, but the points are made that she is a woman, black, and not a Washington insider. She also has argued that most members of the Senate have net worths over a million dollars, so the common American such as herself is underrepresented.

Her record includes opposition to a school voucher program, opposition to an overhaul of state pensions and benefits, and opposition to cuts in general welfare assistance--arraying herself against Governor Christie in the name of liberal policies. She claims that New Jersey Democrats need to put a woman in the Senate, and, ignoring Eck, claims to be the only female candidate in the race.

She does bring something interesting to the story. However, with only a week to close a gap that puts her behind every other candidate in the field, it will take a lot of effort and some ingenuity to put her in the office.
So that's the field. One of these six candidates will be our next Senator from New Jersey. Which one depends primarily on who can motivate the most supporters to appear at the polls at these special elections, the primary next Tuesday, August 13th, 2013, and the special election for Senator on Wednesday, October 16th. Although Cory Booker is the odds-on favorite, with a week to go to the primary anything could happen.
Primary Reminder
Today--Tuesday, August 13, 2013--is the special primary election to choose the candidates for New Jersey's open United States Senate seat, vacated by Senator Frank Lautenberg's death. Let this be a reminder that particularly in an off-schedule election such as this your vote counts, and on the democratic side it might be very significant.
The leader in the race has long been Democratic Newark Mayor Cory Booker, identified as fiscally conservative but socially liberal, and running on his popularity and connections. On the Democratic side his nearer contender is United States Congressman Frank Pallone, who most closely approximates the political views of the deceased Lautenberg. He is challenged by United States Congressman Rush Holt, one of the most liberal progressive Democrats in Congress, whose campaign has been reaching out to progressives nationwide to support his election run here in New Jersey. Taking up the rear, running mostly on the credentials that she is a middle class black woman who thus speaks for underrepresented segments of the population, is Assembly Speaker Shiela Oliver. The four candidates here are remarkably distinct individuals.
On the Republican side there is less difference, as both parties are strongly conservative, oppose the Affordable Care Act, and want less government, and lower taxes and spending. Former Bogota Mayor Steve Lonegan leads the race, building on a strong record of fiscal improvement in his decade in office, but Doctor Alieta Eck is knowledgeable in the medical field and in plans to finance medical care for the poor; she also believes in the concept of the citizen legislator, as opposed to the professional politician, that ordinary citizens would take their individual expertise to Washington for a term or two and then return to the work they were doing, a strong indicator of small government.
The election will be held October 16th, between whichever two candidates emerge from this primary, and the choices are not insignificant. This column will publish the results either tonight or tomorrow morning, as they become available.
Primary Results
The primary is over, and the candidates for the special Senatorial election scheduled for October 16th have been announced, and there were no surprises.
Newark Mayor Cory Booker has easily claimed the Democratic spot on the ballot with more than half the votes against three other candidates. Booker is said to be of the new breed of Democrat, socially liberal but fiscally conservative, and that makes him a tough candidate for the Republicans to beat in a state that tends liberal but likes moderates. He can easily sell himself as the moderate in the current election.
That is not what his opponent will claim as October nears. Republican Steve Lonegan easily took the opposing slot, not surprising given his strong state-wide support network. He has already called Booker an extreme liberal, and hopes that he can rally New Jersey's "Tea Party" conservatives to put the first New Jersey Republican in the Senate in decades. He boasts a very successful run as Mayor of Bogota.
Voter turnout, although low, was higher than anticipated for a special primary election. Our two contenders face each other in the special Senatorial election on Wednesday, October 16th. Although Booker is the odds-on favorite, Lonegan could make it happen if he can mobilize the conservative base to support him two months from now.
August Update
Almost two weeks into the race, little has changed in the running, with Democrat Newark Mayor Cory Booker holding a strong lead over Republican former Bogota Mayor Steve Lonegan; however, the candidates have not been idle, and the race is far from settled.
Lonegan has picked up critical support from New Jersey's Republican party, as Governor Chris Christie endorsed him and promised that he and other top state Republicans would be fully behind him including fundraising. Christie previously distanced himself from Lonegan prior to the August primary victory, claiming to be focused on his own Gubernatorial election bid. Lonegan had been critical of Christie's close ties to President Obama, and to what Lonegan claims was excessive Federal aid following Hurricane Sandy. This has gotten him the attention of Kentucky Republican Senator Rand Paul, the Libertarian Party favorite who has quarreled with Christie particularly over national security expenditures as well as disaster relief aid. Rand is also considering how he might help the conservative Republican win the Senate seat. Lonegan's extreme fiscal conservatism has also gotten him national attention; recent comments about reducing the food stamp program and encouraging single mothers to find jobs have brought negative publicity.
Booker, meanwhile, has picked up an endorsement from President Barrack Obama, apparently having overcome any residual animosity from criticisms Booker made of Obama's attacks on the financial industry during his campaign against Mitt Romney. This has been a double-edged endorsement, as national conservative organizations are clamoring to Lonegan's side as a referendum against Obama, in a "Defeat Cory Booker" movement intended to send a message to Washington. Booker appeared at the celebration of the March on Washington, addressing the D.C. gathering on the importance of the current generation carrying forward the commitment to justice and equality. However, he has not won the support of the progessive wing of his own party, many of whom perceive him as a closet Republican, too moderate for their tastes and more interested in advancing his own career than the objectives of constituents, and too invested in the financial industry that has contributed to his campaign, reflected in some of his pro-corporate policies. He also supports education reform including charter schools and test-based teacher assessments, and so has alienated teachers unions to the point that they deny he is truly interested in what has been his core political issue throughout his career, child poverty.
Still, Booker has the lead, with more than fifty percent of voters likely to vote in October favoring him, Lonegan trailing with somewhere just above a third of the voters in his court. Lonegan will have to inspire more conservatives to get to the polls, and win the favor of more moderates. The short campaign--the election looms on October 16th--is against him, but the fact that it is a Wednesday election in October means that what counts most is driving voters to the polls.
September Update
With a month to go until the New Jersey special senatorial election, it is looking better for Democrat Newark Mayor Cory Booker, who has extended his lead over Republican former Bogota Mayor Steve Lonegan, now with a better than two-to-one margin among likely voters.
Lonegan has struggled to make this a referendum on President Obama's policies, making appearances with Senator Rand Paul and criticizing Obamacare, Syria policy, and the liberal positions on marriage and abortion. Booker, however, keeps making the race about himself, stealing attention with comments about his own sexuality, such that Lonegan is forced to address questions from the media concerning Booker's statements. Those statements amount almost to Booker casually apologizing for being heterosexual but being pleased when people think he is "gay", because he strongly supports gay marriage. Lonegan says this race is not about Booker's personality, and that it does not matter whether Booker is homosexual, but about whether he is too liberal for New Jersey.
Booker has taken a couple of blows to his image. It has come out that one of the people he has frequently described in his speeches, a Newark drug pusher known as T-Bone, is a fictional construct of stereotypes, not a real person; Rand Paul has made reference to this, saying that Lonegan only knows real people, not imaginary ones. Booker's claim, too, that one third of all New Jersey real estate growth is in Newark was found to be dubious--true if based solely on square footage, but when measured by either property value or building permits the city is second (to Jersey City) with only three percent based on value.
Lonegan is gaining financial support nationally from conservatives; The Drudge Report has joined the fundraising efforts. (Booker gets a significant amount of his support from national audiences.) He continues to voice the conservative agenda, opposing the current administration on nearly every front. Booker, meanwhile, has made a major statement supporting stricter gun control, continues to support Obamacare, abortion, and most other major liberal policies. Perhaps the only issues on which they approach agreement is Syria (both say that military use should be a last resort, although Booker seems more prone to hear the arguments) and NSA spying (both want to tighten the restrictions on such activities).
Lonegan still needs a significant turnaround; as it appears at present, Booker not only has more voters on his side, he has more voters excited about being on his side.
October Update
The gap is closing, the race getting closer, and the real question at this point is whether Democrat Cory Booker can hold to the shreds of what remains of his once-significant lead over Republican Steve Lonegan, supposed underdog, now down at or below ten percentage points, with the special election tomorrow, Wednesday, October 16th, 2013 here in New Jersey. Lonegan now leads among independents, with enough undecided or uncommitted voters to put him ahead.
Lonegan's rags-to-riches story has been helping some: legally blind child from a working class family who built his own business and became the successful Republican mayor of a normally Democratic New Jersey community, now running for national office, as contrasted with Booker's wealthy elite parentage (IBM executives), ivy league education (Yale Law School), and celebrity connections. Lonegan has capitalized some on this last, identifying Booker as the "Hollywood candidate", the one supported by Oprah Winfrey, Ben Affleck, Steven Spielberg, Mark Zuckerberg, and other celebrities. There is some merit to the charge--an estimated seventy-seven percent of Booker's over eleven million dollars in support have come from outside New Jersey. Lonegan's considerably smaller one million and change also shows some support from outside the state, but not nearly so dramatically.
Lonegan has also been helped by some celebrity support of his own, as former Vice Presidential candidate and Alaska Governor Sarah Palin visited New Jersey over the weekend, joining her endorsements with previous statements by Senator Rand Paul, Governor Chris Christie, and radio host Mark Levin. The race is now beginning to be seen as a referendum on the government shutdown (which both candidates decry, but blaming the opposing party), and indeed the election of a Republican from New Jersey at this point would have enough meaning that President Obama has released a video asking people to vote for Booker.
Women still favor the charismatic Booker, but he has suffered a number of setbacks. His father died late last week, and although it was not unexpected it was both unfortunate timing and a sad moment. Meanwhile, a stripper at a club in Oregon revealed a private Twitter® conversation she had had with Booker. This, though, was trouble for both camps, as Lonegan fired his top campaign advisor for making some lewd public comments about it and Booker's people asserted that there was nothing damning in the conversation (Booker is forty-four, never married, and not dating). There were also allegations (in the liberal Salon) of corruption in Booker's financial activities (failing to report ownership of a company, receiving payouts from a firm for which he previously worked which received city contracts), and even his residency (several Newark residences prove to be empty). Meanwhile, it is asserted that in Newark unemployment and crime have both risen during Booker's tenure as Mayor; Lonegan's tenure as Mayor of Bogota was successful enough that he led a Republican government there for a decade and lowered taxes.
Perhaps less dramatically but more significantly, many voters perceive Booker as more interested in seizing the national spotlight that comes with being a United States Senator than with serving New Jersey. His approval rating, although still strong, has been falling, while Lonegan's has been rising.
Both candidates were campaigning heavily this past last weekend, but the question at this point may be whether Republicans or Democrats are more determined to vote in a special election.
Make sure you vote tomorrow; the nation is watching.
Results
The results are in: Democrat Cory Booker is now Senator-elect, defeating underdog Republican former mayor Steve Lonegan fifty-five to forty-four percent. The vote retains the seat for the Democrats, continuing the now decades-long streak of Democratic control of the New Jersey United States Senate elections.
Lonegan had strong support in many of the less-populated regions, taking Ocean, Sussex, and Warren Counties by above thirty percentage points, Cape May and Salem by near twenty, with a thirteen point lead in Morris and nine percent in Monmouth. He also squeaked out a one-point-three percent lead in Somerset County, a total of nine of New Jersey's twenty-one counties. However, Booker took the most populous Bergen County by a fourteen percentage point lead, and swept his home county, the second most populated Essex, with a 57 point lead and a similar lead in Hudson County, also cleanly taking Mercer (near thirty-five points), Camden and Union (near twenty-nine points, plus and minus), Passaic (nineteen), Middlesex (almost seventeen), and Burlington (ten). He took Cumberland County by slightly less than three percentage points, and led in Gloucester County by less than one percent. Booker's lead in Essex County alone (sixty-five thousand votes) accounts for nearly half of his one hundred thirty-four thousand vote margin, and in the end the more urban and mostly northern counties turned the tide his direction.
New Jersey thus sends its first black Senator to the Senate, and should be commended in that race never seemed to be at issue in the campaign until after he won--racism is still nascent as long as the fact that someone is black is newsworthy.
Lonegan did remarkably well, whittling down Booker's lead to a fraction of what it was at the beginning of the race. He is said to be returning to private business, but we may see him again at some point as he beat back overwhelming odds to the point that some thought he created a chance of winning.
Best of grace to Senator Cory Booker; may he represent all of New Jersey in the year ahead.