This is mark Joseph "young" blog entry #84, on the subject of Man-Made Religion
A significant (at least to me) discussion was budding on a thread about something else on Facebook with Nikolaj Bourguignon and William Bing Ingram, and Facebook is already not a very good place for such deep discussions and the less so when they are buried in a thread about something else. So I am addressing it here, and if they're interested perhaps we can discuss it on a new thread there or here. (I know Nikolaj has a lot on his plate at the moment, so I'll understand if he's unavailable. Everyone is welcome to join. Initial comments here are moderated, so don't expect that they'll post immediately if you aren't already an approved commenter on this web log, but I usually get to them pretty quickly.)
William suggested:
…one of the things about religion is that nobody ever discovers religion on their own; they always have to be told about it before they "suddenly" find religion.

This is unlike subjects such as math….

Religion is a completely man-made idea. I mean, consider early civilizations. They developed independent of each other and each one developed widely different religions. If there really was one true religion, each culture would have discovered the same one independently.
I take exception to that idea, and hope he will afford me the opportunity to explain why.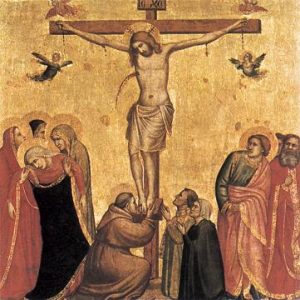 It is certainly reasonable to reject religion for rational reasons. It is entirely different to do so based on errors of fact, and that appears to be what we have here.
Certainly it is true that there are many religions all over the world, and they have often been at odds with each other concerning which is the truth. However, it is important that we grasp those arguments. When Missouri Synod Lutherans argue with Wisconsin Synod Lutherans, the points at issue are generally about what is appropriate in church services; they agree on much much more than that on which they disagree. When Missouri Synod Lutherans argue with atheists about the existence of God, the Lutherans are much closer to the Baptists, the Catholics, even the Muslims, than any of these are to the atheists. Theologians often talk about the case of the single iota of difference–from a church split that happened largely over whether the right word was homoousios ("same substance", used in the Nicene Creed and adopted by the western Christian church) or homoiousios ("similar substance", used by Eusebius of Caesarea and considered the better choice by the eastern Christian church). After all, if I say that the paint color we chose was lavender and my wife says it was lilac, apart from the fact that I suspect she would be right it doesn't really prove that we didn't choose a paint color. It only means that we disagree in the minutiae.
It will also certainly help if we recognize that nearly all religions can be divided into the ethical portion, the spiritual portion, and the ritual portion. Certainly they are all different in all three portions–but it must be noted that they are not really so different as we might expect.
Looking first at the ethical portion, we find that there are universal principles underlying all religions from all over the world. I recommend the appendix in C. S. Lewis' wonderful book The Abolition of Man, in which he details many of these principles and demonstrates their presence in religions from every continent over many centuries. We might suppose that the sanctity of life and the protection of property were obvious, but loyalty to family over strangers, obligation of hospitality to strangers, sanctity of marriage, protection of the weak and particularly of children, deference to elders, sacrifice of self, and quite a few other less obvious principles are well represented universally. The specifics of how these are applied from one culture to another certainly varies, but the ethic itself seems to be universally understood, and discovered by peoples throughout the world.
The ritual aspect is certainly far more varied, but even here we have some haunting similarities. Nearly all religions recognize some significance in sacrifice. Nearly all include feasts but also fasts, self-deprivations of some sort and celebrations of some sort. The rest is generally application of culture and human abilities–the inclusion of music, chanting, speech, body positions indicating deference, and many other aspects which develop. Modern sociologists are intrigued by the concept of the creation of a "sacred space", a collection of ritual which humans use to divide part of life from everything else, which is found universally and involves ritual. It seems that we have all discovered the same thing, and applied it in different ways.
The spiritual portion is the most difficult, but to some degree it also has shared elements. As noted, Hindus, Muslims, Christians, Polytheists, Jews, and many, many others all agree that there is some kind of spirit world, a God or gods; we are all much closer to each other than any of us are to atheism, despite how very different we are from each other. The atheist would claim that our diversity comes from the fact that we are all inventing ideas to explain realities that we did not understand, but fails to account for the similarities between those ideas. Certainly in some theologies the gods are like super-people, and in others they are so far beyond our reality as to be unlike people at all. Some see the afterlife as a lot of individual people continuing an earth-like existence, others see it as everyone losing his selfhood and becoming part of one selfless unity, and others–religious people who believe in a spirit world–see no afterlife at all. Yet this is the area in which we have the least information, because any of us who might have gone and returned have failed to bring back anything all of us accept as proof.
Except that this is where the Judeo-Christian concept of revealed religion becomes involved. Unlike so many others, the scriptures of the Jews and the Christians present themselves as historic documents recounting events in the lives of real people, who reportedly interacted with representatives of God. All those efforts to figure out what the spirit world is like were doomed to failure without information from the spirit world, but Christianity claims that it was provided. If so, then the Christian faith has an advantage: first-hand information.
What is the more interesting about this, to me at least, is that what the Christian faith claims as revealed religion seems to be saying that everyone had it partly right. God is not a monolithic being, but He is a single being with a complex existence best described as three people perpetually interacting with each other. (There are spirits who are not God nor gods, but in some sense greater than humans, who interact with God and possibly on occasion with humans, and not all of them are friendly.) The reality of the polytheists contains some truth but not all the truth. The opposite reality, that God is vastly incomprehensible and beyond anything we would understand as a person also contains some truth but not all the truth. The image of the afterlife as many individuals living together is affirmed, but so is the image of everyone joined in one entity (the body of Christ). It tells us that so much that we guessed about the spirit world is true, but not exclusively true, and gives us an image that is barely comprehensible of a place that by definition ought to be completely outside our experience or understanding.
C. S. Lewis seems to have become a Christian (he was an atheist) in large part because he saw that the Christian message provided the critical piece of reality that united everything. I see some of that sometimes, and I see it here: if the Christian concept of the spirit world is correct, all the other attempts to understand it are partly correct, capturing some aspects and missing some. It also suggests that none of these religions are "made up"; they are, in fact, all glimpses of a reality–something akin to the poem about the blind men and the elephant, written to express a similar idea, but when the poem says that the blind men are describing something they have never seen, it fails to recognize that they have experienced something, and so are accurately describing part of something. That seems to be what is happening in the diversity of religions: We have all (generally if not individually) experienced something and attempted to understand it. The fact that we understand it differently does not mean we did not experience the same thing–any more than the fact that Aristotle's physics is significantly different from that of Galileo and Newton, and Einstein's different again, does not mean they all lived in different universes. They simply did not notice the points that others did.
I have other reasons for preferring Christianity, but they are beyond the scope of the present discussion, which is really about whether the diversity of religions proves they are all "made up". I think that you can't support that conclusion on the evidence.
[contact-form subject='[mark Joseph %26quot;young%26quot;'][contact-field label='Name' type='name' required='1'/][contact-field label='Email' type='email' required='1'/][contact-field label='Website' type='url'/][contact-field label='Comment: Note that this form will contact the author by e-mail; to post comments to the article, see below.' type='textarea' required='1'/][/contact-form]