This is mark Joseph "young" blog entry #63, on the subject of Equal Protection When Boy Meets Girl.
United States Supreme Court Justice Ruth Bader Ginsburg does not like the Roe v. Wade decision.
To many, that will sound like nonsense. Ginsburg is the anchor of abortion rights on the United States Supreme Court, and Roe the seminal case which recognized, some would say created, such a right. Yet Ginsburg does not disagree that there is such a right; she disagrees regarding the basis of that right, and thus with the reasoning of Roe which is its foundation.
Roe v. Wade is in essence a Right to Privacy case. Beginning with Griswold v. Connecticutt, in which the court found that the state could not criminalize the act of teaching couples how to use contraceptives in the privacy of their own bedroom, the court inferred that the First Amendment protections of freedom of expression, Fourth Amendment protections against unreasonable search and seizure, and Fifth Amendment protection against self-incrimination, implied a right to keep one's personal matters private. There were several intervening cases which extended that, and there have been others arising since Roe, but in Roe the argument was that the decision to have an abortion was a medical decision between a woman and her doctor, and as such was a private matter in which the government should not interfere without a very compelling interest.
Ginsburg disagrees. That argument, she claims, makes a private and personal decision a matter to be discussed with a doctor–a paternalistic oversight that according to Ginsburg violates the fundamental right at stake. She claims that a woman's decision should be autonomous, something she decides without involving anyone she does not wish to involve. She makes it an Equal Protection right, covered largely by the fifth through tenth amendments. Her assertion is that a woman should have the autonomous right to decide whether to bear a child, unimpeded by any considerations including medical ones, because it is solely the woman's problem.
Ginberg's reasoning presents serious challenges for those who oppose abortion. If her line were adopted, current efforts to regulate abortion providers and facilities would be unconstitutional. As the decision stands, if abortion is a privacy right as a medical decision on the advice of a medical professional, it is completely reasonable for reasonable regulations of the medical profession to restrict access to abortions based on the government's regulation of health care. If it is an autonomous right under equal protection, then a woman in theory should be able to have a doctor or anyone she chooses perform one in the privacy of her own bedroom without any government involvement at all. Yet Ginsburg's position suffers from some other problems. She believes she is defending the concept that a woman should be treated exactly as a man would be in the same circumstance, but (apart from the fact that men would not be in exactly the same circumstance) the treatment of men in this circumstance is already worse than the treatment of women, viewed from the perspective of individual autonomy and equal protection.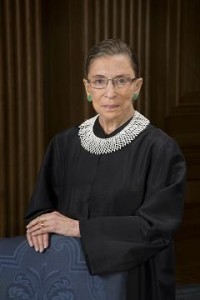 Let's look at the situation: boy meets girl. We'll call our girl Ruth, for Justice Ginsburg, and we'll name the boy Tony, in memorium of the recent passing of her good friend, colleague, and adversary Justice Antonin Scalia.
Ruth and Tony meet, maybe at work, maybe at a party, maybe at school or in the neighborhood. They like each other, and start seeing each other. They find themselves attracted to each other. Human physiology being designed to promote reproduction, at some point they have desires to have sex. At this point they are just about equal, as far as reproductive rights are concerned. Some argue that Tony is disadvantaged in that his drives are stronger than Ruth's, but there aren't many ways to test that. Ruth might have more resistance to those drives because the consequences are more direct for her, but in essence it is within the power of each them them to choose, autonomously, not to engage in sex. It is also within their power to choose, jointly, to risk a pregnancy.
Yes, Tony could rape Ruth; Tony could coerce Ruth by some other inducement. Women are raped fairly often, usually by men, sometimes by women. Men are also raped, by men and sometimes by women, but considerably less often–although more often than reported. Men are more embarrassed about being raped than women are, and so less likely to report it; and they are taken less seriously when they do, partly because some people think a man can't really be raped by a woman, and partly because men who have never been raped by a woman somehow think they would enjoy it. Rape, though, is a separate issue: anyone who has been raped has had rights fundamentally violated, quite apart from the problem of potential pregnancy.
If Ruth and Tony agree to engage in sex, suddenly the entire picture changes: they no longer have equal reproductive rights. A significant part of that is simply technological. Either of them could have an operation rendering him or her permanently infertile, which is generally a drastic step few want to take and is a considerably more expensive and difficult (but ultimately more reliable) procedure for Ruth than for Tony. Barring that, though, Tony is limited to the question of whether or not to use a condom–a prophylactic device with a rather high failure rate. Ruth's equivalent, a diaphram, is a bit more difficult to get (must be fitted by a gynecologist) but considerably more effective; she also has several other options. Usually she would use spermicide (sometimes known as "foam") with a diaphram, but she can also use hormone treatments, usually in pill form but sometimes as implants, that disrupt her ovulation cycle. All of these options have varying probabilities of preventing conception; there are other options. Intra-uterine devices (IUDs) usually reduce the chance of conception but also prevent or sometimes disrupt implantation, causing a spontaneous abortion–what in popular jargon is called a "miscarriage", but at so early a stage that pregnancy was not suspected. In all these ways, all the reproductive rights are on Ruth's side: if she chooses not to become pregnant, she has an arsenal of ways to prevent it.
However, young lovers are often careless. Birth control is so unromantic, so non-spontaneous. The young suffer from the illusion of invulnerability, that they are the heroes of their own stories and everything is going to work according to their expectations. People have sex and don't get pregnant; some couples try for unsuccessful years to have a baby. A pregnancy is often a surprise, even for those who want it. People take the risk, and Ruth and Tony might lose. So now there is a baby on the way, as they say, and again Ruth's reproductive rights are more than equal to Tony's. She can choose to carry the child to term, or to have an abortion. He has no say in the matter, even if he is her husband. She might include him in the decision, but it is her decision; she does not even need to inform him that there is a decision. She can end the story right here. He cannot. He has no say about his own reproductive rights. He cannot say, "I do not want to be the father of a child; terminate it." Nor can he say, "I want this baby, keep it." He does not, in that regard, have equal protection.
Maybe he does not care; maybe he figures it is her problem. However, it is not just her problem–it is also his problem. The inequities are not yet quite done. If Ruth decides not to have an abortion–exercising her reproductive rights and overriding his–the child is born. At that moment Ruth has yet another choice: she can keep the child, committing herself to the difficulties and expenses of raising it, or she can absolve herself of all further responsibility, agreeing never to see the child again, by putting it up for adoption. I do not want to minimize the agony of that choice, but it is her choice–it is not his choice, and he has no say in the matter. His reproductive rights are not equally protected.
In most cases, if she chooses to surrender the child for adoption, he has no say in the matter; he cannot say it is his child and he wants to keep it. That, though, is only half the problem. If she decides that she wants to keep the child, she can sue him for child support–and indeed, if Ruth is poor enough that she files for public assistance from the state, most states will find Tony and force him to make child support payments, and jail him if he fails to do so. It is his responsibility to support the child if she says it is. He can claim that it is not his child–the tests can be expensive, but there is an avenue to avoid false claims–but we already agreed that it is his, so he is going to have to support it. She had a choice; he has none.
So by all means, let's think of abortion as an Equal Protection issue. Men are not protected in this nearly as well as women. A lot of things would have to change to get there.
In addition to web log posts with the Abortion, Discrimination, and Health Care tags, see also the articles Why Shouldn't You Have Sex If You Aren't Married?, and Was John Brown a Hero or a Villain?
[contact-form subject='[mark Joseph %26quot;young%26quot;'][contact-field label='Name' type='name' required='1'/][contact-field label='Email' type='email' required='1'/][contact-field label='Website' type='url'/][contact-field label='Comment: Note that this form will contact the author by e-mail; to post comments to the article, see below.' type='textarea' required='1'/][/contact-form]