This is mark Joseph "young" blog entry #46, on the subject of Blizzard Panic.
I am going to blame, or credit, Isaiah Richardson for the push that moved this from annoying musings to an article. I do not know him well, but he is connected to me through Facebook, and more particularly through being one of my sons' peers. He posted to his Facebook to the effect that those who do not live around here must be quite confused that the impending blizzard caused us all to need to make so much French Toast. Think about it.
I have never understood the panic over a bit of snow. People seem to lose all sense when the snow is threatened, and don't know how to live when it arrives. I live in Cumberland County, in New Jersey, which is almost as far south as you can live and still be considered in the Northeast Corridor–we are south of the Mason-Dixon Line, south of Elkton, Maryland. I grew up much farther north, and I learned to drive in the snows of Massachusetts–I was there for the Blizzard of '78 (which as you can see in the picture closed highways pretty completely). Down here, within a couple days the snow is mostly melted.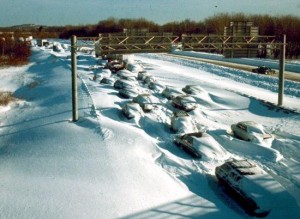 That's part of the problem, of course, is that people down here have rarely experienced the kind of snow we had, even at the northern end of the same state. My parents do get snow that would make me nervous about driving, and they're just south of the New York Thruway off Route 17. I drive in weather like that–weather like this–but people around here don't, and those who do usually are too frightened to drive well. They become the worst part of driving in this weather. For one thing, too many of them drive so slowly that one mistake, one change in road surface, and they'll be stuck, without any momentum to carry them forward. I know, they're afraid that if they have momentum they won't be able to stop if they lose control and something is in front of them, but controlling a car out of a skid is not that big a deal as long as you are familiar enough with the experience that you respond correctly and smoothly. It's just a bit nerve-wracking at that moment.
That aspect of having the experience, though, is a significant part of it all. My father spent his childhood in central Mississippi (I don't know whether that's why I can spell that, or whether it's because of that song). He commented once that in central New Jersey, where we then were living, if it snowed a few inches they had plows and other equipment out on the roads to make it possible for everyone to get where we needed to be. I walked to school in snow like that–snow like this–many times. Back home, he noted, if there was a layer of white dust on the road, everything closed, because no one was equipped for it. By contrast, years later when I was in Rockport for the aforementioned famed blizzard within hours the town was clearing roads as front end loaders filled dump trucks which emptied snow off the stone pier into the ocean, jackhammers chipped away the underlying ice, and small caterpillar-driven plows rode down sidewalks to carve paths for pedestrians. They knew what to do when it snowed a bit.
The worst fear here is a power outage. We are fairly resourceful. It is a design flaw that most gas appliances operate electronically, but the stovetop can be lit to keep a fire going in the kitchen, which will prevent the house from freezing. The problem is the water–pumped electrically from a well beneath the house, the pressure is generally gone within the first half hour even if we're mindful of it. In summer blackouts, pool water can be used for washing and other sanitary needs, but melting snow is not the best choice for such problems–the amount of air in snow makes it very difficult to thaw over a fire without burning the pot. We keep a dozen two-liter bottles of water in the freezer, but they take time to thaw and we go through them fast if we're not careful with them. Mercifully, the power company is pretty good, and only once in memory was there a blackout that lasted more than a couple days. We had a scare this morning when a breaker blew, but it was quickly resolved.
Usually we have enough food in the house to last a few days, if only because I don't want to have to shop every day. That has become less so of late–financial pressures have meant less long-term shopping and more focus on immediate expenses–but if pushed to it there is enough pasta to keep us fed for a few weeks, as long as we can light the stove and put water in a pot. So I'm not one of those who suddenly has to fill the larder because I might not be able to get to the store for a few days. That seems crazy to me.
Which brings us back to French Toast. I'm hoping you got it. It's about the products that fly off the shelves during blizzard panic. Everyone talks about how very quickly the three perishable staples vanish. Those would be milk, eggs, and bread. Those are the primary ingredients of French Toast. The odd question is, what else would you make with these three ingredients? Bread pudding, perhaps? So it is a strange combination for people to be stocking in anticipation of being trapped at home, but those are the products most noticeable in their absence from the shelves, so that's probably what people plan to make. After all, you only need to light the stovetop and put a bit of oil in a pan….
[contact-form subject='[mark Joseph %26quot;young%26quot;'][contact-field label='Name' type='name' required='1'/][contact-field label='Email' type='email' required='1'/][contact-field label='Website' type='url'/][contact-field label='Comment: Note that this form will contact the author by e-mail; to post comments to the article, see below.' type='textarea' required='1'/][/contact-form]