This is mark Joseph "young" blog entry #236, on the subject of Reign of the Imperials.
The Imperials began as a pretty standard male southern gospel quartet. However, they kept crossing lines, pushing the envelope, reinventing themselves, and became a force in middle-of-the-road contemporary Christian music.
This is the third entry in a series of reminiscences about what might be considered the early days of Christian contemporary and rock music, which began with #232: Larry Norman, Visitor, followed by #234: Flip Sides of Ralph Carmichael. Song title links are to YouTube videos; no representation is made as to whether they are legal copies. My credentials are presented in the first article of this series, the Larry Norman article.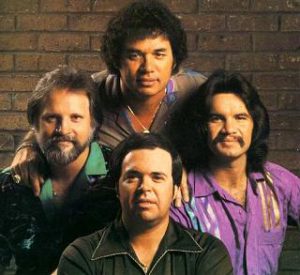 They first shocked their conservative Christian audience by taking a job as backup singers for that icon of everything that was wrong with American youth of the day, Elvis Presley. This gave them exposure to audiences beyond anything they could have gotten as "another southern gospel quartet". It may have alienated some of their core audience, but it put them in a position to sing gospel music to secular audiences when they opened for "The King".
After that, they broke another rule when they filled an open vocalist slot with Sherman Andrus, making them the first racially integrated gospel band. Prior to that, there was black gospel music and there was all-white southern gospel music. Now there was gospel music sung by a quartet one, and only one, of whom was black. Again their core audience was shaken, but their reach expanded.
Andrus would eventually leave along with fellow vocalist Terry Blackwood to form Andrus, Blackwood, and Company, whose biggest hit to my knowledge was the rock-'n'-roll tribute Wonderful, done with an almost comic backup from Blackwood to Andrus' truly stylistic lead vocals. (Unfortunately, they are also remembered for the completely tasteless idea for a song about the martyrdom of Steven, heaven is just A Stone's Throw Away.) Russ Taff joined The Imperials at that time, and also had a bit of a solo career on the side.
About that time Chris Christian had a contract to provide material for one of the major contemporary Christian labels, and the Imperials got him to produce their 1979 albums Heed the Call and One More Song for You, in a style that might be dubbed Nashville Contemporary. They were a quality act within their style, and their novelty song Oh Buddha became one of the few heavily requested at our album-oriented CCM station. They were never a cutting-edge rock band, but with recordings of songs like Old Man's Rubble they broke out of the mold of southern gospel and became a standard in middle-of-the-road Christian contemporary.
I don't own any of their recordings; they were never on my list of favorites, and my budget pretty much kept me to records I really wanted that I could get the record companies to give me. They were, however, one of the quality vocal bands of the time, even if their southern gospel roots still influenced their vocal arrangements even after they crossed solidly into the contemporary/rock sound.