This is mark Joseph "young" blog entry #22, on the subject of Getting Into Characters.
This is about the creation of my book Verse Three, Chapter One: The First Multiverser Novel, now being posted to the web site in serialized form. This "behind the writings" look definitely contains spoilers, so you might want to read the referenced chapters before reading this look at them. That link will take you to the table of contents for the book; links below (the section headings) will take you to the specific individual chapters, and there are (or will soon be) links on those pages to bring you back hopefully to the same point here. There were also two similar previous mark Joseph "young" web log posts, the first entitled #18: A Novel Comic Milestone (which provided this kind of insight into the first six chapters) and Becoming Novel (covering chapters seven through twelve); this picks up from there.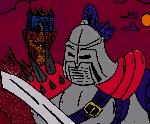 There is some essential background to the book as a whole in that first post, which I will not repeat here.
---
The tales I heard of Richard Lutz, my primary model for Kondor, said that he had been an army medic, and I wanted to follow that and expand on it by giving him high-tech medical training. I did not know where it would take me, but I did know that this was something neither Slade nor Lauren would pursue, and that by giving them different skills I would both create different story options for their futures and give them reason to need each other if I brought them together.
It was around this point that I realized I was going to have to work to bring them together, and I began thinking about how the story was going to end. Before now they had been seen as three separate characters in separate story arcs that might involve each other at some point, but now I realized that as a novel it had to work toward a "gather", a time when they would work together. I also started thinking in terms of what they would do and how they would do it, so that I could introduce them to skills they would need to learn now and use then.
My black friend had a younger sister named Zakiya. I wanted Kondor to think about his family, for reasons similar to why Lauren was doing so, and I needed names for some of the family members because he would think of them that way. I wanted them to be credible, to some degree ethnic but not overly so. Zakiya was a name I had heard before, and didn't seem like it was one of those made-up-recently names, and I'd heard Whitney as a man's name before it was a girl's name, and Ty as popular in the generation before mine, and of course Mary is fairly universal in the English-speaking world. They were used as labels to give some concept of family.
I also realized that I couldn't keep Kondor on this repetitive routine for long enough for him to learn everything he would need to know in medicine, so I needed to give him a high-tech sourcebook. "Hexadecimal" is a high-tech word, and it's actually rather probable that other societies would develop computer code in that form (although it would be different code), so I created databooks. I'll note that I-Pads did not yet exist.
There is a casual mention of exercise and weapons practice, because I wanted a foundation for the suggestion that he was getting better at these things.
---
Jackson following Lauren and Lauren escaping by levitating to the roof in a blind alley came from my game. When I think back, I can remember being very nervous about what was going to happen and whether I was going to be able to escape.
The pyrogenesis sequence is also based on what my character did in-game.
The throwaway where she calls herself by her maiden name was a flash of inspiration. I knew that mothers often called their children by first-and-last name when chiding, and that mothers of married daughters sometimes reverted to the maiden names in such situations, and that saying "I'm married now" was a way of responding that "I'm all grown up." But we do sometimes hear our parents' voices chiding us when we do something for which they chided us in the past, and that seemed a good moment to do that, and bring some feeling of Lauren as a person into the mix.
There is a "skill improvement" system in Multiverser which says if you want to get better at something you either practice it over a period of months or you find a way to do something new with it–a "new use" that shows you've learned something by doing something different with it. In-game I wanted to get good at this fast, and so I tried to think of creative ways to do different things with it. I wanted those who knew the game, too, to recognize that Lauren was improving her ability by expanding what she had done.
The battle with the beast is another event from play. I never knew what the beast was, although I guessed in retrospect that it was a kind of werewolf that was more vicious than those I would later meet.
Raiden was mostly Ed's invention–a librarian who found pages from an ancient book and fled for his life. I added the Internet connection to his research, which both updated the story (we played in the early nineties) and explained how his discovery became known.
Raiden's perception that she was wearing armor was supposed to show that he understood combat and was highly observant.
Gavin's church is modeled largely on Dianetics, and particularly the idea that you join to make money.
One of my pre-publication readers commented that he really hated Lauren because everything always worked for her, up until the moment she flash-froze the kitchen. After that he warmed to her.
---
I felt as if I were in familiar territory with the wishes, having run a great number of Dungeons & Dragons™ games in which characters were offered wishes. To some degree, Slade benefits from my experience in this.
The idea of being able to delay the wishes long enough to give them thought probably owes something to Darby O'Gil and the Little People, where he uses the first wish to get a guarantee on the other two. If you are offered wishes by a being that has a life of its own, it probably is not interested in waiting for you to make them.
One of the traps into which wishers often fall is trying to combine several wishes into one. If you cannot make the wish without including a conjunction, you probably have made more than one wish. On the other hand, what Slade did was to find a way to wish in a single wish for everything that was done for someone else who needed three wishes to get it all, simply by wishing for all of what he got.
I knew when Slade wished for the alliance that at some point in the future I would use it as a plot device to launch another adventure; I did not know either that it would involve any of the other characters, or when or what it would be.
---
Kondor's attitude about pirates was going to be my ticket to removing him from this world, so a pirate encounter at this point gave me the "shotgun over the mantel" I was going to need.
One point that often distinguishes different types of players is whether they manage to carry food and water. Kondor is the prepared type who does; the other two always think they ought to have thought of that. But it also meant that I needed to mention restocking his supplies from time to time, and New Haven, an agricultural world in a future tech society, seemed the right place for it.
The natives of Emerald were a problem for me when I created the world originally. In the version that was an early gunpowder sailing vessel, it made sense for them to be human cannibals and did not make sense for them to be semi-sentient monsters, because the world could easily contain uncivilized tribes that could not be reached by civilization. In the space version, though, the idea of humans or creatures as intelligent as humans being uncivilized cannibals would not work easily, as players would insist on finding ways to bring civilization to them, and it was likely that the governments and corporate interests would want to do this. Thus I had to find a way to sell a pre-intelligent creature that used simple tools and weapons and attacked ships, that could not easily be civilized.
---
The "form and balance" training I used for Lauren was Ed's idea for my game, but he did it on park equipment. I thought it better to do on the gunnels of a rowboat, partly because my scouting days had made me intimately familiar with the vagaries of balancing a boat while standing, and partly because tossing her in the water would be both safer and more colorful. I used the park equipment later.
It is probably difficult, at least in one generation, to present a fictional martial arts training program without conjuring comparisons to The Karate Kid. I do not know whether I succeeded, but the form-and-balance training seemed to me to be rather different from the strength and response training of the movie.
In the geek world, oriental martial arts weapons are popular, but the names are so heavily anglicized that it is sometimes difficult to recognize the same words spoken by native speakers. I have heard someone pronounce the name "kau sin ke" in what might be an original language pronunciation, but I doubt I could now duplicate it.
My editor was bothered by the open-ended nature of "You will know what you owe me when the time comes." I can see that. Of course, I knew that Raiden knew about the vampires, and was training people to fight them, but he wasn't going to speak of them to someone who did not know.
The discussion of the difficulties of having a regular eating schedule attached to a forty-eight hour wake/sleep cycle was longer in the original draft, and the editor did not like it. I agreed and shortened it, but it was the kind of thing Lauren would have thought about more. I'm not sure I have a solution for it, but I'm no longer young enough that I could do a schedule like that.
---
The second sentence of this chapter was added after my editor questioned why Slade would bother to keep the empty bottle. I myself am something of a pack rat, saving mementos which clutter my world, so it made perfect sense to me that having released a djinni from a bottle someone would want to keep the bottle, but apparently some people need that explained.
My Australian editor had never heard of Six Flags, which runs amusement parks in many areas of the United States; but it did not seem important to me. I could have said the Clementon Park roller coasters and people would have gotten the concept without knowing that there is such a park.
The specific reactions of the four companions to the roller-coaster-like trip at high speed to the surface were carefully considered. For Slade, of course, it was familiar, a combination between amusement park ride and hot rod racing. Torelle was relatively young, healthy, and fit, and practiced in courage, so it would have made him feel a bit queasy but not so much as Omigger, who is the older bookworm who would almost certainly have lost his stomach contents on such a trip. As to Filp, he is usually frightened of anything that seems dangerous, and just as when he faced the efriit so now again he is curled up in a ball on the floor.
Filp is thus torn between his covetous desire to see his own wealth and his fear of traveling by means of djinni transport, and agrees to postpone the next part of the journey for a short time.
The alliteration of Torelle-tower, Omigger-enclave, and Filp-fortune was intentional, but not pre-considered. That is, the words were chosen to fit names which had been established; the characters were not named for those words.
---
There has been less interest in these "behind the writings" pages than there was originally, but for the moment I'm still thinking they're worth producing, so we'll see how things go with this one. Feedback is always welcome, of course.
[contact-form subject='[mark Joseph %26quot;young%26quot;'][contact-field label='Name' type='name' required='1'/][contact-field label='Email' type='email' required='1'/][contact-field label='Website' type='url'/][contact-field label='Comment: Note that this form will contact the author by e-mail; to post comments to the article, see below.' type='textarea' required='1'/][/contact-form]