This is mark Joseph "young" blog entry #194, on the subject of Slanting in Favor of Free Speech.
In January we looked at a trademark case that had much to do with freedom of speech and offensive language, in web log post #156: A New Slant on Offensive Trademarks, in which Simon Shiao Tam named his all-Asian rock band "The Slants", saying he wanted to use the normally derogatory word to reclaim some pride for his people. The Patent and Trademark office, relying on the same law against offensive trademarks under which the Redskins sports franchise was stripped of its protection, refused the application, and it was ultimately appealed to the United States Supreme Court. The Court has delivered its opinion in Matal v. Tam, 582 U.S. ___ (2017), and it has implications for freedom of expression.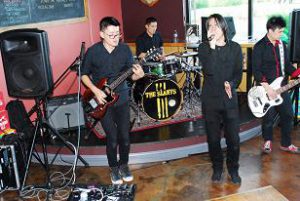 On a related subject, freedom of speech was also behind Packingham v. North Carolina, 582 U.S. ___ (2017), which struck down a North Carolina law barring anyone on the state's sex offenders list from accessing Internet social networking sites. We'll look at that after Tam.
There was really nothing at all surprising about the Tam opinion, unless it is that once again eight members of the court were in agreement. Justice Alito wrote the majority opinion, joined by Chief Justice Roberts and Justices Thomas and Breyer. Justice Kennedy wrote a concurring opinion, joined by Justices Ginsberg, Sotomayer, and Kagan, and Justice Thomas also wrote a concurring opinion. All of them agreed on the essentials: the so-called "disparagement clause" in U.S. trademark law which permits the denial of trademarks for anything that might be offensive to specific groups or persons is an unconstitutional infringement on free speech.
As Justice Alito puts it (slip opinion at 22), "Giving offense is a viewpoint," then (slip opinion at 22-23) quoting from Street v. New York, 394 U.S. 576, 592 (1969), "…the public expression of ideas may not be prohibited merely because the ideas are themselves offensive to some of their hearers." Justice Holmes and Ray Bradbury would be pleased.
It's good news, too, for the Redskins football franchise: this was the rule that got them stripped of trademark protection, and so their ongoing legal battle is probably about to be rapidly resolved. I don't know if we'll see a run on offensive trademarks in the near future–after all, as some in this discussion have observed, offending potential customers is not a good way to sell them your product. On the other hand, the way is open for people to denigrate a lot of groups. (The decision does not impact the prohibition against using the name of a living person without that person's permission.)
So, how does the Packingham case fit?
In 2002 petitioner Packingham, then twenty-one years old, had sex with a thirteen-year-old girl, and pleaded guilty to "taking indecent liberties with a child", a crime that qualifies under North Carolina law as "an offense against a minor" requiring registration as a sex offender. The status can last three decades or longer.
In 2008, the state passed a law making it a felony for anyone registered as a sex offender in the state "to access a commercial social networking Web site where the sex offender knows that the site permits children to become members or to create or maintain personal Web pages."
It strikes me that this is a second punishment. That is, at the time Packingham was convicted and sentenced, and required to register, there was no law regarding the use of the Internet. Six years later this restriction was added to his sentence, without so much as a hearing to determine whether it was necessary. That, though, was not the issue before the court, although Justice Kennedy recognizes the problem in passing. It is also not stated that Packingham was informed of the new restriction, but that was not before the court either.
In 2010, eight years after his conviction, Packingham expressed his thanks to Jesus for an event in his life, the dismissal of traffic ticket without a hearing, posting this excitement on Facebook. A Durham police officer managed to connect the Facebook post to the dismissed ticket, and obtaining a search warrant established that Packingham had violated the law. He was convicted, despite making a motion that the law was a violation of his First Amendment right to free speech. There was no allegation that his Internet communications were in any way suspect or criminal other than that this law forbad him from making them at all.
The conviction flip-flopped its way through the state courts, overturned by the Court of Appeals of North Carolina, reinstated by the North Carolina Supreme Court, not without dissent. The United States Supreme Court reversed the conviction and struck down the law.
Again we have an effectively unanimous judgement: Justice Kennedy wrote the opinion of the court, joined by Justices Ginsberg, Breyer, Sotamayor, and Kagan, while Justice Alito wrote a concurring opinion joined by Chief Justice Roberts and Justice Thomas. Justice Gorsuch did not participate in the decision, not having been present for oral arguments.
Justice Kennedy's core point was that the Internet generally, and social media sites in particular, had become the new medium for many kinds of protected speech–obtaining news, expressing political opinions, communicating with others. It had in essence become the public parks and town squares of old, the place where people gather to interact. To refuse someone access to the Web would be to curtail their ability to communicate in the modern age. That is clearly a limitation on freedom of speech, and as such must face scrutiny–the level of scrutiny in which there must be a demonstrable compelling government interest addressed in the least invasive way possible. The protection of children from sexual predators is so strong a government interest that it might be possible to restrict the freedoms of potential recidivists, but the North Carolina law goes too far.
The concurring opinion agrees that the North Carolina law goes too far, but objects to the court's identification of social networking sites as having the importance suggested. Rather, Alito would suggest that it might be possible to prevent sex offenders from accessing many sites where predators might easily prey on children, but the definition of such sites would have to be refined–tellingly, Alito notes that Amazon, The Washington Post, and WebMD all qualify as "social networking sites" under the definition in the statute, and that perhaps the majority of web sites now do, as they provide ways for visitors to communicate with each other through comments on articles, and frequently to create a member profile. (The other two requirements in the statute are that they provide some sort of revenue stream to their owners and do not exist primarily to facilitate sales between users (e.g., E-Bay, Craig's List).)
In any case, it appears that the Supreme Court has decided that your Facebook, Twitter, and LinkedIn accounts (they are specifically mentioned) are important protected media for the exercise of your free speech. That means something.
[contact-form subject='[mark Joseph %26quot;young%26quot;'][contact-field label='Name' type='name' required='1'/][contact-field label='Email' type='email' required='1'/][contact-field label='Website' type='url'/][contact-field label='Comment: Note that this form will contact the author by e-mail; to post comments to the article, see below.' type='textarea' required='1'/][/contact-form]