This is mark Joseph "young" blog entry #179, on the subject of Right to Choose.
It made the news this past week, that a teenager in Arizona (her name is Deja Foxx, and her stated age is 16) challenged Republican Senator Jeff Flake with the statement, condensed in headlines as "Why is it your right to take away my right to choose?"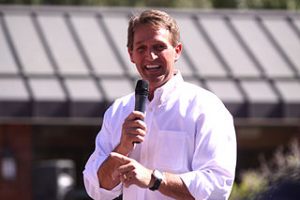 Let's be fair to Miss Foxx. What she actually said, according to transcripts of the town hall meeting, is
So, I'm wondering, as a Planned Parenthood patient and someone who relies on Title X, who you are clearly not, why it's your right to take away my right to choose Planned Parenthood and to choose no-co-pay birth control, to access that.
That's a little different, and a considerably more defensible question. I also want to examine the more fundamental question, though, the one presented in the headlines, because that question comes up quite a bit, particularly in arguments about abortion: why does anyone have the right to take away anyone else's right to choose?
The first thing to say is that law is fundamentally about taking away the right to choose–or more precisely, about creating negative consequences for choosing conduct we as a society want to prevent or discourage. You do not have the right to choose to help yourself to retail products off the shelves of a store without paying for them. As much as you might wish to do so, you don't have the right to kill your annoying little brother. You don't have the right to operate a motor vehicle on public roads while under the influence of an intoxicating substance. You can, if you wish, choose to do any of these things; if you are caught, you will face penalties for doing them. Whether or not you have the right to do things, in our society, is defined by the laws on which we, through our legislatures, executives, and judiciaries, agree.
So the people of Arizona who elected Senator Flake to office gave him the right to take away some of our rights, to curtail our freedoms, to put limits on what we can and cannot do.
Yet that is not quite what Foxx means. She had prefaced her question with a tirade about how she, as an underprivileged homeless black girl trying to finish high school, was dependent on Title X (read "ten") funding for Planned Parenthood, recently cut by a new law barring funding for any family planning center that also provides abortions. She was fundamentally asking what right America has to refuse to pay for that; she would not have put it in those terms, but that's the essence of the question.
There are a lot of questions we could ask in response to this. What right does she have to expect that we are going to fund her promiscuous life choices? When I was sixteen I did not need any funding for birth control. I knew, and everyone I knew knew, that if you had sex you risked having children, and there were a lot of consequences to that. There were ways to reduce the risk, but it could not be entirely eliminated. Most of us made the intelligent choice: we did not have sex. If you want the privilege of making stupid choices, you should expect to bear the costs of that yourself. If you stupidly steal from grocery stores, expect to go to jail. If you stupidly drive while intoxicated, expect to lose your driving privileges. If you stupidly engage in sex, expect to face the risk of pregnancy (which is clearly a risk for boys possibly even more so than for girls).
Of course, hidden in both sides of that is the fact that the new law has not terminated funding for low-cost no-co-pay birth control. It has cut funding to organizations that fund or perform abortions. There are other programs that provide birth control and birth control advice that do not promote abortion in the process. Further, Planned Parenthood could continue receiving as much money as it has been receiving simply by terminating all programs related to terminating pregnancies–and in the process would have more money for the other birth control programs because none of its funds (which as we previously noted are a fungible resource) are going to those cancelled programs. The government is not providing less money for birth control services and advice; they are only refusing to provide that money to or through those who would advise you to kill your unborn baby, and who would help pay for that.
So if the question is who has the right to decide that American taxpayer money will not be given to organizations that kill unborn babies, the answer is that American taxpayers have that right. In fact, American taxpayers technically have the right, if we so chose, to refuse to provide any kind of support for teenager promiscuity. It is American generosity that provides those things; Foxx has no superior right to expect them from us, whatever she thinks about supposed entitlement arising from her lack of privilege.
There is, though, the other level of all of this, the level hinted by the headline, the question Foxx was not asking but which Planned Parenthood undoubtedly wants us to hear in her question: what right do people like Senator Flake, people like me, people like roughly half the American population plus anyone else who agrees with them, have to tell a pregnant woman that she cannot abort the preborn child she carries? What right does anyone else in the world have to tell that woman that she does not have the right to choose whether to give birth to that child or not?
And let me agree that for millions of women, their choice of what they do with their own lives, their own bodies, is not my business. Should they want facelifts or breast implants, stomach banding or tattoos or piercings, however they wish to improve or mutilate their own bodies, my approval or disapproval is immaterial.
However, your own body is where that right ends. If you want to kill that annoying little brother, I think he has a right to object to that–and I think the rest of us have a responsibility to protect his right. Indeed, if you want to kill your own annoying preschool child, that child has a right to choose to live, and we have a responsibility to intervene on behalf of that child. Further, if that child happens still to be inside you, it has the right to choose to be alive, and we the corresponding responsibility to speak on its behalf to protect that right. We certainly have the right to refuse to help you do it.
So ultimately the question
who gave you the right to take away my right to choose?
is one that every unborn child can ask of its mother, and of Planned Parenthood and anyone else who becomes involved in deciding that the child does not have the right to live.
Jefferson wrote that we were endowed with inalienable rights–rights that no government could take from us without just cause and due process–and the first of these is life. They, those unborn children, have the right to choose life. Who are you, to take that right away from them?
[contact-form subject='[mark Joseph %26quot;young%26quot;'][contact-field label='Name' type='name' required='1'/][contact-field label='Email' type='email' required='1'/][contact-field label='Website' type='url'/][contact-field label='Comment: Note that this form will contact the author by e-mail; to post comments to the article, see below.' type='textarea' required='1'/][/contact-form]