The Book
Temporal Anomalies in Time Travel Movies
presents
Temporal Anomalies Index 2011
As explained previously in Temporal Anomalies Classics, the useful and oft-linked index to the years of Examiner articles became unavailable. This was the third of a series of indexing articles, each expected to cover articles in series begun during a particular calendar year, 2009 and 2010 having been covered. 2011 began with Los Chronocrimines (TimeCrimes), followed by Timeline, A Sound of Thunder, Next, Frequently Asked Questions About Time Travel, Source Code, Warlock, and Blackadder Back & Forth.
This year again included several articles which were not time travel analyses but related to time travel movies in other ways.
As explained, this series of indices was started when it became temporarily impossible to maintain this web site and seemed advisable to provide links to early Examiner articles for ease of access. That in turn became problematic, and we have since determined instead to move all that material here to M. J. Young Net, and hopefully to support it by reader contributions through Patreon and other means.
Miscellany
We begin again with the miscellany, including another indexing article:
Los Cronocrimines, a.k.a. TimeCrimes
Several readers encouraged the analysis of Los Chronocrimines, a Spanish film released to English-speaking audiences under the name Timecrimes. Thanks go to Gary "Gazza" Sturgess for making a copy available (along with several other films). It proves to be a fascinating multi-layered predestination paradox, but also unravels nicely with a very few assumptions.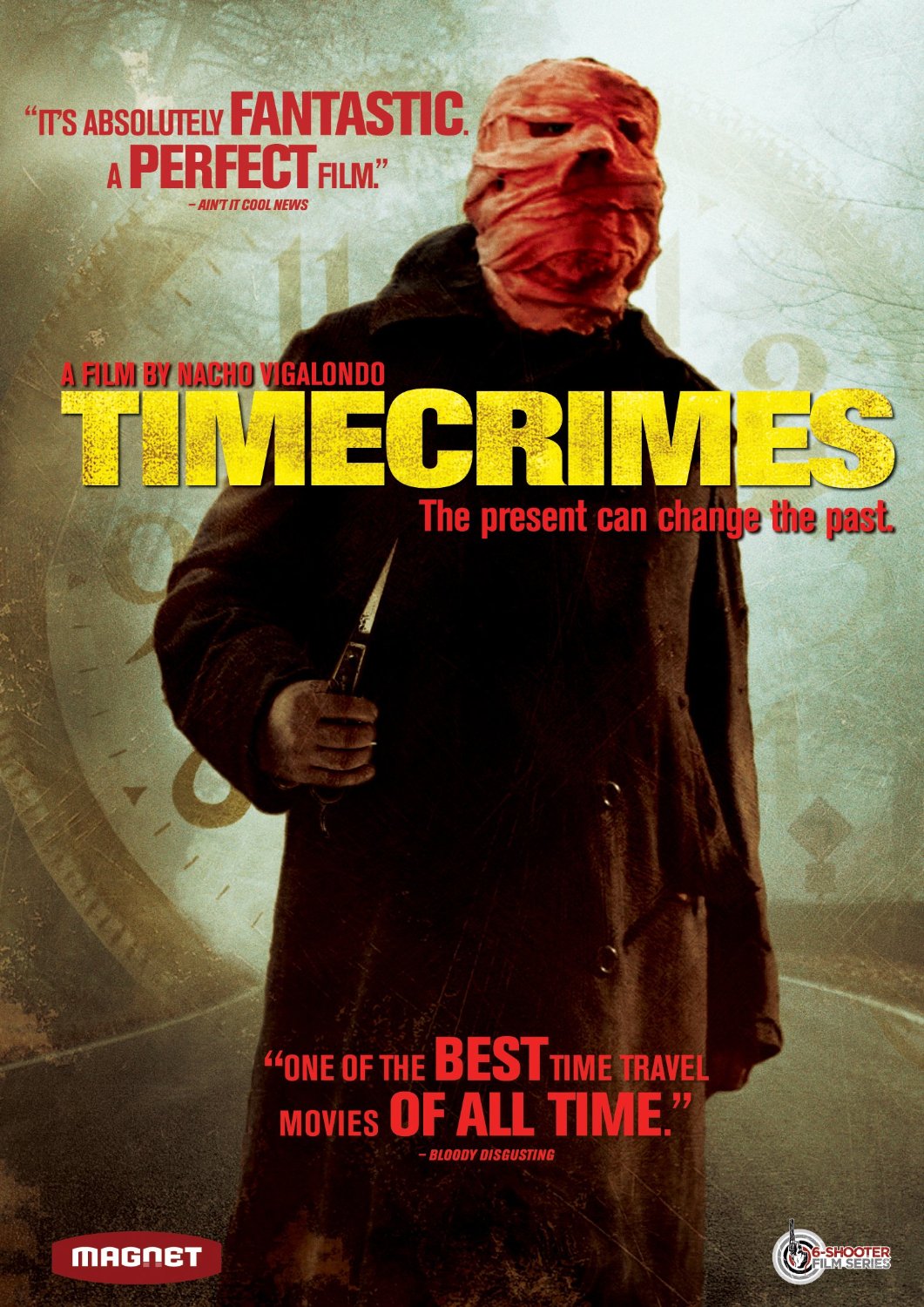 There is slated to be a future release of an American movie under this title, of which details are not yet available.
Timeline
Michael Crichton is known for being able to take the latest ideas in science and turn them into thrilling novels which become exciting movies. Timeline takes the basic story from one such Crichton novel and does a decent job of keeping the tension high. The question, though, is whether the time travel elements work.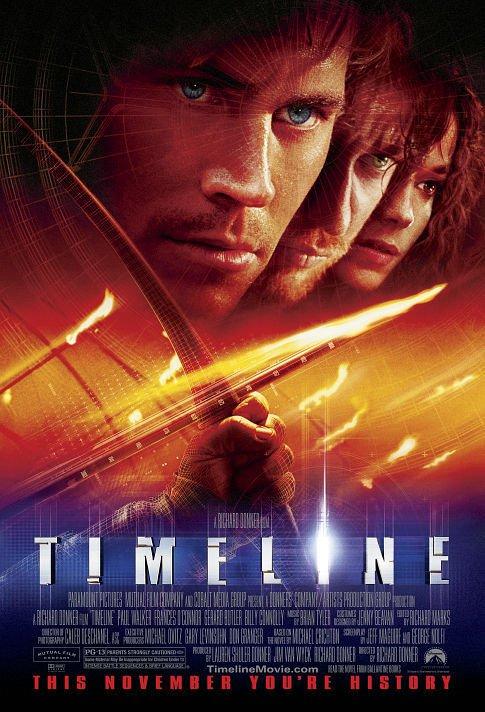 A Sound of Thunder
A nineteen fifties Ray Bradbury short story about a drastic change in history resulting from a time traveler stepping on a butterfly became the basis for a 2005 feature-length film of the same title, A Sound of Thunder. The reference to thunder in the short story is both to the footsteps of a tyrannosaurus and to the explosion of a rifle; in the movie it is an allosaurus, and possibly the shaking of history as it changes. There is a lot to cover in the film, another gift from Gary Sturgess.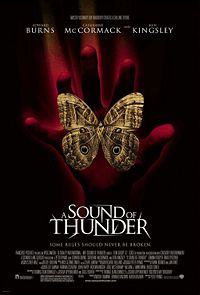 It is an interesting film that raises a lot of important issues, but it creates too many problems and inconsistencies.
Next
Some people dislike Nicholas Cage for what they see as his wooden acting, his flat lack of emotion. Whether that is a fair criticism, it serves him well in Next, in which he plays a man who always knows what is about to happen and so is never surprised when it does. Does that make it a time travel film? The point could be argued, and in the series we argue it.
In the end, it seems that this story has more in common with Minority Report than with Frequency: a story in which precognitive prediction of probable future events creates the illusion of time travel without providing real knowledge of the future. Thanks to Jim Denaxas for our copy of this one.
Frequently Asked Questions About Time Travel
It was a very fun film to watch, but a very challenging film to analyze, but this British comedy Frequently Asked Questions About Time Travel made it here, in fourteen parts: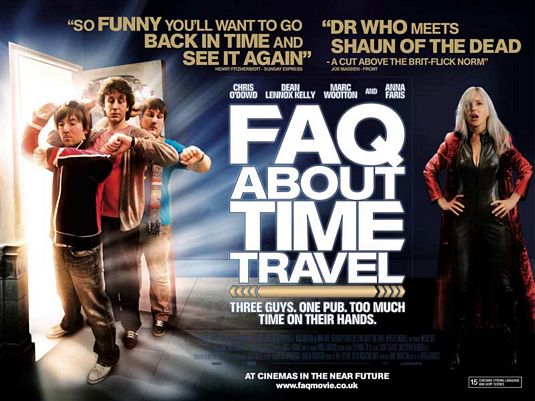 Interestingly, although it was a very difficult film all the way around, much more of it proved workable than anticipated, and it winds up highly recommended even though wildly improbable. Gary Sturgess provided a copy of the British-release version; there does not appear to be one released with American DVD encoding.
Source Code
We saw this one coming, and previously announced when it was going to be opening in theaters; but in another sense, we did not see Source Code coming. It was an excellent movie on several levels, with only a few very minor issues. Our analysis gives it high marks.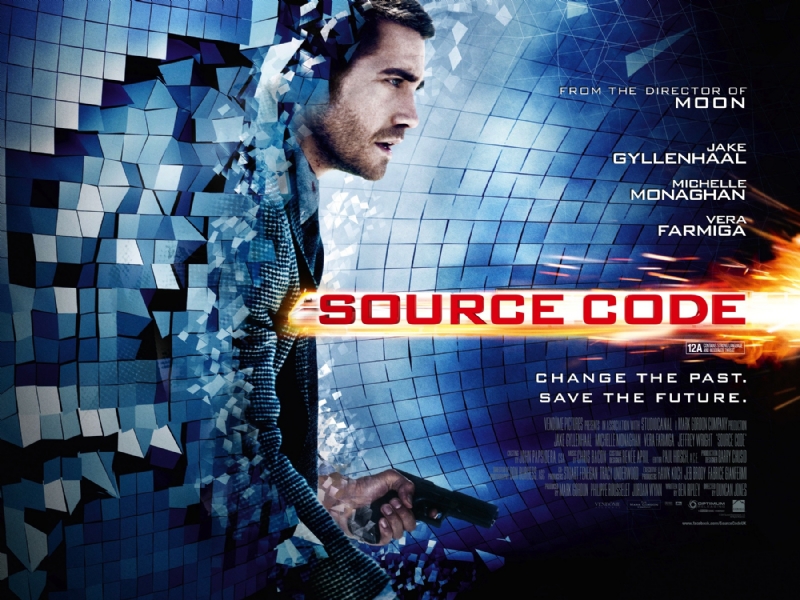 Overall, it was an excellent movie. Kudos to the creators for getting most things right.
Warlock
It looks so simple at first: a demon grabs a warlock out of a colonial Boston prison and transports him to modern California, pursued by a witchhunter who hitches a ride. The hunter, assisted by a modern girl, defeats the warlock, and returns to his own time. Yet there are some serious complications when it is scrutinized, and so Warlock is worthy of consideration.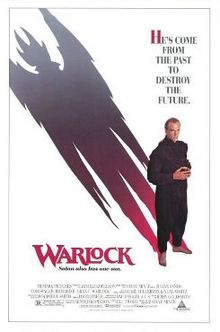 In the end, the film proves to be a possible story, given certain assumptions. Thanks again to Gary Sturgess for providing a copy for our consideration.
Blackadder Back & Forth
Another gift from fan Gary Sturgess, this film bills itself as the entire fifth and final series of the famed Rowan Atkinson British television comedy Blackadder, but was shot on film and theatrically released in England. As with most comedy time travel stories, it raises interesting questions about time travel by poking fun at the concept. Thus Blackadder Back & Forth finds a place in our time travel work.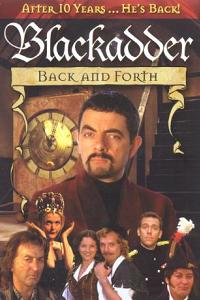 Clearly a fun film worth watching, but it was not expected to be a possible time travel story, and it several times proved it was not.
That completes the index through 2011; next time we will continue with articles published in 2012.