Your contribution via
Patreon
or
PayPal Me
keeps this site and its author alive.
Thank you.
Stories from the Verse
Con Verse Lea
Chapter 16: Beam 125
Table of Contents
Previous chapter: Takano 63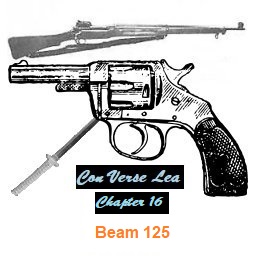 When they got to the village, the smithy was not hard to find. Between the smoke from the forge and the ring of hammering on metal, there was a familiarity to it despite the foreign context.
They entered, Beam and Bron in front, and stood in the open entry feeling the not quite forgotten heat blow past them. The man within was engaged in his work, a boy, perhaps pre-teen, assisting him, and the visitors waited politely so as not to be an interruption. Eventually the smith relaxed his attention and became aware of them. Setting aside his work and wiping his hands on his apron, he turned toward them and bowed slightly. Beam recognized the gesture and copied it in response.
"How can I help you gentlemen?" the smith asked, and Beam realized that he should have expected the question. He quickly formulated a response.
"We're blacksmiths visiting from another land, and were hoping to see some of what you are doing that we might improve our own skills. I'm James Beam, and this is my mentor, Bron Blacksmith."
"Ah, the trade's been in the family a long time?"
Bron shook his head. "Actually, I was the first; but my master gave me the name. It's the way things were at home. J.D. already had his name when he came to apprentice."
The nickname seemed to confuse their host briefly, but he took it in stride and continued.
"It's good to have guests. What can I show you?"
"Most of it looks familiar," Beam said, "but I suspect if you give us the tour we'll have questions. We're interested in your tools, your methods, the things you produce. No reason not to start here, with the forge and the anvil?"
"Indeed, that would be the heart of the process, as you obviously know. And if in the course of your visit you have any suggestions for improving anything, please share it."
Beam agreed, and the tour began. Much of it was very like Bron's smithy where Beam had apprenticed, although there were improvements in materials and construction in some places. The tightly-woven silk on the bellows may have been an improvement over the wool canvas Bron had been using, but it might simply have been a matter of what fabrics were more available. They moved through the familiar, hammers, tongs, anvils, crowbars, plates, and onto products, horseshoes, tack and harness, axles, wheels, and then it got interesting.
"What are all these?" Beam asked, looking at bins of unfamiliar product.
"You do not make these?"
He stared at them.
"Well, these are parts for building vehicles, yes? But those others?"
"Gunsmiths buy some of their parts from blacksmiths. It saves them some of the hottest and heaviest work in their craft."
Gunsmiths. He hadn't thought of them.
"Ashleigh, dear, do you know where we could meet a gunsmith?"
He caught her off guard, apparently, because she didn't answer immediately, but then she said, "I do know of one, but he moves around a lot. I don't know how quickly we could find him."
So it would be an excursion for the future. He picked up some of the pieces and examined them, turning them around in his hands—long barrels apparently for rifles, but also shorter ones which he guessed were for pistols he had not yet seen. None of the soldiers at the warehouse had pistols. He also noticed inconsistencies; these were not interchangeable ready-made parts, but would have to be custom fit to the weapon by a craftsman. That fit with the notion that they had no factories. It also helped explain why the peasants didn't have motor vehicles: if you had to hire a craftsman to make anything you needed, you kept your needs list very short to stay within your budget.
"This is indeed fascinating," Beam said. "Perhaps we can return one day to see how you make these thin pipes. Right now, though, I think we have taken enough of your time. Thank you so much." He bowed slightly as they had done initially, and nodded to Bron to get them headed toward the exit.
"Yes, indeed, thank you," Bron added.
"I look forward to seeing you again," the smith said, a lie, Beam thought, but a convenient one. They were soon regrouping on the village road.
There is a behind-the-writings look at the thoughts, influences, and ideas of this chapter, along with twenty other sequential chapters of this novel, in mark Joseph "young" web log entry #460: Versers Reorganize. Given a moment, this link should take you directly to the section relevant to this chapter. It may contain spoilers of upcoming chapters.
---
As to the old stories that have long been here:
---
Verse Three, Chapter One: The First Multiverser Novel
Old Verses New
For Better or Verse
Spy Verses
Garden of Versers
Versers Versus Versers
---
Stories from the Verse Main Page
---
The Original Introduction to Stories from the Verse
---
Read the Stories
---
The Online Games
---
Books by the Author
---
Go to Other Links
---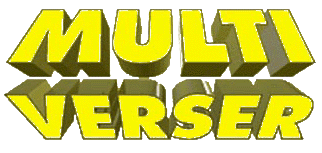 M. J. Young Net